2011 is the International Year of Chemistry (IYC 2011) and the centenary of Marie Curie's Nobel prize in Chemistry. Therefore, ChemViews will introduce interesting women throughout the year.

Veronique Gouverneur is Professor at the University of Oxford, UK. She has worked in research groups in Belgium, France, the USA, and the UK.




Please tell us a bit about how your career has developed?
I secured my education in Belgium studying at the Université Catholique de Louvain. I did my PhD under the supervision of Professor Léon Ghosez in the field of organic chemistry. I then moved to La Jolla, USA, to work as a postdoctoral research fellow at the Scripps Research Institute under the guidance of Professor Richard R. A. Lerner. I returned to Europe in 1994 where I took a position of Maître de Conférence at the Université Louis Pasteur in Strasbourg, France. Here, I worked with Dr. Charles Mioskowski and was Associate Member of the Institute of Science and Supramolecular Engineering (ISIS) directed by Professor Jean-Marie Lehn.
My partner, an interventional cardiologist, was at that time studying medicine in Oxford. This encouraged me to apply for a university lectureship in Oxford. So I started my independent research career as a member of the chemistry faculty at the University of Oxford in 1998.

My research interests center around new approaches to organic synthesis with specific interests in new reaction design, enantioselective catalysis and the synthesis of bio-relevant targets. The focus of my research programme is aimed at developing new tactical approaches towards fluorinated molecules in order to address long-standing problems in the synthesis of fluorinated analogues of natural products, pharmaceutical drugs and molecular probes for PET imaging.
Since my appointment at Oxford, I have also held a tutorial fellowship at Merton College, Oxford, where I teach organic chemistry.

What do you enjoy most about your career?
Looking after my research group as well as identifying what I think are interesting research problems and solving them.


How did you decide to become a chemist?
At school I had a strong preference for sciences, natural sciences, and art, but I never questioned which area I would choose to study; science was the obvious choice. I did enjoy mathematics and chemistry equally, but was fascinated by the multiple facets that chemistry offered. Also, my father was a chemist as well as an engineer, diplomat with UNESCO and a writer. So I was more familiar with chemistry as a career. My parents first were frightened by my (poor) practical skills, but nothing could have stopped me, as this was my favorite subject.

What is your biggest motivation?
I am naturally driven and motivated but I have been strongly influenced by the truly amazing chemists – including the very many students – I have met over the years.
I am inspired by smart and generous people regardless of their field of research or occupation. Excellence, professionalism and genuine kindness are qualities that impress me the most. They really give me the strength to better myself and try to serve others better. My biggest motivation is simply my desire to contribute something really useful to my field of research.
I am particularly grateful to Professor L. Ghosez, Professor R. A. Lerner, Dr. C. Mioskowski, Professor J.-M. Lehn, and Professor J. Osborn for spurring on my ambition. But also, I am in debt to all my colleagues in the chemistry department and at Merton College, Oxford, from whom I continue to learn a great deal each day.

Do you think there are still differences between men and women in chemistry?
I have never over analyzed the differences between women and men. I live my life, enjoy my work and am very grateful for all the opportunities I have been given over the years.

What advice would you give other women thinking of embarking on a scientific career?

If someone is passionate about science or willing to pursue a scientific career, then this is the path to follow. Man or woman, as human beings, we will find obstacles along the way, always. It is important to keep focused on longer-term aspirations and accept that difficulties will emerge but can be overcome with work, understanding, time and patience.

What do you do in your spare time?
I am walking my dog, a boxer named Max, twice a day which is the only exercise I do. I am a keen traveler, love to see how different life can be, and read or watch anything to do with natural history and art (mainly painting), or listen to Sir David Attenborough for hours.

What would you like to be doing ten years from now?
I just love what I am currently doing, so it will be wonderful if I could be doing the same and, I hope, so much more in my field of research.
In the longer term, I would like to be able to contribute somehow to connecting science and peace, perhaps by promoting education in a broader sense.

Thank you very much for this interview.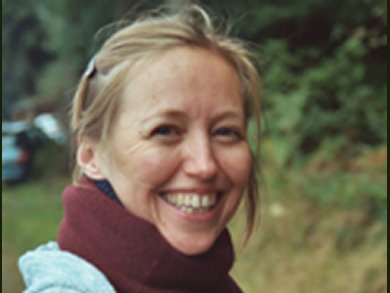 Veronique Gouverneur, born in 1964 in Belgium, studied chemistry at the Universite Catholique de Louvain, Belgium, where she received her PhD in 1991. In 1992, she moved to a postdoctoral position with Professor Richard Lerner at the Scripps Research Institute, California, USA. On returning to Europe in 1994, she accepted the position of Maitre de Conference at the University Louis Pasteur, Strasbourg, France. She worked with Dr. Charles Mioskowski during this period and was Associate Member of the ISIS Institute directed by Professor Jean-Marie Lehn. She then joined the chemistry faculty at the University of Oxford, UK, as a University Lecturer. She holds a tutorial fellowship at Merton College and became Professor of Chemistry in 2008.

Gouverneur's research interests are centered on new approaches to organic synthesis with specific interests in new reaction design, enantioselective catalysis and the synthesis of bio-relevant targets. She has also initiated a research program aimed at developing new tactical approaches towards fluorinated molecules to address long-standing problems in the synthesis of fluorinated analogues of natural products, pharmaceutical drugs and molecular probes for PET imaging.

Selected Publications

Selected Awards
2011 Liebig Lectureship Award of the Organic Division of the German Chemical Society (GDCh)
2010 Thieme Chemistry Journal Award
2008 RSC Bader Award
2005 AstraZeneca Research Award in Organic Chemistry
---
---

European Women in Chemistry
Published: 11 November 2010
ISBN: 978-3-527-32956-4
Author: Jan Apotheker, Livia Simon Sarkadi