Basel is among the major European centres for the pharmaceutical and chemical industry and is the third biggest life sciences base in Europe. This potent economic sector is hugely significant for the Basel region. This is why ILMAC and MipTec organisers as well as the Swiss Chemical Society, BioValley Basel and the Friedrich Miescher Institute have decided to hold their events all in the same week in September 2010.

From 20 to 24 September 2010, Basel will become the international meeting place of the pharmaceutical and chemical industry and life sciences. ILMAC (supplier exhibition for pharmaceuticals and chemicals), MipTec Drug Discovery Conference, BioValley Life Sciences Week along with the Scientific Forum (Swiss Chemical Society) and the FMI Symposium in celebration of 40 years of cutting-edge research are concentrating their efforts and presenting their events under the banner of 'Basel Life Sciences Week 2010' in September 2010.

By holding the five events in parallel in a synergistic approach, the organisers are able to give their individual activities more weight and highlight Basel as an important location for industry and research. The events' target groups will enjoy a much wider variety of offerings since activities are joined up both time- and location-wise. Attendees will benefit from the concentration of expertise, enabling them to plan their time efficiently to make best use of their visit. All activities at Basel Life Sciences Week 2010 will take place at Basel Exhibition Centre.

The MCH Basel Exhibition Centre is holding the now well-established ILMAC for the 18th time. The most important industry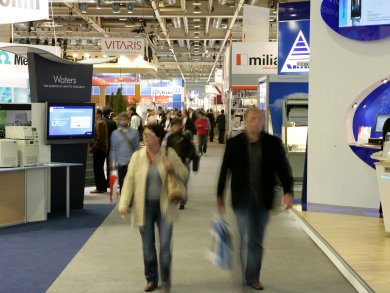 exhibition for research and development, environmental and process technology in pharmaceuticals, chemicals and biotechnology opens from 21 – 24 September 2010 in Hall 1 at Basel Exhibition Centre, securing its place as the major industry trade show for Switzerland and neighbouring regions. Like no other event of its kind, the supplier exhibition showcases all industrial applications of process technology. Specialists can find exactly the right systems, equipment, facilities and technologies they need for producing pharmaceutical and chemical products.

The Swiss Chemical Society (SCS) is holding another Scientific Forum as part of ILMAC. The event is devoted to the subject of polymers: 'From Nylon to Nanomaterials – Future Trends in Polymers.' The modern polymer chemicals sector encompasses innovative research areas such as high-tech materials, medicines and nanotechnology. New products are created from collaborations between chemists, physicists, biologists, engineers and doctors. The first day of the event (21 September 2010) is dedicated to plastics in everyday use and is specially tailored to secondary school pupils. On 22 and 23 September, researchers from the USA, Israel and Europe will present the latest findings of polymer science. The last day is aimed at students from colleges, universities and the Swiss Federal Institute of Technology and will present the polymer sector as an attractive source of employment.

MipTec – organised by Congrex Switzerland – is one of the most innovative and leading life science events. With its up-to-the-minute scientific programme, MipTec offers specialists and newcomers alike the ideal platform from which to gain a detailed insight into the latest trends in research sectors and markets, exchange experiences and discuss strategies and innovation within drug discovery. Many excellent, well-known speakers will inspire audiences with scientific lectures. Besides the scientific programme, the MipTec exhibition (Hall 1.0), held at ILMAC for the first time, will form an important part of the event. Participating companies will present developments and products in the areas of laboratory and research reagents, laboratory automation and instrumentation as well as hardware and software.

International experts will meet for the ninth time at Life Sciences Week which is again being organised by the BioValley Basel association. Together with MipTec, it is Europe's biggest event of its kind and features an exciting link-up of academia and technologies for enterprise. Specific daily themes and excellent expert presentations are accompanied by a specialist exhibition of essential technologies and equipment from life sciences. BioValley Life Sciences Week is an outstanding networking and partner platform that instils enthusiasm for life sciences and quenches thirst for the latest knowledge. Unlike in 2009, the event will take place in Hall 5 of Basel Exhibition Centre.

The Friedrich Miescher Institute for Biomedical Research (FMI), part of the Novartis Research Foundation, is celebrating its 40th anniversary this year. FMI's 40-year existence is a tale of success not only in fundamental research, but also in the training of young researchers and the application of biomedical knowledge. As a fitting tribute, FMI is organising a scientific conference called 'Frontiers in Biomedical Research' on 20 and 21 September 2010 at Congress Center Basel. Excellent speakers from leading universities around the world and from FMI will present their latest research results at this top-class event. The subjects range from epigenetics to neurobiology through to growth control and cancer. The second day of the symposium is being shared with BioValley as BioValley Science Day.

Pre-registering online will grant all attendees free-of-charge entry to MipTec, BioValley Life Sciences Week and the FMI Anniversary Symposium. As a result, not only will they be able to share scientific knowledge at all levels, but also enjoy top-class scientific conferences. Participants will need to pre-register through MipTec, BioValley or FMI.
Article Views: 3021