The deregulation of cyclin-dependent kinases (CDKs) 7 and 9 plays a role in various types of cancer. Thus, small-molecule inhibitors of both of these enzymes are interesting research targets.
Shudong Wang, Mingfeng Yu, University of South Australia, Adelaide, and colleagues have created such dual inhibitors. The team started from a proprietary multi-CDK inhibitor: sunaciclib (also known as CDKI-73, pictured above on the left). They designed several series of new analogues based on a structural analysis of the inhibitor binding sites of CDKs 7 and 9. The team then used modular synthetic approaches to prepare these molecules (general structure pictured above on the right, V, W, X, Y = Ch or N; R1 = H or F; R2 = an aliphatic azacycle).
The researchers used an array of biochemical and cell-based assays to characterize the biological activities of the synthesized molecules. They found multiple potent CDK7/9 inhibitors.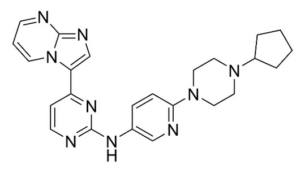 One typical example is N-(6-(4-cyclopentylpiperazin-1-yl)pyridin-3-yl)-4-(imidazo[1,2-a]pyrimidin-3-yl)pyrimidin-2-amine (pictured on the right), which is an effective antiproliferative agent toward a range of human cancer cell lines. In a type of acute myeloid leukemia cells, this compound showed its capacity to inhibit both targeted CDKs. Overall, this work has laid the groundwork for further preclinical investigations of this compound in the context of CDK7/9-targeted cancer therapy.
---
Discovery of Potent Inhibitors of Cyclin‐Dependent Kinases 7 and 9: Design, Synthesis, Structure‐Activity Relationship Analysis and Biological Evaluation,
Renjie Chen, Ramin Hassankhani, Yi Long, Sunita K. C. Basnet, Theodosia Teo, Yuchao Yang, Laychiluh Mekonnen, Mingfeng Yu, Shudong Wang,
ChemMedChem 2022.
https://doi.org/10.1002/cmdc.202200582