Banner Ads on ChemistryViews.org
Where

 

 

Size

728×90 (Leaderbord)

How to book

e-mail to

(these colleagues also provide usage statisics)

booking sheet
(fill into the yellow fields:
– start date
– end date
– your name
– region
Please note that sold banners have priority over your inhouse banners

include in email:
– banner graphic

– url

File Types Accepted
• DoubleClick Tags (preferred)
• GIF, JPG & PNG
• SWF (Flash)
• HTML5 (provided as a third-party tag)
• Third-party tags from DFP certified vendors found here: http://bit.ly/third-party-ads.
Max File Size
40 KB (Max Initial File Size); 100 KB (Subsequent Max User Initiated File Size);
2.2 MB (Subsequent Max Additional User-Initiated File Size, ex: Streaming Video)
Banner Ads in Newsletters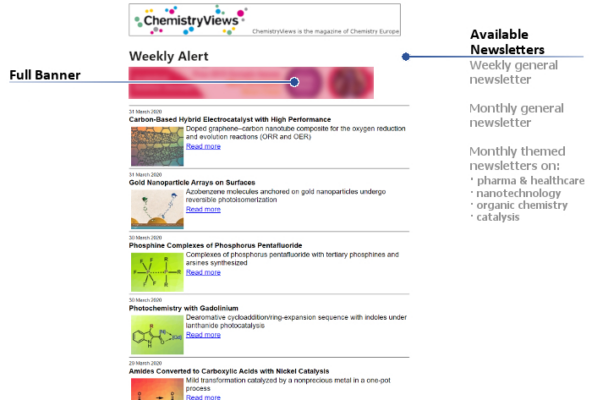 Size

Full Banner
(1 per newsletter)

728×90

!

animated banners are not working in these newsletters, please send gif, jpg, or tif formates

How to book

e-mail to

Ralf Schlichting
(he also provides usage statisics)

name of newsletter
(weekly, pharma, organic, nano, catalysis)

weekly newsletter send out every Thursday

organic 2nd Tuesday of the month

nano 3rd Tuesday

catalysis and Pharma 4th Tuesday

time (start & end date)

banner grafic

url
Sold banners have priority, but we still have enough vacant positions for marketing.
Schedule
To give our sales colleagues an easy overview and to find out where your banner can run, it would be great, if you could cc or contact Marion Schulz. Many thanks.


Usage Data
(data for 2020)
average users/month: 83,000
average sessions/month: 95,000
average pageviews/month: 133,000
geographic distribution: 41 % Asia, 33 % Americas, 18 % Europe, 5 % Oceania, 3 % Africa
If you have any questions, please let us know at

[email protected]

.