The European Journal of Organic Chemistry (EurJOC) and the European Journal of Inorganic Chemistry (EurJIC) have a long publishing history grounded in Europe. Co-owned by 16 European chemical societies, these high-quality chemistry journals are an outlet for some of the best research taking place in Europe and the world.
Chemical research institutes scattered across the globe recruit and attract the best minds in the business. The advantages of collated resources and expertise are plain to see. These hubs of specialty research are extraordinarily productive and contribute hugely to scientific discovery and scholarly publication.
EurJOC and EurJIC have established a reputation as a publishing partner for research institutes, with a series of well-received Special Issues highlighting top tier institutes across Europe and Russia. The respective Editors-in-Chief of EurJOC and EurJIC, Anne Nijs and Preeti Vashi, lead a passionate editorial team with strong connections to an enthusiastic board, and Chairpersons Burkhard König and Lutz Gade. This team is ideally equipped to commission articles, curate peer review, and publish, archive, and promote high-quality research in internationally recognized journals.
Read on to discover the Institute Features published to date. To explore publishing possibilities for your research institute, contact EurJOC (organic chemistry) or EurJIC (inorganic chemistry).
The N.D. Zelinsky Institute of Organic Chemistry of the Russian Academy of Sciences (ZIOC, Moscow, Russia) has partnered with EurJOC to mark the occasion of the IUPAC 21st Mendeleev Congress on General and Applied Chemistry, which takes place in St. Petersburg, Russia, in September 2019. EurJOC's Special Issue 26, titled Institute Feature: ZIOC Moscow, highlights ZIOC's current research themes.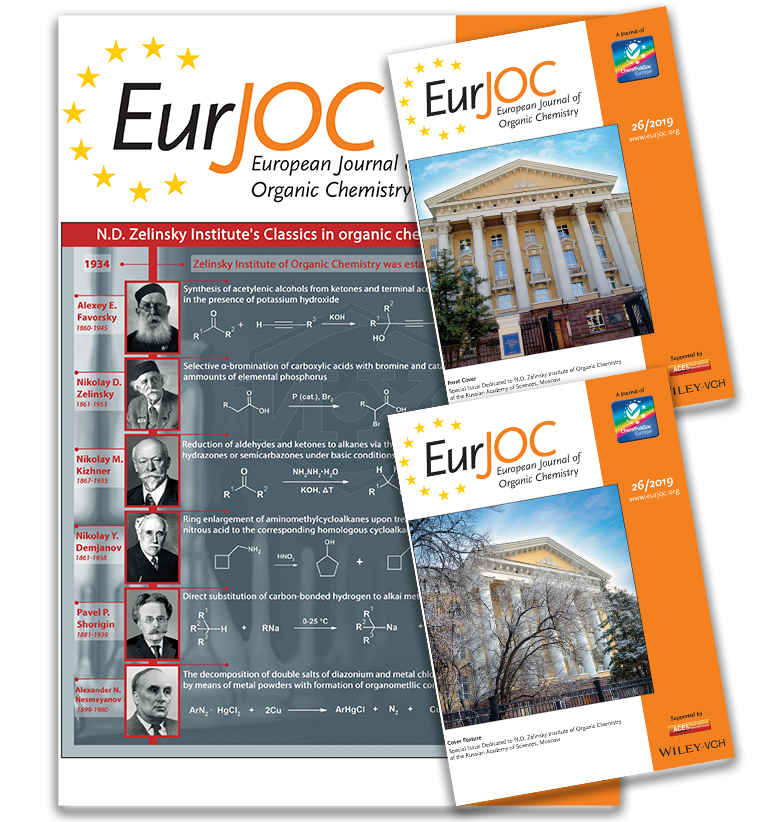 Caption: On the left, the Inside Cover of this Special Issue (picture credit: Eugenia A. Silyanova) highlights some of the significant contributions made to classical organic chemistry by ZIOC chemists. On the right, the Front and Feature Covers (picture credit: Alexey V. Kokorekin) depict the Summer and Winter views of ZIOC's primary entrance, which was designed by the acclaimed Russian architect Alexey V. Shchusev.
ZIOC was established in 1934 and takes its name from the celebrated organic chemist Nikolay D. Zelinsky who, among other accomplishments, is credited with adsorptivity studies that led to the creation of a life-saving carbon gas-mask used in World War I. ZIOC is currently headed by Mikhail P. Egorov, and it houses some 700 researchers. The institute has one of the biggest postgraduate studentships among the chemical institutes of the Russian Academy of Sciences, and it is home to seven scientific educational centers and seven laboratory training facilities that are affiliated with top national universities. Current fields of research expertise include fine organic synthesis, organic catalysis, bioorganic chemistry, industrial technologies, structural investigations, and physical organic chemistry.
For an overview of ZIOC's history and present-day activities, read the Editorial by Leonid I. Belen'kii and Vladimir A. Petrosyan, and the Guest Editorial by Nikolay E. Nifantiev.
Institute Feature: LIKAT Rostock (EurJOC and EurJIC 38/2018)
Founded in 1952 by Günther Rienäcker and Wolfgang Langenbeck, the Leibniz-Institut für Katalyse at the University of Rostock (LIKAT) was the first European institute devoted to catalysis. Today, LIKAT is one of the largest publicly funded research institutes in Europe working in applied catalysis and it employs about 300 people. With a focus on homo- and heterogeneous catalysis, as well as catalytic processes and technologies, research projects at LIKAT are frequently carried out in cooperation with industry or academic partners. The institute strives to implement at least two catalysts or catalytic processes on an industrial scale per year and, as such, more than 30 examples of pilot- or industrial scale implementation have been realized in the last decade.

EurJOC and EurJIC's joint Issue (38/2018) Institute Feature: Leibniz-Institut für Katalyse (LIKAT), Rostock (Germany) highlights the excellent research performed at the institute in a series of high-quality articles. The issue contains contributions from eight members of LIKAT's Internal Scientific Board, including the Director of LIKAT.
For a summary of LIKAT's history, structure, and its key areas of expertise, read the Editorial by Matthias Beller, Director of LIKAT and Head of the Applied Sustainable Catalytic Processes department.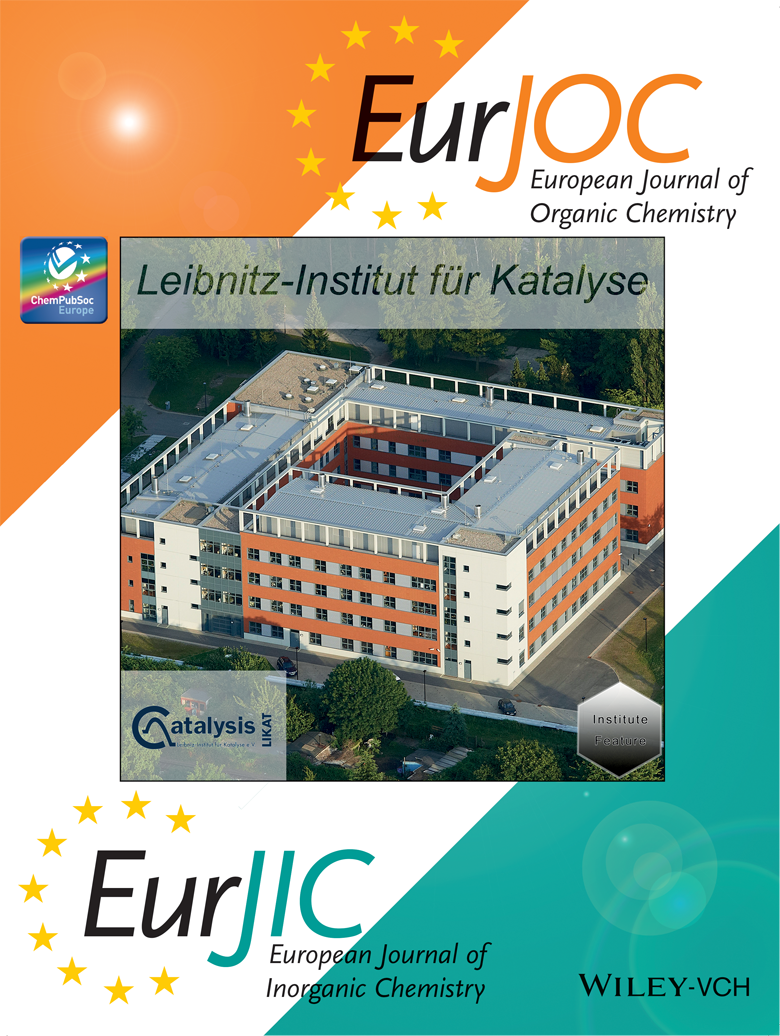 Caption: An aerial view of LIKAT, which straddles the University of Rostock and lies a mere 2 km away from one of Germany's largest Baltic Sea ports.
The Institute of Organic Chemistry and Biochemistry of the Czech Academy of Sciences (IOCB) was founded in 1953 by František Šorm. From the outset, the institute has embraced interdisciplinary research at the interface of chemistry, biology, and medicine, with the objective to improve the lives of human beings. On an international stage, the institute is well known for the contributions of its researchers to medicinal chemistry; among them, Antonín Holý, who developed acyclic nucleotide phosphonate antivirals (used in the treatment of HIV and other viral diseases). Today, approximately 750 researchers power this productive research institute in the Czech Republic's capital.
The IOCB takes a targeted approach to its project goals. Research groups focus on delivering specific objectives within strict timelines, while select individuals focus on proof-of-concept studies. With this structure in place, the institute has rapidly developed products and technologies for a global stage. To acknowledge the importance of these hard-working teams, EurJOC's Special Issue 37, Institute Feature: IOCB Prague, intersperses cutting-edge research articles with their associated "Team Profiles".
To learn more about the IOCB, read the Guest Editorial by Zdeněk Hostomský, the Director of IOCB Prague.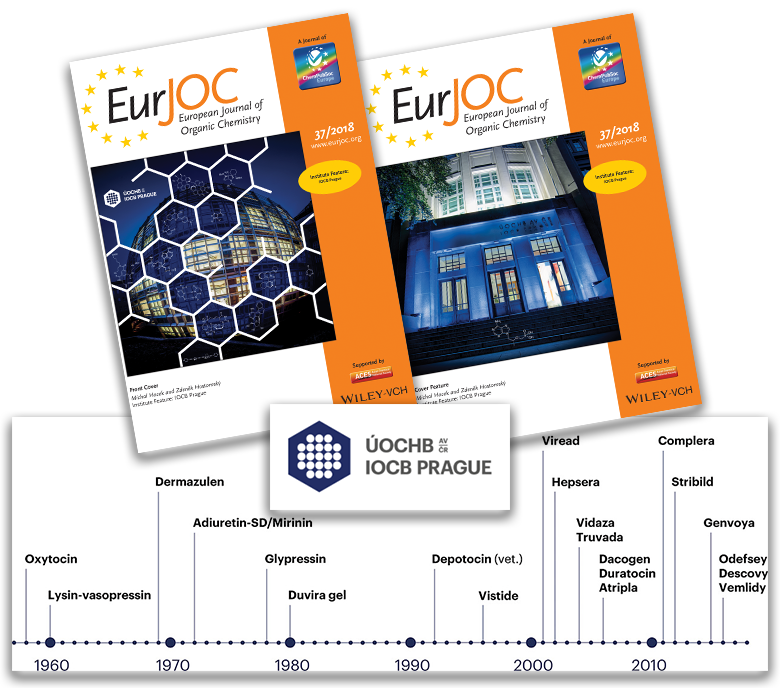 Caption: Clockwise from top, the Front Cover and Cover Feature for Special Issue 37, depicting the IOCB's new and old organic synthesis centers. A sample of drug discoveries that have had their origins at IOCB.
The Institut de Chimie des Substances Naturelles (ICSN, Gif-sur-Yvette, France) was created in 1959 by the Centre National de la Recherche Scientifique (CNRS). From the outset, the institute has set out to isolate and characterize bioactive natural products of biological relevance, and particularly as potential sources for new drugs. Working at the interface of chemistry and biology, the ICSN has established strong connections with French industrial partners to realize globally significant pharmaceuticals, such as the anticancer drugs Navelbine® and Taxotere®.
The ICSN is part of the Université Paris-Saclay Campus and it is organized into four research departments employing approximately 200 people: "Natural Products and Medicinal Chemistry", "Organic Synthesis and Catalytic Methods", "Chemical Biology", and "Analytical and Structural Chemistry and Biology". Moreover, the institute is a partner in three national Excellence Laboratories: The Center for the Study of Biodiversity in Amazonia, The Laboratory of Excellence in Research on Medication and Innovative Therapeutics, and the Chemistry of Multifunctional Molecular Architectures and Materials. The largest collection of natural extracts in the French public domain is hosted by the ICSN in an extract library containing more than 14,000 extracts from over 7,000 endemic and indigenous plants, microbial strains, and marine organisms.
EurJOC's Special Issue 42, Institute Feature: ICSN Gif-sur-Yvette, dives into top-quality research at the ICSN, ranging from natural product and total synthesis studies to heterocycle synthesis and photodimerization.
To learn more about the ICSN's exciting research program, read the Editorial by Angela Marinetti, who is the Head of the institute.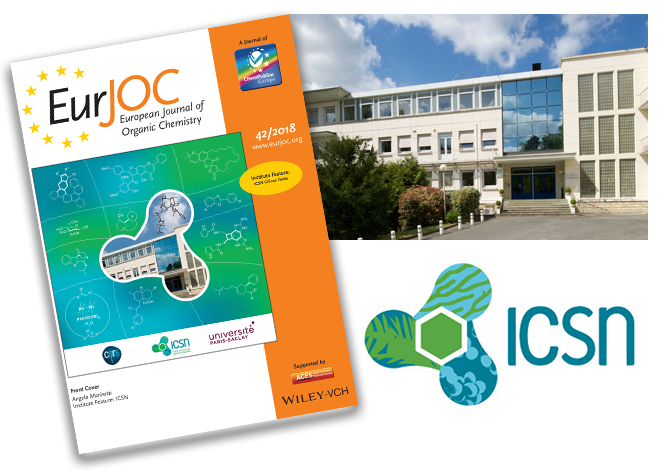 Caption: The molecular structure of Taxotere®, the anticancer drug discovered at the ICSN by former Director Pierre Potier, is depicted in the institute's logo and on the Front Cover of this Special Issue. Also presented on the cover are molecules selected from articles published in the issue.
The Institute of Organic Chemistry of the Polish Academy of Sciences (ICHO) was founded in 1964 with a primary focus on significant challenges in the field of organic chemistry. Subject fields under investigation at the ICHO have evolved over the years, producing remarkable discoveries along the way; among them, the synthesis of corroles and aza-crown ethers, as well as methods for the total synthesis of monosugars. The institute continues to develop new synthetic methods in organic chemistry to this day, encompassing subjects such as organocatalysis, asymmetric synthesis, supramolecular chemistry, and natural product development as well as molecular catalysis. Approximately 160 people are employed by the ICHO.
The EurJOC Special Issue 47, Institute Feature: Institute of Organic Chemistry – Polish Academy of Science, Warsaw (ICHO), is a collection of fascinating articles by new and established group leaders working at the institute. An Editorial by Daniel T. Gryko, Chairman of the ICHO's Scientific Council, details the important contributions made by this institute to organic chemistry.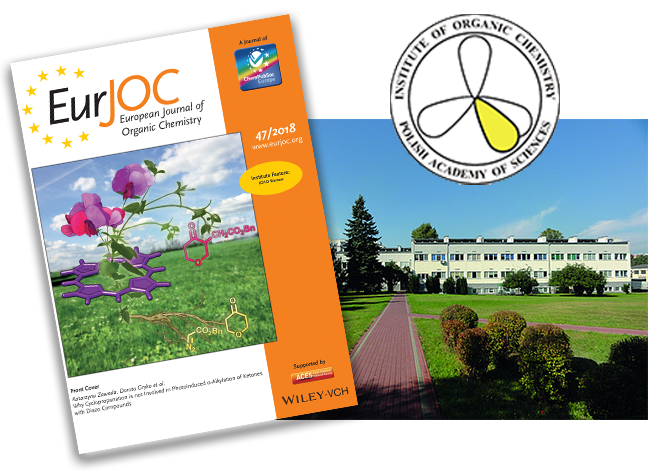 Caption: The Front Cover of this issue depicts photocatalytic, direct alkylation of enamines, generated from ketones, with diazo esters in the presence of a free‐base porphyrin photoredox catalyst. The ICHO (pictured on the right) is located in the historic Polish city of Warsaw.
Institute Feature: ICIQ Tarragona (EurJOC and EurJIC)
The Institut Català d'Investigació Química (ICIQ) was founded in 2000 and Inaugurated in 2003 after fruitful discussions with the Government of Catalonia and the scientist who would become the institute's Director, Miquel A. Pericàs.
The nine founding research groups of the ICIQ took a collaborative approach to experimental and theoretical chemistry, the spirit of which continues to this day. Currently, the ICIQ's primary research focus lies in catalysis of chemical processes and renewable energies and materials. Homogeneous, heterogeneous, and enantioselective catalysis are key areas of expertise.
The institute's mission is: "to lead, from the vantage point of molecular science, cross-strategies for solving major social and economic challenges, such as climate change and sustainable supply of energetic and raw materials, thereby contributing to the establishment of a knowledge-based economy and improving quality of life for all." To learn more about the ICIQ's history, structure, and goals, read the Editorial by Miquel A. Pericàs.
This joint EurJOC and EurJIC issue, Institute Feature: Institut Català d'Investigació Química, Tarragona (Spain) provides an excellent overview of ICIQ's research; from organo-, photo-, homo-, and heterogeneous catalysis, photoresponsive molecules, and C-C coupling reactions, through to porphyrin chemistry, phosphine ligand design, and advanced spectroscopy and computational studies.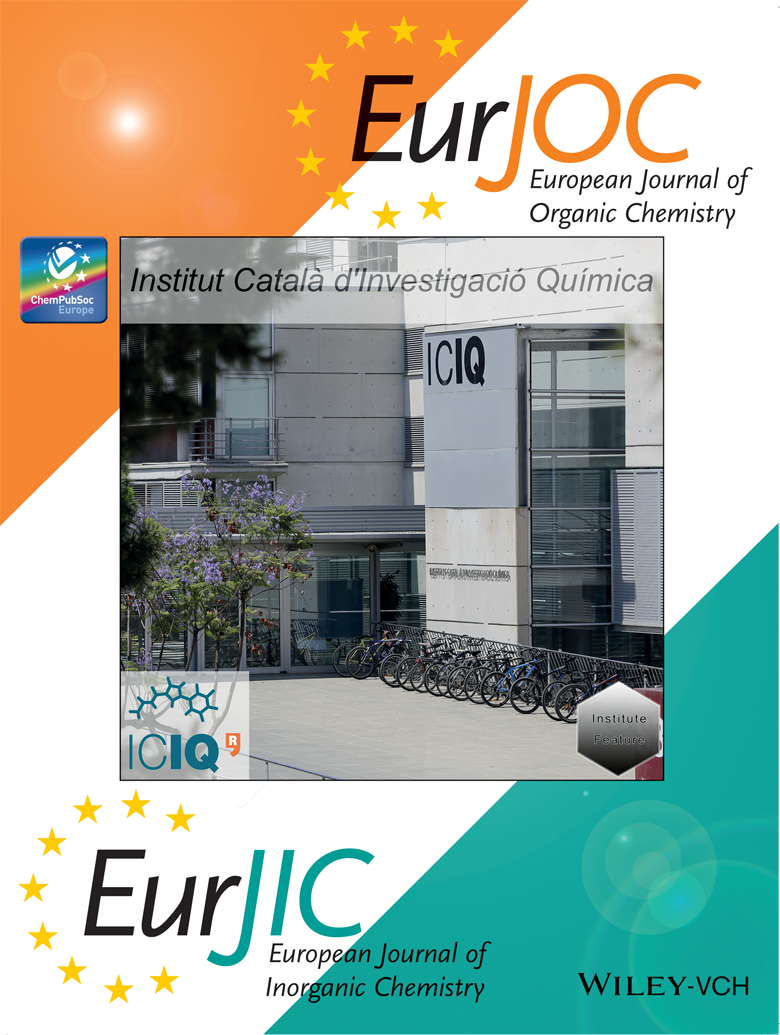 Caption: Home to >275 researchers, the ICIQ buildings were designed by the architect Javier San José.
By Kim Meyer