3ChemPubSoc Europe owners' meeting in Weinheim, Germany June 2014 – 15 years later
"Those were the days": To set the scene, in 1999 Wiley Interscience (today Wiley Online Library) had just been launched with 300 periodicals, 100,000+ articles, and 90,000 registrants. Our chemistry program, which today flies under the flag of "ChemPubSoc Europe" set sail in global waters. There were three ships: Chemistry – A European Journal (CEJ) was just in the fifth volume and European Journal of Inorganic Chemistry (EurJIC) and European Journal of Organic Chemistry (EurJOC) in their second. Jörn Ritterbusch started as an editor with the DGM Advanced Engineering Materials and Ivana Bertini (Florence, 1940-2012) was appointed the senior editor of the EurJIC. Soon they, with many other European chemists, were to attend the 4th owners' meeting of EurJIC, EurJOC, and CEJ, which, for the first time, was to be held in Weinheim.
A look at the minutes written by Karen Hindson shows that the publishing house was represented by our "Capitan" Manfred Antoni, former Managing Director of the publishing house and "Chief officer" Eva E. Wille, at that time still Publishing Director. These leaders together with Neville Compton and Karen Hindson presented the three ships, Kornelia Junge presented Wiley Interscience, and the marketing report (including Angewandte Chemie) for the Chemical Societies was presented by Monika Silz and Andreas Muth.
 

Francesco De Angelis – representative of the Italian Chemical Society
"(…) it is my pleasure to thank you for your very warm and kind hospitality in Weinheim, at your … our headquarters. Everything was perfectly organised. Dinners have been much appreciated, as well as the very nice tour at Heidelberg. We have also been very lucky with the weather, but you had even taken into account possible showers ….
In my opinion, the meeting itself has been profitable for all of us. After these days I am more confident in an increasingly successful future for ChemPubSoc Europe."
When comparing the list of participants from 1999 to those who attended the ChemPubSoc Europe owners' meeting in June 2014, it is interesting to see the stalwarts that remain. Those attendees that remain 15 years later, meeting for only the second time in Weinheim, include Karen Hindson, Monika Silz, Eva E. Wille, Neville Compton, Luis Oro (Spain) and Peter Gölitz. These peers attended and provide important continuity.
 

Piotr Belczewski – representative of the Polish Chemical Society
" (…) would like to thank you and the whole team engaged in organization of the CPSE meeting in Weinheim for the excellent organization, very warm reception from the very beginning (preparation of transportations from the airport as well as wishes, a book and the invitation umbrella in the Ottheinrich hotel ! ) to the very end (transportations to the airport), taking care of us for the whole time of our staying in the beautiful old German city. It will certainly be unforgettable meeting due to many new initiatives which are important to the future of the CPSE and chemists."
Reviewing the meeting as a whole and looking at the pictures of this year's meeting, one becomes aware of how a whole journal program was developed from the first three titles. After the first three flagships, no less than nine more titles were to follow by expansion and interpretation of the chemistry journal landscape: in order ChemPhysChem, ChemBioChem, ChemMedChem, ChemSusChem, ChemCatChem, ChemViews.org (with ChemistryViews), ChemistryOpen, ChemPlusChem and ChemElectroChem. These journals were presented in full in a PowerPoint show —rather than the black and white transparencies of the 90's—by their respective editors/deputies (alphabetical order), Lisa Abel, Meghan Campbell, Neville Compton, Anne Deveson, Greta Heydenrych, Guido Kemeling, Vera Köster, Natalia Ortúzar, Michael Rowan, Marisa Spinello, Preeti Vashi, Susan Wilkinson).
The importance of inclusion cannot be overstated. This year the both the Swiss and the Slovak Chemical Societies became owner members. Their fresh input and the rigorous nature of their bid to be included as full members can only highlight the excellence of ChemPubSoc Europe and their vision for the future of science. By now the member owners of ChemPubSoc Europe have increased from 11 to 16 and 14 national chemistry journals have been merged or changed completely.
One thing is certain: Although the "brave oldies of Weinheim 1999" took on a highly ambitious European publishing project, no one would have imagined how remarkably ChemPubSoc Europe would evolve and represent such great science.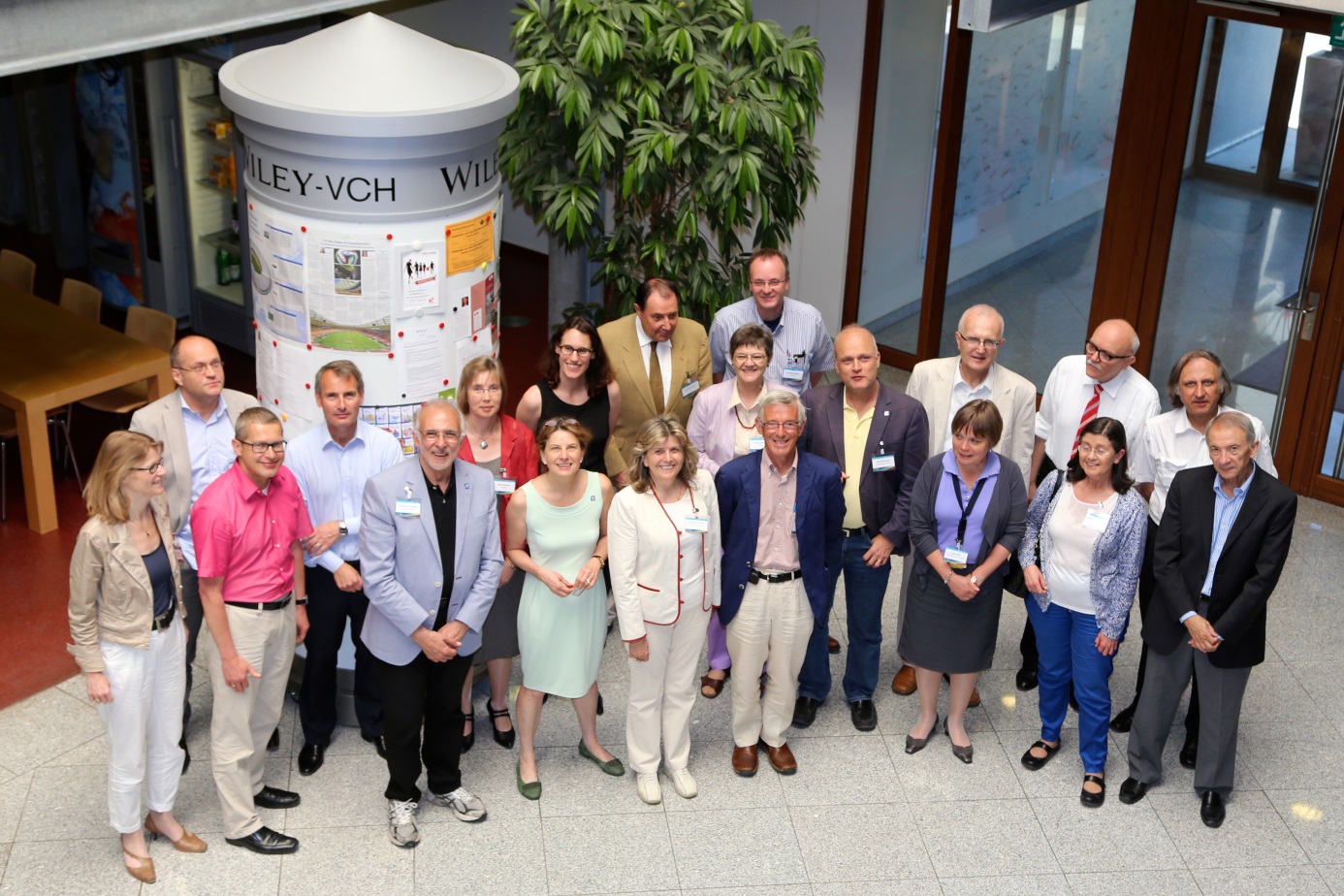 | | |
| --- | --- |
|   | Fig. 1: Owners' meeting in Weinheim in June 2014: First row from left to right: Helma Wennemers (CH), Wolfram Koch (DE), Franco de Angelis (IT), Eva E. Wille, Livia Sarkadi (HU), Robert Schoenheydt (BE), Per-Ola Norrby (SE), Lene Hviid (NL), Maria José Calhorda (PT), Luis Oro (ES). Second row from left to right: Dusan Velic (SK), Jim Milne, Anne Deveson, Vera Köster, Igor Tkatchenko (FR), Karen Hindson, Neville Compton, Piotr Balczewski (PL), Peter Gölitz, Günter Grampp (AT). |
| | |
| --- | --- |
|   | Fig. 2: Work and philosophy: In the Conference room from left to right: Luis Oro (ES), Günter Grampp (AT), Helma Wennemers (CH), Maria José Calhorda (PT), Wolfram Koch (DE), Lene Hviid (NL), Igor Tkatchenko (FR). On the Philosophers Walk (Heidelberg) from left to right: Luis Oro (ES) and Wolfram Koch (DE), Dusan Velic (SK) Igor Tkatchenko (FR), Monika Silz, Robert Schoenheydt (BE), Lene Hviid (NL), Piotr Ewa Balczewski (PL), Günter Grampp (AT), and Helma Wennemers (CH). |
---
Eva E. Wille / Marion Fricke