Climate change, population growth, and increased urbanisation are problems facing society today. We are already using over one-and-a-half times the globe's resources and urgently need to do more with less – businesses need to adapt. This is why Stora Enso, traditionally a pulp and paper producer, decided to transform into a biomaterials and biochemical company.
The company set up a Biomaterials division in 2012, which focuses on offering products based on renewable materials. It has a wealth of non-GMO, non-food competing feedstock and was already developing solutions for the paper, board, and tissue industries. By shifting into biomaterials and biochemicals, the company can provide more sustainable solutions across different industries.
Stora Enso's new business platform, focused on biomass, goes beyond its traditional industries. Its sustainable extraction process creates a range of fossil-free materials such as specialty pulp grades. Stora Enso's biorefinery concept also allows for new technologies to extract hemicellulose, sugars, and lignin from a variety of biomass more efficiently.
Stora Enso's Biorefinery Concept
Biorefinery technologies are the bio-based equivalent of petroleum refineries, as their feedstock is renewable biomass, which is converted into value-added products. Furthermore, diverse biomass treatments and processing methods are integrated into one system. This leads to different components being produced from the same renewable resource, reducing the waste generated and making the system more environmentally and economically efficient.
In 2014, Stora Enso acquired biotechnology company Virdia, together with its extraction and separation technology. In order to test biorefinery technology, the company invested €32 million to build a demonstration and market development plant in Raceland, Louisiana, USA. The new plant will convert cellulosic biomass into highly-purified sugars. To ensure minimum feedstock transportation, the plant will be built next to the sugar mill and near the bagasse piles. Moreover, xylose can also be extracted from sugar cane bagasse and further converted to downstream chemicals such as xylitol. These chemicals have a wide variety of applications in different industries such as home, personal care, and food.
Stora Enso's biorefinery process (Figure 1) consists of three different platforms: xylose (C5 sugars), lignin, and cellulose or glucose (C6 sugars). Lignin extracted in such a way has different characteristics to kraft lignin and, therefore offers novel application opportunities including in the automotive and construction industries.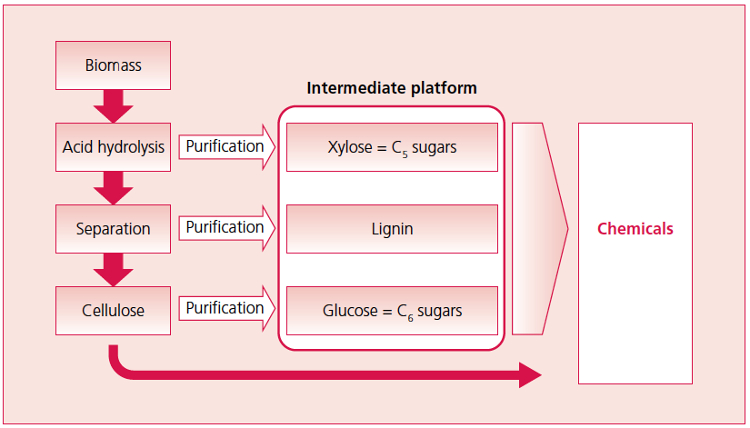 Figure 1. Stora Enso's biorefinery process.
It is often assumed that lignin has numerous applications, but limited business opportunities. However, lignin can be used as a replacement for oil-based phenolic materials and this is crucial for the bio-based industries. Lignin's structure is highly aromatic, which means it can be used as an application where rigid structures are preferred, although challenges remain due to its dark colour.
There are many varieties of lignin, which vary according to the extraction process. Lignin is not a 'one-size-fits-all' product as different types of lignin vary considerably in performance. Therefore, it is important for companies to understand application requirements in order to provide the correct type of lignin.
Biorefinery by-products, such as tall oil, turpentine and bio-methanol, and new chemical, mechanical, and enzymatic processes will further boost the potential of sugars and high-purity cellulose contained in lignocellulosic feedstock from different sources. Well-designed purification procedures are crucial in order to have varied sugar compositions to meet the requirements set by the end application.
Since biorefineries use biomass as their main resource, making sure that biorefineries are built close to the biomass source can solve logistical issues. Therefore, biorefineries can also become highly beneficial to the local farming communities as they create jobs, make use of waste residues, and enable maximum use of local biomass resources.
Stora Enso's investment in Virdia is a significant step in exploring and developing innovative ways of extracting highly refined sugars and lignin from biomass, which are required for viable commercial applications. The company's biorefinery model could also be successfully integrated into existing pulp mills, allowing for the development of a small biorefinery mill concept.
Pulp mills could also be seen as a type of biorefinery, as wood is separated into hemicellulose, lignin and cellulose. However, the focus of pulp mills is on producing pulp and current processes do not allow for the separation of lignin and hemicellulose, which are kept in the waste stream.
Focus On Lignin
Stora Enso has been researching lignin and its attributes for over a decade. Since lignin can be used as a sustainable alternative to the phenols used in plywood, wood-panelling glues and the polyols used in foams, initial markets are anticipated in the construction and automotive industries. It is essential to continuously develop innovative technologies with the aim to minimise waste and extract the maximum value possible from wood.
This is why Stora Enso has also invested in a biorefinery concept for its Sunila Pulp Mill in Kotka, Finland. Extraction trials began in late 2014 and will improve the process for extracting lignin from Nordic pine and spruce.
Stora Enso aims to further develop biorefinery technologies in its new Biomaterials Innovation Centre in Stockholm, Sweden. The centre will group research, applications, strategic marketing and business development under one roof and is set to open at the end of 2015.
Future Outlook
Stora Enso Biomaterials will continue to conduct in-house application development and bringing R&D and business development together, transforming the company. Alongside continued investment in lignin extraction, related areas of development also being considered at the moment include:
Microfibrillated Cellulose (MFC) – a cellulose material which has different dimensions to conventional pulp. This leads to different properties such as increased viscosity and gelling behaviour.
Lignin-based products could replace fossil-derived chemicals and materials.
Biochemicals, including pulp mill by-products and functional chemicals for specialty uses
Currently, the three largest biomaterials market shares are occupied by polyethylene terephthalate (PET) market in the textile industry ($47.8 billion), polyvinyl chloride (PVC) market in the constructive industry ($13.2 billion), and polyethylene (PE) market in the packaging industry ($10.2 billion). According to Lux Research analysts, "in a polymer market worth over $100 billion, bio-based alternatives can offer advantages like biodegradability in the right target markets".
Nevertheless, challenges relating to processability and mechanical properties must be overcome. Further development work needs to be done to motivate industries to shift from existing processing techniques and infrastructure.
Cost and performance are also key for replacing oil-based polymers, which benefit from lower costs, functionality and low production volumes. However, many biopolymers benefit from novel, improved properties compared to fossil-based products, including biodegradability.
Thankfully, the biorefinery concept is emerging globally. Even though challenges in commercial-scale development remain, such as raw material availability and feasibility in product supply chain, biorefineries have an untapped potential for the future of our industries and can become crucial in reducing society's reliance on fossil fuels. The future of biomaterials remains bright.
---
Sponsored content is not written by and does not necessarily reflect the views of ChemistryViews's editorial staff.
Read More