Tatiana Santos is Senior Policy Officer for chemicals and nanotechnology at the European Environmental Bureau (EEB), Brussels, Belgium. The EEB is the environmental voice of European citizens that stands for environmental justice, sustainable development, and participatory democracy.
She talks to Vera Köster for ChemistryViews.org about the appeal and challenges of her job ranging from influencing EU policymaking, giving advice about sustainable chemistry, and coalition building.
Tell us a bit about how your career has developed.
I studied chemistry in Spain and specialized in environmental and food chemistry. After finishing my university studies, I struggled to find a job that matched my professional interests and goals. I spent a year in the UK to strengthen my language skills before applying for a grant to undertake a Masters degree in Environmental Impact Assessment. Happily I passed the tests and I had the opportunity to become an expert in that field.
Afterwards I applied for an EU grant to work in a member state as an intern and had the opportunity to work in Vienna for 6 months on my chosen topic: the substitution of hazardous chemicals widely used in industry. At the end of this experience I wrote a report that was published in both English and German.
After that I applied to work at the Spanish Trade Union's Institute for Health and Environment (ISTAS-CCOO), Madrid, where I stayed for eight years. While at ISTAS I did a Masters degree in Occupational Health and Safety (OHS) which greatly informed my work in the trade union as a chemical risk technician. At ISTAS I specialized in chemical risk issues, OHS, environment, identifying and prioritizing chemicals of concern, and substitution of hazardous chemicals, among other areas. Also I represented trade unions at the Risk Assessment Committee (RAC) meetings held at the European Chemicals Agency (ECHA) in Finland.
Now I work for the European Environmental Bureau (EEB), Europe's largest federation of environmental citizens' organizations, with more than 140 members all around Europe. Through its members the EEB represents 15 million European citizens. It is their voice to the EU decision makers in order to improve and protect the environment.
What do you do in your current position?
In the EEB my position is Senior Policy Officer for Chemicals and Nanotechnology. The EEB has an extensive network of member nongovernment organizations (NGOs) and experts experienced in the REACH Regulation and chemical issues across the EU, cooperating together within the chemicals and nanotechnology working groups.
I coordinate and inform our members to keep them abreast of what is going on in Brussels, represent our member organizations at EU level, develop strategies to influence EU policies, share best practice and discuss proposals for, reactions to, and input on EU policy proposals.
My main mission is to influence EU decision makers, that is, mainly the European Commission, the European Council, and the European Parliament, to adopt an inclusive and protective approach for regulating chemicals and nanomaterials to achieve a high level of protection for human health and wildlife.
How related to chemistry is your job?
My chemistry background is vital to my ability to properly perform my job. I advocate for chemicals and nanomaterials to be properly addressed in the EU legislation and make sure the existing legislation is properly implemented and enforced. It would be difficult to discuss and defend the EEB's positions with no technical knowledge. I also advocate for green chemistry and sustainable innovation and participate in international technical networks that require a solid background of chemistry.
Finally, I participate in the European Chemicals Agency's (ECHA) committees of risk assessment and the member state committee, where knowledge on chemistry and toxicology is a basic requirement.
What other skills do you need?
Aside from my academic background in chemistry I also use communication and coordination skills. I organize meetings, negotiate between partners, and debate issues with other diverse stakeholders, including those who are opposed to our position. I use my writing skills to articulate the EEB's position on different EU legislation and negotiate its formulation between different members. I also use social skills for networking and building relationships with other stakeholders interested in similar areas.
What problems or decisions do you deal with regularly?
I usually attend meetings on behalf of the European environmental organizations mainly at European level, organized by ECHA, European Commission, European Presidency, and European Parliament, but also in other forums, such as member states' events, at the World Health Organization (WHO), European Food Safety Authority (EFSA), Organisation for Economic Cooperation and Development (OECD), etc.
Also I respond to questions and requirements of our members and coordinate the organization of one or two working groups meetings per year.
Finally, I draft the NGOs' position papers and letters to the decision makers on behalf of environmental organizations.
What do you enjoy most about your job?
This job is a nonstop learning process. I particularly enjoy having contact with other NGOs and discussing issues with decision makers.
Is there anything you miss from your time in the lab?
That 'Eureka' moment.
What was the most challenging part of your job?
Speaking in public. I'm a very shy person so I found it hard to speak in public. Also, I didn't have much knowledge of the European institutions so it was hard at the beginning to learn how legislation is made.
What advice would you give to students pursuing a job in this area?
If you are really motivated and this is what you would like to do, then go for it, you won't regret it.
Did you need to specialize in a certain field or is a general chemistry background sufficient?
Environmental chemistry and (eco)toxicology are very useful but general chemistry should be enough.
Thank you for this interview.
---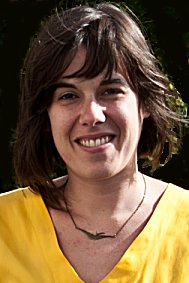 Tatiana Santos studied chemistry at the University of Cádiz, Spain. She gained a M.Sc. in Environmental Impact Assessment from the Confederation of Andalusian Businesses, Spain, and another in Occupational Health and Safety from the Spanish Trade Union's Institute for Health and Environment (ISTAS-CCOO), Madrid, Spain.
Before working for the EEB, she worked at the ISTAS-CCOO for eight years.
---