Peptide supramolecular architectures offer a broad range of high-definition biotemplates for the design and preparation of unusual functional metallic nanostructures. Junbai Li et al., Beijing National Laboratory for Molecular Sciences, China, have developed an Au nanoflake film replicated from a self-assembled, dipeptide flower-like architecture.
The different steps within the surface-forming process (see diagram) were monitored by using electron microscopy, energy-dispersive spectrum (EDS) analysis and atomic force microscopy (AFM). 4-mercaptobenzoic acid (4-MBA) was used as a model, as its hydrosulfide group can interact with Au atoms. The nanoflake film enhanced the Raman signal by 104, compared with an Au flat surface, because the 4-MBA molecules in the gaps between the nanospheres can sense the electric field more effectively.
This strategy is expected to broaden the application of biomaterials in surface science.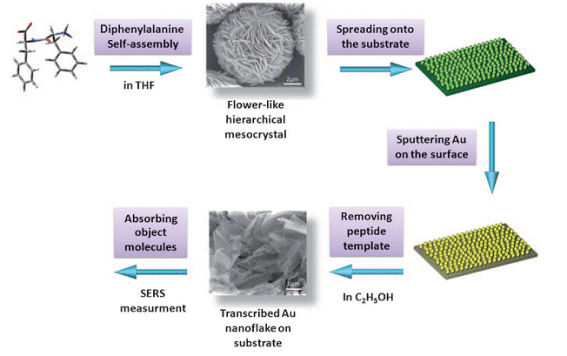 Images: (c) Wiley-VCH
---