On April 22nd, Earth Day, thousands all over the world marched for science. What started as a planned scientist's march in Washington DC, USA, ended up as a global movement comprising rallies in more than 600 cities all over the world [1]. Both scientists and non-scientists alike banded together to advocate evidence-based policy and to fight against any distortion or misrepresentation of scientific truths today.
In Germany, concerned science supporters also made their mark with 19 cities holding major marches. Various universities took the lead in organizing these satellite events, backed even by key research organizations and scientific societies like the Max-Planck Society, the Helmholtz Association of German Research Centres, and the German Chemical Society (GDCh).
Heidelberg's March for Science
Some ChemPubSoc Europe editors and colleagues at Wiley-VCH, Weinheim, also got to attend one of the bigger marches in nearby Heidelberg, a prominent university town in Germany. Heidelberg's March for Science drew in an estimated 1800 participants [2]. The event began with a performance by The Wild Types (a band composed of scientists), a speech by organizer Dr. Eva Haas, European Molecular Biology Laboratory (EMBL), Heidelberg, and a rousing science slam/rap number by Dr. Lorenz Adlung, German Cancer Research Center, Heidelberg. The actual march then proceeded along the old town's main street, ending up at the picturesque university square. A three-hour program followed, with speakers including the state's minister of science, Theresia Bauer, and prominent scientists from the area. The atmosphere was jovial, and everyone's passion for science was evident.
The key messages throughout the day could be summarized in three slogans seen in many placards: "Science, not silence!", "Wissenschaft ist keine Meinung!" (Science is no opinion), and "Wissen schafft Zukunft!" ("Knowledge creates the future"; also a cool play on words as Wissenschaft = Science). Photos from the Heidelberg event are shown below.
Science, indeed, will not be silenced, and these marches are just the beginning. Echoing the official website of the March for Science, "We marched. Now we act."
Highlights from the March for Science in Heidelberg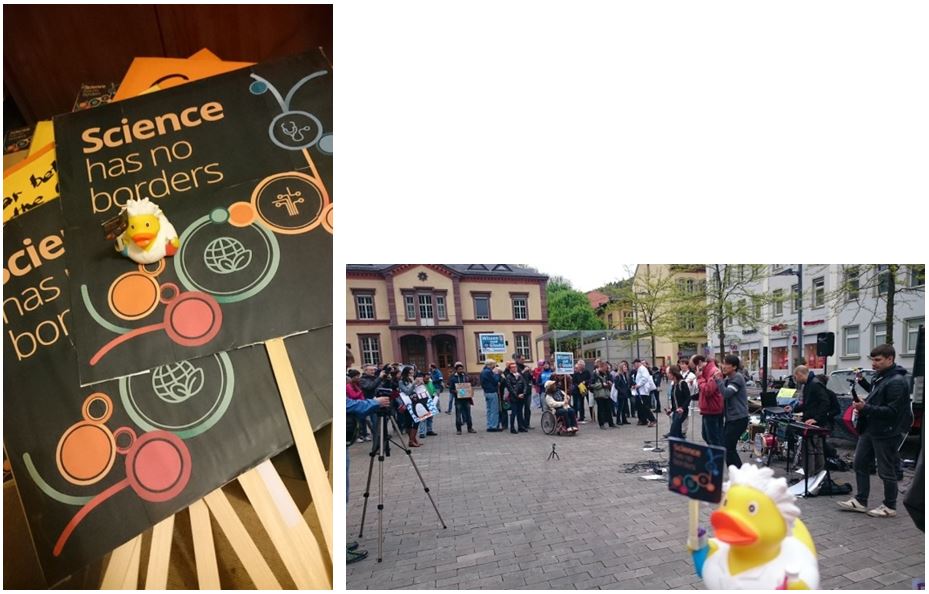 Left: Chemquackers prepares placards for the march. Right: The Wild Types open the event as marchers trickle into the starting point (Photos © David Peralta, Wiley-VCH).


The crowd begins to form at Friedrich-Ebert-Platz in Heidelberg (Photo © Wolfgang Sieß, Wiley-VCH).


People are excited to march (Photo © Wolfgang Sieß) and interesting placards abound (Photo © David Peralta).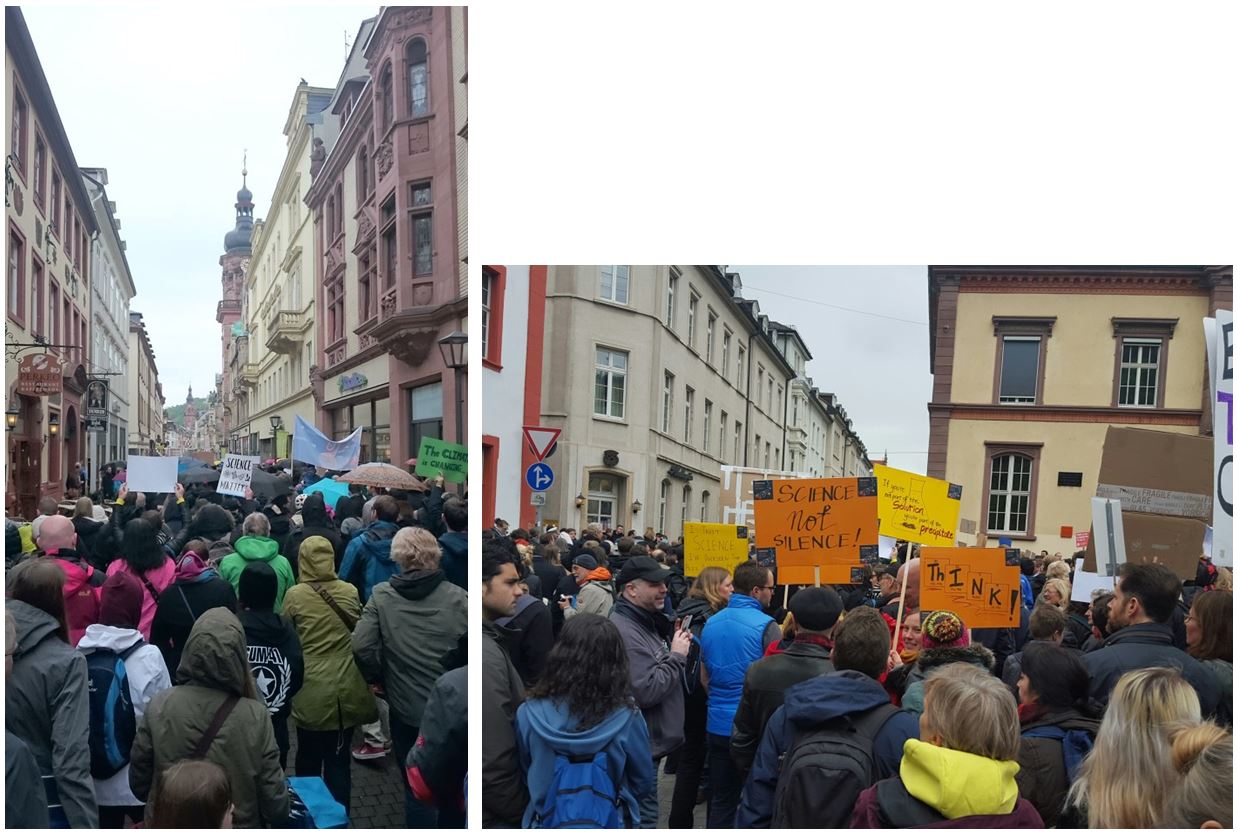 Left: Not even rain could stop the march! (Photo © David Peralta) Richt: The march to university square begins (Photo © Marisa Spiniello, Wiley-VCH).


Left: The state's science minister, Theresia Bauer, reiterates how open science is crucial for liberal democracy (Photo © Wolfgang Sieß). In the middle, the crowd reaches picturesque university square (Photo © David Peralta). The band Balsamico sings an updated version of the popular Queen song with "Science will Rock You!" (Photo © Wolfgang Sieß).


International crowd at the university square (Photo © Wolfgang Sieß) and Chemquackers enjoying the rally (Photo © David Peralta).


Roughly 1800 people attended the event (Photo © Wolfgang Sieß).
References
[1] Holmes, Matthew (April 24, 2017). Why We Joined the March for Science. Available at www.theguardian.com/science/2017/apr/24/why-we-joined-the-march-for-science. Accessed April 26, 2017.
[2] Rimer, Sebastian (April 23, 2017). 1800 Menschen Demonstrieren für eine Freie Wissenschaft. Available at www.rnz.de/nachrichten/heidelberg_artikel,-Heidelberg-March-for-Science-in-Heidelberg-1800-Menschen-demonstrierten-fuer-eine-freie-Wissenschaf-_arid,270447.html. Accessed April 26, 2017.
Also of Interest
March for Science,
ChemViews Mag. 19 April 2017.
Scientific truth must always remain the measure of all things