Top Position in Worldwide Comparison
"Germany is a good location when it comes to developing ideas from innovations". Thomas Wessel, chairman of the German chemical industry association Verband der Chemischen Industrie (VCI) Committee for Research, Science and Education, and Chief Human Resources Officer of Evonik Industries AG, Essen, Germany, explained at a recent VCI press conference that this is due to well-trained specialists, inventive companies, excellent universities and research facilities, with a breadth and depth that is unique in the world, as well as high legal certainty in Germany.
Globalization makes us move closer together, which means that economic, technological, and legal conditions are changing. The competitive pressure is increasing, new products are being brought faster to the (world) market. This requires additional efforts from the industrialized countries to remain internationally competitive. A higher innovation pace is needed.
Germany is doing well with regards to expenses for research and development (R&D). The country is the world's fourth largest chemical and pharmaceutical research center and number one in Europe. Looking at patent applications in chemistry (without pharmaceuticals) and at the trade with research-intensive chemicals (also without pharmaceuticals), Germany ranks among the top three.
In 2016, around 11 billion euros have been invested in R&D in Germany. Compared to the previous year, the chemical and pharmaceutical companies increased their research expenditures by about 4 %. The companies annually spend around 5 billion euros at their foreign locations for R&D (see Fig. 1 for a worldwide overview).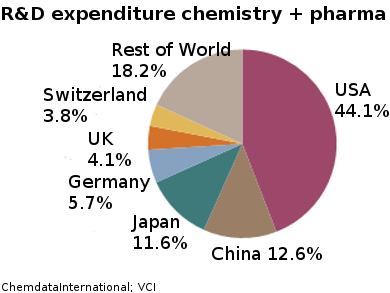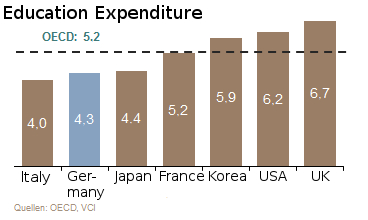 Figure 1. (left) R&D expenditure of the chemical and pharmaceutical industry in the respective country. (right) Federal and private education expenditure in 2013 in percent of the GDP.
In the coming years, research will continue to focus on research-intensive specialty chemicals and pharmaceuticals, as well as on digitization.
Drivers to Become an Attractive Research Location
In spite of all this, Germany is not at one of the absolute top positions in the international innovation competition. Strategies to become more attractive include increasing the research intensity of Germany to 3.5 % of gross domestic product (GDP). For the chemical industry, this means a 20 % increase in R&D investment. Based on 2016 numbers, about 13 billion euros are to be invested in R&D every year. It is clear that this goal cannot be achieved without additional incentives, as well as innovation and investment-friendly framework conditions.
From the VCI's point of view, there are five drivers that can facilitate this:
1 Fiscal R&D Funding
One of the most important drivers for research is tax incentives: in the future, tax-related R&D funding must be provided for all research-based companies in addition to the previous project funding. Two-thirds of the OECD countries and half of the EU countries already support research with tax incentives. Asian countries, for example, have a strong appeal with tax advantages. Global companies are looking very carefully at the country in which there is a particularly good framework for research and development.
The VCI, therefore, proposes a model in which 10 % of a research company's self-financed R&D expenses are deducted from its tax liability. That would cost the state about 5.4 billion euros a year. To enable us to finally enter unbureaucratic funding in Germany, we can envisage that only the R&D personnel costs will be taken into account. In the VCI's opinion, the introduction of such crediting of the research staff is also an employment policy signal for the qualification and development of specialists in Germany.
2 Better Support of Life Sciences
Germany has established itself as an important location for the life science industry. The industry invests a lot of money in the research of new active ingredients, the further development of proven drugs, and in the production of new drugs. Rapid approval procedures for modern pharmaceutical and plant protection products are unfortunately missing.
3 Innovation Check for Planned Legislation
The VCI is committed to an innovation check in the regulatory impact assessment. The legislature could thus examine whether, for example, implementation periods, changes in standards and norms, or the implementation effort complicate the development of new products.
4 Greater Openness Towards New Technologies
Germany is skeptical about new technologies. Instead of skepticism, however, the country needs a societal climate in which the opportunities and risks of new technologies are evaluated in a balanced way so that technical progress is possible.
The VCI proposes that ethical questions about the risks of genome editing be discussed together with politics and society. The successful NanoDialog of the Federal Government could serve as a model here. It has contributed significantly to the open and balanced view of the opportunities and risks of nanotechnology and, thus, to support a responsible handling of nanomaterials. The next federal government should initiate a BioDialog to discuss molecular biology methods.
5 More STEM Education
Only an educated population can be open to new technologies, ask critical question, assess opportunities and risks. This helps to reduce the obstacles to innovation in the minds.
However, internationally, Germany is lagging behind with regard to spending on education. While 5.2 % of the gross domestic product is invested in education within the OECD, Germany spends for just 4.3 % on its educational institutions (see Figure 1). However, this is not enough to become an innovative world champion.
In tax-related R&D incentives, Wessel sees one of the most important drivers for research in Germany. "Innovations are the starting capital for our future."
---