Ralf Haiges, University of Southern California, Los Angeles, USA, prepared and characterized novel group 13 cyanides. His article about these findings [1] was flagged as very important by Chemistry – A European Journal and is published with a front cover of the journal. Fascinated by the original cover design, Vera Koester, ChemViews Magazine, spoke with Ralf Haiges about the cover art design, the ideas behind his research, and his motivation.
What gave you the idea to this cover art?
When we received the invitation from Chemistry – A European Journal to submit a cover art, we immediately thought about the web comic "Cyanide & Happiness" by Rob Denbleyker, Kris Wilson, Dave McElfatrick, and Matt Melvin. We are big fans of the often dark and surrealistic comics that are published on explosm.net and wanted to incorporate them into the cover art.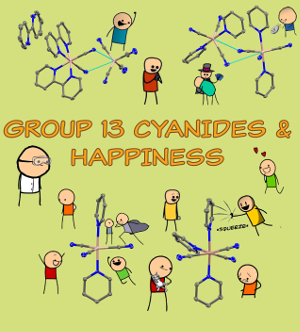 Luckily, the people from C&H were okay with us using some of their characters.
Who created the picture?
The picture was created by myself using a combination of characters published on explosm.net and crystal structures of various group 13 cyanides of the work.
Did you create similar artwork before?
I was lucky to be invited to submit cover artwork before for journals including Angewandte Chemie [2], Chemistry – A European Journal [3], and Dalton Transactions [4].
What reactions do you expect?
I wanted to create artwork that is different from the images that are usually featured on the cover of Chemistry – A European Journal. I had something funny and whimsical in mind that inspires curiosity about the characters shown in the picture.
Can you please say something about your research?
My research interests are quite broad and include high energy density materials, green energetic materials, polynitrogen and high nitrogen compounds, chemistry at the limits of oxidation and coordination, superacidic systems, and fluorine chemistry as well as the synthesis and characterization of novel carbocation and fluorocarbon compounds.
What was the inspiration behind the study related to the cover picture?
The inspiration behind the cyanide work of this study is actually going back several years. My group was and still is heavily involved in the synthesis of metal polyazides. A few years ago, we published the synthesis of binary group 13 azides in Angewandte Chemie [5]. Azide and cyanide are both pseudohalides and we were wondering if the reaction chemistry of the group 13 azides can be directly applied to the cyanides. While we were surprised that there are distinct differences such as the favored formation of the penta- and hexa-substituted anions [Ga(N3)5]2–, [In(N3)6]3–, and [Tl(N3)6]3– for the azides but only tetra- and penta-coordinated anions [Ga(CN)4]–, [In(CN)5]2–, and [Tl(CN)5]2– for the cyanides, we were also happy because this gave us an excuse to further look into this chemistry.
What is the main significance of your results? How will you follow up on this?
The main significance of this particular study is the synthesis of novel group 13 cyanides by a fluoride-cyanide exchange reaction. This is an extension of the fluoride-azide exchange chemistry that has been developed in our group. It is interesting that there is a distinct difference between the chemistry of the cyanides and azides of the group 13 metals even though cyanide and azide are both pseudohalides. We are currently expanding this work to include other main group elements and transition metals.
Please tell us a bit about how your career has developed.
My career path wasn't totally straight. After graduating from the Realschule in Germany, I attended a vocational school to become a Chemical-Technical Assistant and worked for some time in the analytics department of a textile research institute. In 1992, I joined the Bergische University of Wuppertal, Germany, to study chemistry. I passed the Vordiplom in 1994 and was awarded the Diplom in 1997. I received my Ph.D. in 2000 for my work on the difluorocarbene reactions of bis(trifluoromethyl)cadmium which I did in the group of Reint Eujen at the Bergische University of Wuppertal. I then joined the group of Karl Christe at the University of Southern California (USC), Los Angeles, USA, as a Postdoctoral Researcher. Since 2010, I am Research Faculty at USC.
What do you enjoy most about your career?
I enjoy that every single day, I get to ask questions and find answers to them. I find it deeply gratifying to find answers to problems.
What fascinates you about chemistry?

From as far back as I can think, I was always curious about how things work. Chemistry and X-ray crystallography are at the very heart of figuring out how the molecular world around us works.
What other interests do you have?
My interests besides chemistry include hiking, photography, electronics, and movies.
Thank you for the interview.
---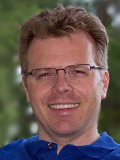 Ralf Haiges, studied to be a Chemical-Technical Assistant at the Chemical Institute Dr. Flad, Stuttgart, Germany and graduated in 1990. He then worked as a Chemical-Technical Assistant at Hohensteiner Institute, Bönnigheim, Germany, from 1990 to 1991. Haiges studied chemistry at the University of Wuppertal, Germany, and received his Ph.D. there in 2000 under the supervision of Reint Eujen for work on "Difluorocarbene-Reactions of Bis(trifluoromethyl)cadmium: Synthesis of partially fluorinated organic compounds".
Haiges then joined the University of Southern California, Los Angeles, CA, USA, where he was was Senior Research Scientist and Lecturer from 2001 to 2010. Since 2010, he is Associate Professor (Research) and Director of the X-ray Crystallographic Facility there. Haiges also serves as Chair of the Division of Fluorine Chemistry of the American Chemical Society (ACS) since 2016.
Selected Awards
Robert Bau Award of the University of Southern California, USA, 2011
Arthur Adamson Award of the University of Southern California, USA, 2004
Research Stipend of the Deutsche Forschungsgemeinschaft, Germany, 2001
Award for Excellence in Master's Thesis, University of Wuppertal, Germany, 1994
References
Selected Publications by Ralf Haiges

Also of Interest