Research and development (R&D) is the growth engine of the BASF. In a rapidly changing time, Dr. Martin Brudermüller, Vice Chairman of the Board of Executive Directors and Chief Technology Officer of BASF, sees the shelf-life of innovations drop significantly. This makes it ever more important to increase efficiency and effectivity as well as innovation strength and competitiveness. At the Research Press Conference held at the company's headquarters in Ludwigshafen, Germany, Brudermüller emphasized that the company's key strategy is to take advantage of the enormous opportunities that digitalization offers.
Systematic Use of Digitalization
Digitalization concepts include the management of data produced within the BASF; the connection, easy accessibility, and smart use of internal and external data and strategies to integrate them into daily work; as well as modeling and simulations using the new supercomputer Quriosity. The new supercomputer in particular is seen as the key element in the R&D digitalization process. Quriosity reached position 65 on the TOP 500 list of the world's fastest supercomputers, making it the fastest supercomputer for industrial chemical research. It has a processing power of 1.75 billion FLOPS (number of floating point operations per second). This is around ten times the computing power that BASF currently has dedicated to scientific computing. Currently, it is operated at a Hewlett Packard Enterprise (HPE) site in Houston, TX, USA. This summer, it will be transitioned and put to operation at the Ludwigshafen site in a 80–100 m² space taking advantage of the BASF's Verbund system for cooling and power supply.
Among the examples showing how digitalization drives faster product development and scales up production more efficiently, Brudermüller highlighted the development of an efficient and resource-saving process to reliably produce L-menthol in consistently good quality from cis-citral. This was enabled by optimizing the structure and the selectivity of the catalyst by computational chemistry. It is the first enantioselective hydrogenation run continuously at large scale worldwide. Since 2012, the large production plant for nature-identical menthol is in operation at the company's Ludwigshafen site. L-Menthol is the world's largest-selling aroma ingredient in tons. It is an essential ingredient in all sorts of consumer products and used in the pharmaceutical industry, for instance, in respiratory and cold-treatment products.
Currently, 150 people are employed directly in the field of digitalization in a newly formed research unit within BASF's R&D. Digitalization will not reduce the number of employees, but will require different abilities. Therefore, the company has started to add digitalization to the curriculum of their apprentices. They are also in discussions with universities. Brudermüller thinks that there is a need to catch up. Eduation at the university has to be adapted to changed requirements, has to be modernized. An important part of the training must be digitalization, algorithms, quantum chemistry, etc.
Focus Content
To increase innovation strength, good ideas are of major importance. Therefore, the flow of innovation must remain vital. A new unbureaucratic so-called "creativity concept" with a special budget aims to collect ideas within the company, test them, and select those ideas which are strategically relevant for the company. Some hundred ideas are already in the pipeline according to Brudermüller.
Another approach to focus and enable development is the identification of 21 key technologies within R&D and to bundle them in seven focus areas, namely biotechnology, catalysis, polymer technologies, materials, enabling methods, producing processes, and biodegradable and biobased materials.
Optimize Structures
To optimize structures, the 70 R&D sites worldwide are divided into three large hubs in Shanghai, China, Research Triangle Park, NC, USA, and Ludwigshafen, Germany, and smaller, highly specialized sites located in proximity to specific customers. In 2017, the Innovation Campus Asia Pacific in Mumbai, India, was launched. After Shanghai, it is the second largest site in Asia Pacific capable of accommodating 300 scientists.
Agriculture Business
BASF develops solutions for farming, such as pest control and landscape management. Together with ZedX (aquired in 2017), BASF is currently developing the online application Maglis® that will help farmers use available information such as weather and environmental conditions more efficiently and make better decisions regarding cultivation of their fields, e.g., identify the right window of application for a BASF herbicide. The app is currently being tested by selected farmers.
BASF showed interest in acquiring assets that Bayer plans to sell to get regulatory approval for its US$ 66 billion takeover of Monsanto. Brudermüller said that although BASF is not in the seeds business at present, they will look at the assets being offered as part of remedies required to approve mergers in the agricultural chemicals industry. Bargain prices might persuade the company to overcome its traditional reluctance to expand into the seeds industry. "Seed assets are an option, not a must," Brudermüller said.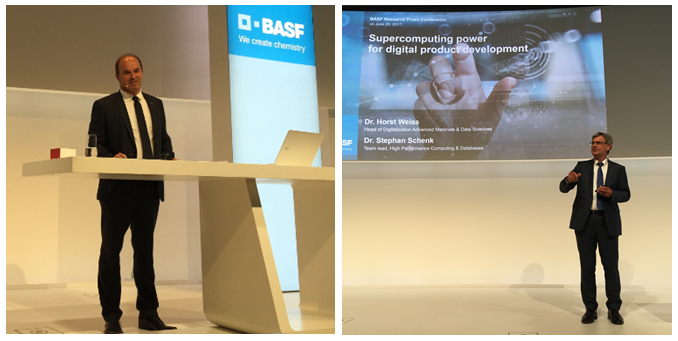 Dr. Martin Brudermüller, Vice Chairman of the Board of Executive Directors and Chief Technology Officer, and Dr. Horst Weiss, Head of Digitalization Advances Materials & Data Sciences, during their presentations at the Research Press Conference.
R&D expenditures are on constantly high levels with 1.863 million Euro in 2016. The described strategies should bring BASF into a position to be able to do more with the same amount of R&D money in the future.
---