Professor Roald Hoffmann, Cornell University, Ithaca, NY, USA, has received the first Primo Levi Prize from the Gesellschaft Deutscher Chemiker (GDCh, German Chemical Society) and the Italian Chemical Society (Societa Chimica Italiana, SCI). The award was presented at the GDCh Wissenschaftsforum 2017 in Berlin, Germany, on September 10, 2017.
The prize is named after the Italian Jewish chemist, writer, and Holocaust survivor Primo Levi and honors chemists or scientists from related disciplines who promote human rights and improve the dialogue between chemistry and society. Roald Hoffmann receives the prize for his engagement for upholding ethical standards in chemistry, as well as for his fictional works, which promote responsibility, empathy, and respect.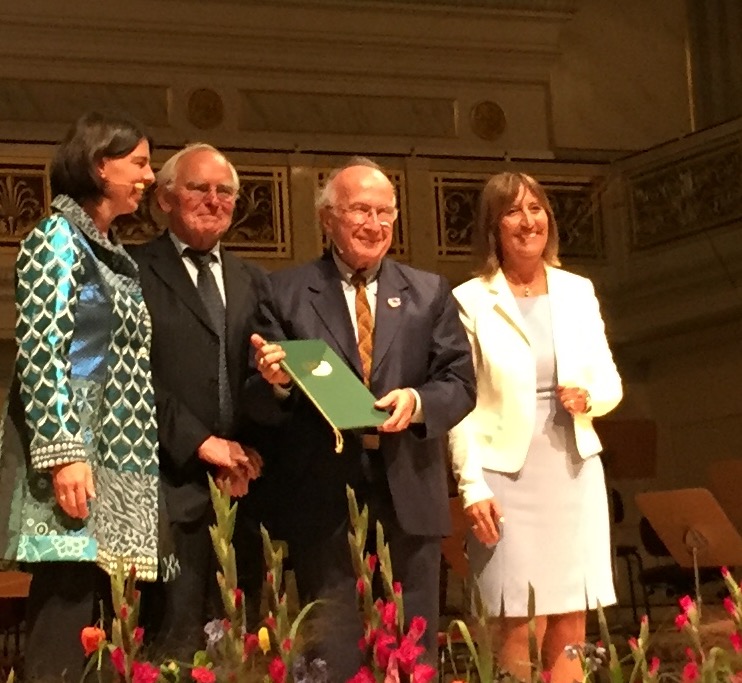 Figure: (left to right) Professor Thisbe Lindhorst, President of the GDCh; Professor Henning Hopf, Laudatio; Professor Roald Hoffmann; Professor Angela Agostiano, President of the SCI.

Roald Hoffmann was born in Zloczow, Poland, on July 18, 1937. He emigrated with his family to the United States in 1949. He studied chemistry at Columbia University, New York, and Harvard University, Cambridge, MA, both USA. He received his Ph.D. fom Harvard in 1962. In 1965, Hoffmann joined Cornell University as Associate Professor of Chemistry. In 1968, he was appointed Professor of Chemistry, and he became John A. Newman Professor of Physical Science in 1974. Today, he is Frank H.T. Rhodes Professor of Humane Letters at Cornell.
Professor Hoffmann's research focuses on applied theoretical chemistry. Hoffmann is also a poet and playwright, often incorporating science into his fictional works. Among many other honors, including over twenty-five honorary degrees, he has received the Nobel Prize in Chemistry in 1981 together with Kenichi Fukui. The prize was awarded "for their theories, developed independently, concerning the course of chemical reactions".
---
Selected Publications

Also of Interest
The video shows Hoffmann's ceremonial speech that earned a standing ovation from the audience. Video recorded by Dr. Gerhard Kreysa, fromlery Dechema, Germany