This March a select group of early career chemical researchers from across Europe gathered in Weinheim, Germany, to participate in a two-day immersive workshop on the theme of publishing in the chemical sciences. Wiley-VCH Editors associated with the ChemPubSoc Europe family of journals participated in the lively meeting.
European Publishing in the Chemical Sciences
Chemical research and publishing—two uneasy companions contending with the same modern challenges in scale, pace, viability, and relevance. Particularly in Europe, cultural and social diversity add complexity to scientific dissemination.
To better understand the challenges faced by European researchers and publishers in this shared endeavor, ChemPubSoc Europe—an umbrella organization representing the publishing arm of 16 continental European chemical societies—has hosted an ambitious experiment. The publisher opened its doors to 17 early career researchers from across Europe for an honest exchange of impressions and ideas on the theme of modern European publishing in the chemical sciences.
The invited attendees are active early career chemical researchers with an impressive range of international experience and expertise between them. They manage small research groups, are educators, and many are active members of various European chemical societies or committees.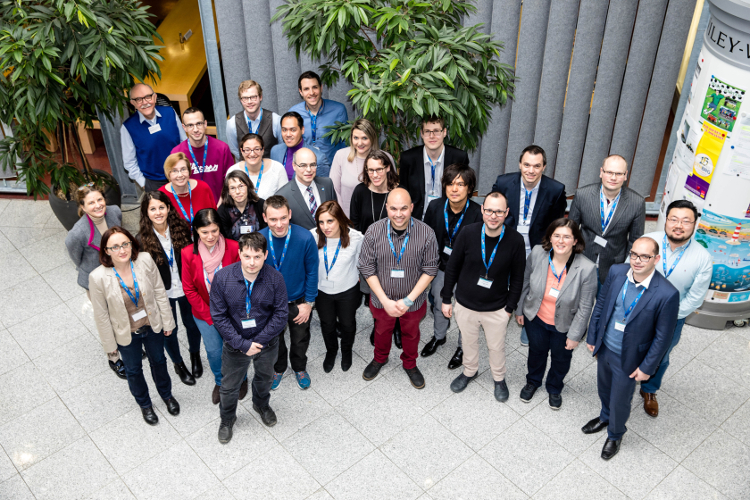 Workshop participants, including ChemPubSoc Europe editors, assembled for a group photo in the Wiley-VCH atrium, Weinheim, Germany.
First row: Dr. Tamás Beke-Somfai.
Second row (left to right): Prof. Ivana Fleischer, Dr. Vera Lúcia Marques da Silva, Dr. Vincent Fourmond, Prof. Maria Manuel Marques dos Santos, Dr. José Miguel González Domínguez, Dr. Milan Vrábel, Dr. Sophie Carenco, Dr. Iraklis Kyriakou.
Third row (left to right): Dr. Elena Leci, Associate Editor Dr. Kim Meyer, Publisher of ChemPubSoc Europe and Editor-in-Chief of Chemistry – A European Journal Dr. Haymo Ross, Editor-in-Chief of ChemViews Magazine Dr. Vera Köster, Prof. Shigeyoshi Inoue, Dr. Hannes Mikula, Dr. Marcin Kalek, Dr. Haifeng Yuan, Vice President and Executive Director of ChemPubSoc Europe Dr. Eva Wille, Editor-in-Chief of ChemistrySelect and Deputy Editor of Chemistry – A European Journal Dr. Anne Deveson, Associate Editor Dr. Pamela Alsabeh, Editor-in-Chief of ChemistryOpen Dr. Kate Lawrence, Dr. Oscar Verho.
Fourth row (left to right): Dr. Erik Szabo, Editor-in-Chief of ChemMedChem Dr. David Peralta.
Back row (left to right): Editor Emeritus Dr. Peter Gölitz, Dr. Johannes E. M. N. Klein, Managing Editor of ChemBioChem Dr. Ruben Ragg.
Beyond a natural curiosity about the editorial and production mechanisms supporting ChemPubSoc Europe's 14 high-quality journals, attendees hoped to gain tips for publishing and insight into the long-term prognosis of scientific publishing. Junior group leader Sophie Carenco, Collège de France, Paris, has noticed dramatic changes in the sector in recent years, saying: "I share the hope that publishing will survive."
Can Publishers and Researchers Learn from Each Other?
Throughout the two-day event, in-house editors briefed attendees on the core aspects of scientific publishing; from the history of Wiley-VCH and ChemPubSoc Europe, to technological developments in publishing, tips for scientific writing, promotion through social media and press releases, publication ethics, open science, and practices in scholarly collaboration within the framework of copyright law.
An important component of a modern researcher's work lies in promotion and publicization – tools that are provided by ChemPubSoc Europe journals in the form of special issues, cover graphics, author profiles, Twitter exposure, and press releases.
Lively discussions revealed that attendees are striving to realize their full potential in a competitive environment, where funding is sparse, research and publication are fast-paced, and researchers must juggle numerous responsibilities. Shigeyoshi Inoue, TU München, Germany, explained that metrics for performance rely on many different markers and that it is challenging to keep up with all the requirements.
Modern researchers (and publishers) must also contend with the economic burden of mandated Open Access publishing, particularly where countries do not make provisions for the costs of publishing open science. Kate Lawrence, Editor-in-Chief of ChemPubSoc Europe's exclusively Open Access journal ChemistryOpen, gave workshop attendees an overview of the Open Access landscape; including licenses, funding organs, and article processing costs.
Why Publish with ChemPubSoc Europe?
ChemPubSoc Europe's Executive Director, Eva Wille, frames the publisher's major challenge as one of identification. And indeed, workshop attendees had ambiguous knowledge of ChemPubSoc Europe before the meeting, though they actively publish in its journals. Wille explains that the publisher pays substantial royalties to the 16 European owner societies, offers monetary rewards for society publishing, and is otherwise a consistent supporter of the activities of society members.
Maria Manuel Marques dos Santos, Universidade de Lisboa, Portugal, believes it is logical to publish work funded by European grants in European chemistry journals. She credits leadership in the Sociedade Portuguesa de Química with the promotion of society publishing, which has fostered social and monetary feedback loops that continue to nurture the society and ChemPubSoc Europe journals.
Workshop attendees consider representation and a sense of ownership to be major challenges facing chemical publishing in Europe. Erik Szabo, Comenius Universität Bratislava, Slovakia, suggests that the 16 owner societies are the "tip of the iceberg", and that a larger body of sympathetic supporters is within reach. Sophie Carenco considers active and engaged ambassadors to be a vital ingredient in the exchange between ChemPubSoc Europe and European chemical communities; she believes that owner societies stand to gain valuable expertise by opening their doors to active young researchers.

Workshop participants engaged in lively discussions.
How Can ChemPubSoc Europe Improve?
Vera Köster, Editor-in-Chief of ChemViews Magazine, chaired a series of targeted workshops on the themes of 1) "publishing: the researchers' main challenges and expectations", 2) society publishing and a prognosis for the future of ChemPubSoc Europe, and 3) "promoting your research". On the basis of group discussions, recommendations were put forward for strengthening ChemPubSoc Europe's publishing program in both the short and the long term.
Conclusion
The attendees now have a better understanding of the duties of the publisher, publication workflows, and the responsibilities of authors. Armed with this information, workshop participants recognize that the publishers will need to work closely with European chemical societies and communities to ensure the health of ChemPubSoc Europe. After all, a flourishing European publishing program is integral to the prosperity of these communities. Workshop participants believe that a European approach to scientific publishing—one that is committed to inclusion, diversity, and collaboration—will serve chemical research well into the future.

ChemPubSoc Europe editors and early career researchers sharing dinner at Weinheim's picturesque Marktplatz. Opportunities for networking with in-house editors were abundant during coffee breaks, lunches, and dinners interspersed throughout the two-day event.
---
What is ChemPubSoc Europe? An umbrella organization representing the publishing arm of 16 continental European chemical societies. ChemPubSoc Europe publishes 14 high-quality scientific journals and the international publication ChemViews Magazine. Explore ChemPubSoc Europe here.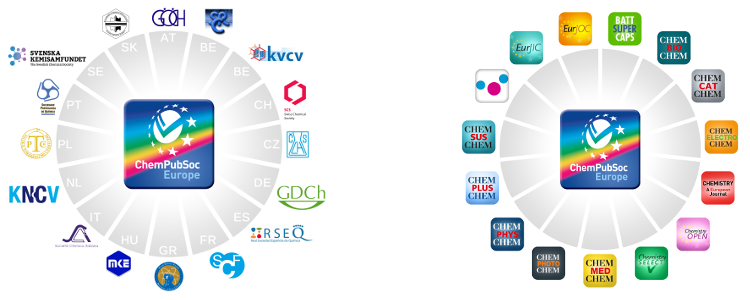 ChemPubSoc Europe's participating societies (left) and publications (right).