Dave Gustafson is a Senior Fellow at Monsanto Company, St. Louis, MO, USA. He served as an inaugural member and theme lead for the Monsanto Fellows Climate Change Panel, which reported back to the company on the degree of scientific certainty in global climate modeling. He talks to ChemViews about how climate change is impacting agriculture, how biotechnology is helping farmers and how we can meet the needs of a growing world.


What is the Monsanto Fellows Climate Change Panel?
The Monsanto Fellows Climate Change Panel was formed in December 2006 in order to focus on the effects of climate change and what it means for Monsanto, its business and farmers. The group was led by Monsanto senior scientists and their internal efforts were enhanced through the direct input and expertise of external experts.
And who are the Monsanto Fellows?
The Monsanto Fellows Program was first established in 1948. It is intended to recognize, utilize, and develop Monsanto scientists and their scientific leadership skills. It has a rigorous nomination process. There are currently 105 Monsanto Fellows out of about 4,000 scientists at four levels: Associate Science Fellows (35); Science Fellows (42); Senior Science Fellows (25); Distinguished Science Fellows (3).
Monsanto's Fellows have received numerous internal and external forms of recognition, including Dr. William Knowles, a retired Distinguished Fellow, who won the Chemistry Nobel Prize in 2001 for his work in chiral synthesis.
You served as an inaugural member and theme lead for the Monsanto Fellows Climate Change Panel. What are the biggest threats of the climate change?
Based on our review of scientific literature, scientists at Monsanto would agree that the climate is changing and it is having an impact on agriculture production.
One of the most impactful changes is water, either too much or too little of it in different areas of the world. It is projected that deserts and areas susceptible to drought will increase. At the same time, heavy precipitation events that often damage crops will become more frequent.
Effects of the climate change can be seen already. The southwestern US, for example, is very dry whereas other regions have more rainfall and flooding. Wet springs delay the time for growing seeds, because it is too wet to plant. In other regions, the grounds warms up later than before which leaves less time for growing seeds.


So what are the greatest future challenges for agriculture?
By mid-century, world population is expected to increase from today's nearly 7 billion to 9 billion, and the climate is expected to be more challenging. The world is relying on farmers to produce more food, renewable energy sources, and other bio-based products to meet our growing demand. We are committed to help farmers do that in a sustainable way.

How can this be done?
There isn't one single technology or a magic bullet to satisfy these demands. Our view is that it will take many tools all working together to increase the productivity of agriculture and conserve resources at the same time.

The changes are occurring gradually enough that new approaches to plant breeding are bringing forward adapted varieties that continue to adapt and change with a changing climate.
Variability in temperatures and weather patterns has always made farming a risky business and it has a good history of changing. This will only intensify through climate change, especially for the many millions of small scale farmers in areas of the developing world totally dependent on rainfall. Scientists predict that areas of the world that are hot and dry today — such as Sub-Saharan Africa — will likely become hotter and drier in the future, driving a need for additional research into conventional and biotech approaches to helping increase the productivity of crops.
So which regions will be affected worst?
All regions are being affected by climate change, but Africa is one of the most seriously affected regions, where water scarcity and climate change disproportionately affect Sub-Saharan Africa.
What is Monsanto doing already?
Monsanto is one of the partners in a project called Water Efficient Maize for Africa (WEMA) that involves the national research organizations of five African countries: Kenya, Mozambique, South Africa, Tanzania and Uganda. The WEMA is led by the African Agricultural Technology Foundation (AATF) a not-for-profit organization based in Nairobi focused on agriculture productivity and research. CIMMYT (International Maize and Wheat Improvement Center), an international research institution is also a partner. The project is funded by the Bill and Melinda Gates and the Howard G. Buffet Foundations. The goal of the project is to develop a variety of drought-tolerant maize seeds, using conventional and biotechnology, to help alleviate yield loss in the face of moderate drought.
Through plant breeding, the company is developing crops that are more resilient and can adapt to the conditions of the area where they are planted. Our researchers are working in areas that will help plants to yield more in the face of adverse weather situations like drought and use resources like nitrogen more efficiently to drive yield, among others, even in dry years and in poor soils. Roundup Ready crops contribute to conservation tillage, which leads to carbon sequestration and reduced fuel consumption.
How is agricultural technology changing?

Agricultural technology is constantly changing; and farmers are constantly looking for better technology for their farms to help them produce more grain, conserve resources and improve their operations. That's why Monsanto devotes much of its resources to discover and deliver products to help farmers produce crops with higher yields, while using fewer resources.
Can you give an example please?
An example of one product that recently came out of our pipeline is RIB Complete, our refuge-in-a-bag concept that contains the appropriate amount of refuge seed a farmer needs blended into the bag along with their Bt seed.
The plant produces its own refuge to prevent resistancies. Every 20th seed in the bag does not contain the toxin.
So the farmer pours the seed into the corn planter and plants the corn crop containing the required refuge with a single pass of the planter. This is a tremendous time saver for the grower.
Thank you very much for the interview.
---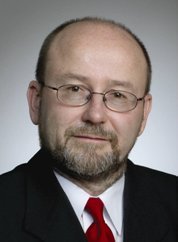 Dave Gustafson is a Senior Fellow at Monsanto Company, St Louis, MO, USA, where he serves as Environmental & Ag Policy Modeling Lead.
His academic training was at Stanford University, USA, and the University of Washington in Seattle, USA, where he received his B.S. and Ph.D. degrees, both in chemical engineering.
His research on the environmental challenges surrounding agricultural has now spanned nearly 30 years. The initial focus of his work was the development of new computer models for predicting the environmental behavior of crop chemicals, especially their potential impacts on water quality. Among the models he developed for this purpose is the GUS-Index, which is now used by regulatory agencies worldwide to determine the potential of pesticides to contaminate ground water supplies.
In subsequent years, Gustafson developed new modeling approaches to pollen-mediated gene flow and the population genetics of insect and weed resistance. In 2007, Gustafson served as an inaugural member and theme lead for the Monsanto Fellows Climate Change Panel, which reported back to the company on the degree of scientific certainty in global climate modeling, and how it is likely to impact agriculture around the world.
He now serves on various Monsanto teams looking at the new imperatives and constraints placed on agriculture by man-made global warming, hypoxia, and other environmental challenges.
---