Mechanofluorochromic molecules can be used to make smart materials that change their emission color upon applying an external mechanical force. Such materials could have applications in fields such as fluorescence switches, security displays, and data storage.
Banchhanidhi Prusti and Manab Chakravarty, Birla Institute of Technology and Science, Hyderabad, India have designed and synthesized mechanofluorochromic anthryl phosphonate/π‐linked benzoic acid cocrystals with a large blue shift (pictured). The team prepared stoichiometric cocrystals from diethyl (anthracen-9-ylmethyl)phosphonate (ANP) and (E)-4-(2-(anthracen-9-yl)vinyl)benzoic acid (ANA) via a slow evaporation process. The cocrystal shows yellow emission in its pristine state, and green emission under pressure (visible after irradiating with a 365 nm UV lamp). The emission can be restored to yellow upon recrystallization.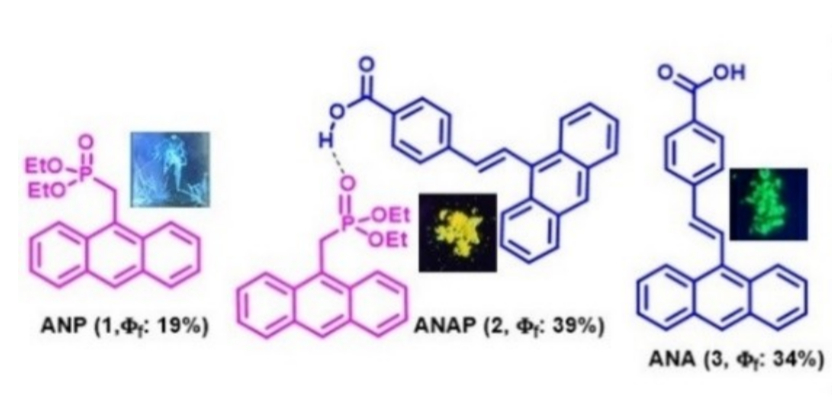 The X-ray structure of the cocrystal shows the crucial role of P=O⋅⋅⋅H/C=O⋅⋅⋅H noncovalent interactions: The components form a loosely bound layered structure that can be easily destroyed by applying pressure. This results in a blue-shifted emission.
---