Petra Mischnick, Technical University of Braunschweig, Germany, has received the inaugural Hildegard Hamm-Brücher Award for equal opportunities in chemistry from the Gesellschaft Deutscher Chemiker (GDCh, German Chemical Society). With the prize, which is endowed with EUR 7,500, the GDCh wants to set a sign and honor exemplary commitment to equal opportunities in chemistry. It was presented at the GDCh Wissenschaftsforum 2021 on August 29, 2021.
With this first award, the selection committee paid tribute to the Agnes Pockels student laboratory at the Technical University of Braunschweig, which was initiated by Petra Mischnick in 2002. The project was one of the first of its kind and has had a broad impact—there are now over 200 student laboratories across Germany. In the project, students of different ages and social backgrounds are equally encouraged and their interest in STEM subjects is promoted. The Agnes Pockels student laboratory does not just offer students a place where they can experiment under laboratory conditions: Petra Mischnick's team has also developed over 70 experiments from various subject areas that children and teens can carry out in daycare centers or schools. In addition, the project provides experiment boxes on exciting topics and offers training courses for educators.
In addition to the Agnes Pockels school laboratory, Petra Mischnick has distinguished herself through her longstanding commitment to equal opportunities. She was one of the pioneers who made equality a central issue in the GDCh and was a founding member and first Chairwoman of the Working Group on Equal Opportunities in Chemistry (Arbeitskreis Chancengleichheit in der Chemie, AKCC).
Petra Mischnick studied food chemistry at the Technical University of Braunschweig and passed the first state examination in 1981. After a practical year in Lübeck, she passed the second state examination in Hamburg, Germany, in 1983. She received her Ph.D. in 1987 from the University of Hamburg and completed her habilitation in the field of organic chemistry there in 1996. In 1998, she was appointed Full Professor at the Institute for Food Chemistry at the Technical University of Braunschweig, where she worked until her retirement in 2020.
Mischinick's research focuses on the structure and chemistry of polysaccharides and their derivatives, e.g., cellulose, starch, amylose, cyclodextrins, dextran, pullulan, and alginate. In the GDCh, she served as a Member of the Board/Executive Committee from 2003 to 2007 and as Vice-President from 2005 to 2006.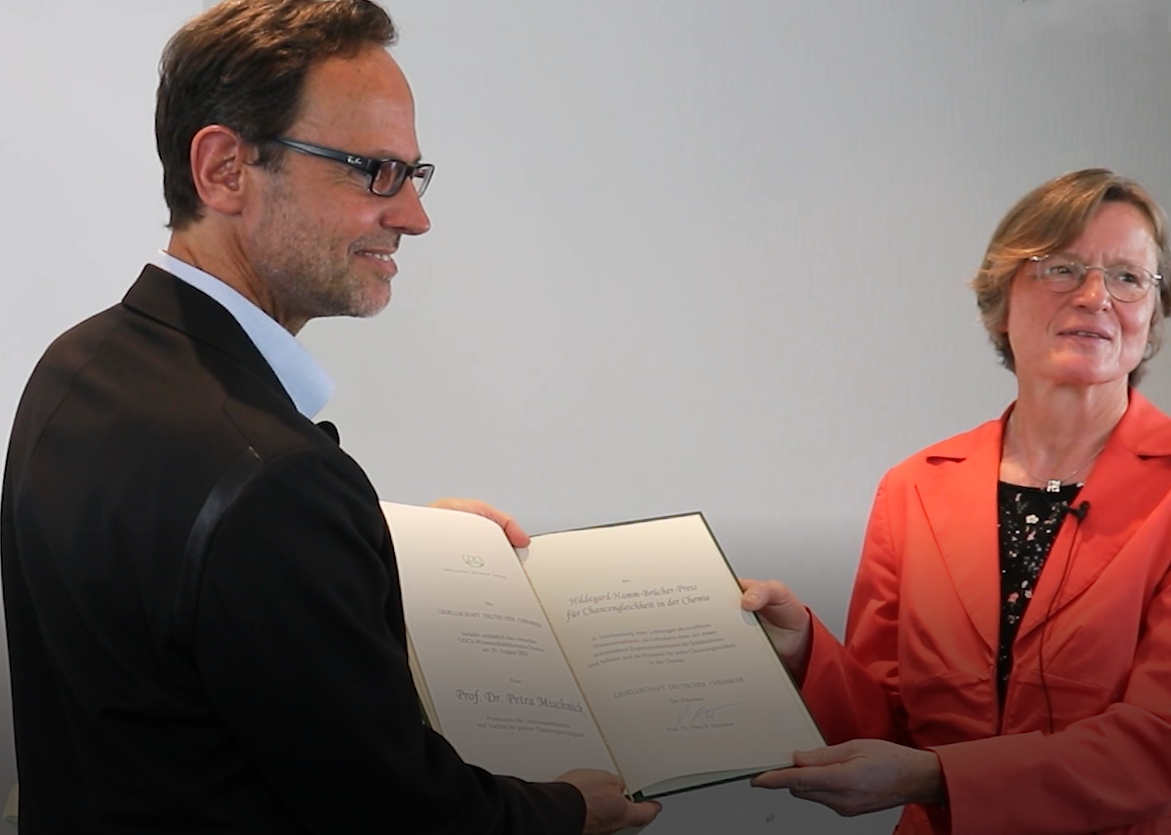 Award ceremony: GDCh President Peter R. Schreiner hands over the certificate
---
Selected Publications