Klaus Müllen, Professor Emeritus Max Planck Institute for Polymer Research, Mainz, Germany, is awarded an honorary doctorate by Strasbourg University, France. The title Doctor honoris causa is the university's highest honor and was created in 1918 to honor foreign personalities who highlight and reflect the values of the university through their contribution to the world of ideas, culture, art, and science.
Müllen is described as a pioneer in his field of research. His contribution to contemporary chemistry is considerable and unmatched. In particular, his research revolutionized the concept of the relationship between structure and properties in materials chemistry through the synthesis of (macro) molecules that were previously inaccessible. These new structures have led to important advances in molecular electronics and biomedical research.
Klaus Müllen's research interests include graphenes and carbon materials, new polymer-forming reactions, multi-dimensional polymers with complex shape-persistent architectures, functional polymeric networks, dyes and pigments, molecular materials with liquid crystalline properties for electronic and optoelectronic devices, biosynthetic hybrids, and nanocomposites.
Klaus Müllen was born in Cologne, Germany, in 1947. He studied chemistry at the University of Cologne, and received his Ph.D. from the University of Basel, Switzerland, in 1971. After postdoctoral research and his habilitation at the Swiss Federal Institute of Technology (ETH) Zurich, Klaus Müllen joined the University of Cologne as Professor in 1979 and moved to the University of Mainz in 1984. From 1989 to 2016, he was Director at the Max Planck Institute for Polymer Research.
Klaus Müllen is a Member of the German Academy Leopoldina and the American Academy of Arts and Sciences. He served as President of the Gesellschaft Deutscher Chemiker (GDCh, German Chemical Society) in 2008 and 2009. He is a Member of the Editorial and Advisory Boards of several scientific journals, including Macromolecular Chemistry and Physics. Among many other honors, Müllen received the ACS Award in Polymer Chemistry from the American Chemical Society (ACS) in 2011, the Adolf von Baeyer Medal from the GDCh in 2013, the Hermann Staudinger Prize from the GDCh in 2016, the Karl-Ziegler-Award of the GDCh and the Cothenius Medal of the German National Academy of Sciences Leopoldina in 2019, and several honorary doctorates.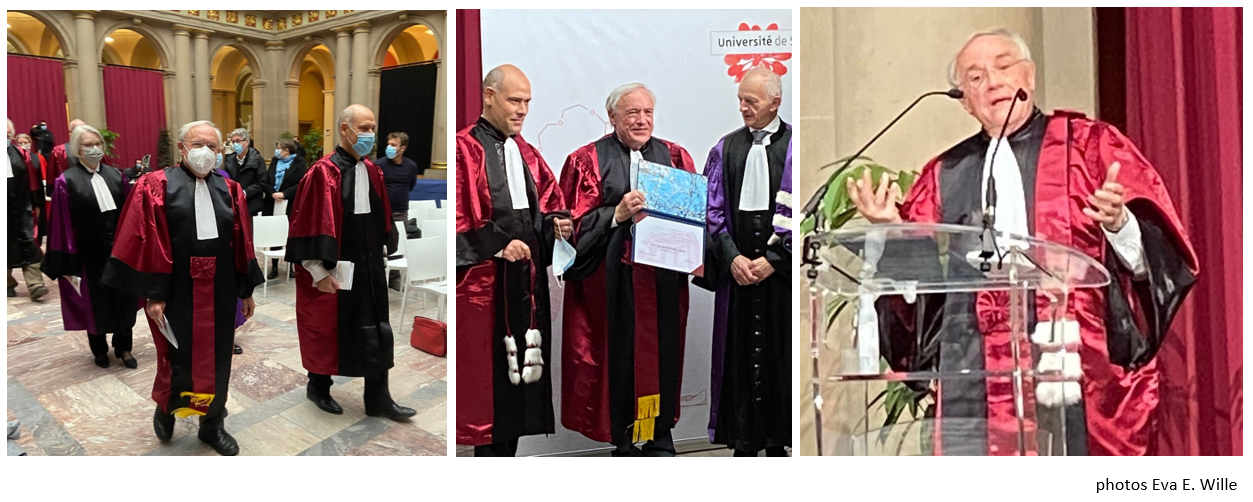 ---
Selected Publications
The Next 100 Years of Polymer Science,
Alaa S. Abd‐El‐Aziz, Markus Antonietti, Christopher Barner‐Kowollik, Wolfgang H. Binder, Alexander Böker, Cyrille Boyer, Michael R. Buchmeiser, Stephen Z. D. Cheng, Franck D'Agosto, George Floudas, Holger Frey, Giancarlo Galli, Jan Genzer, Laura Hartmann, Richard Hoogenboom, Takashi Ishizone, David L. Kaplan, Mario Leclerc, Andreas Lendlein, Bin Liu, Timothy E. Long, Sabine Ludwigs, Jean‐François Lutz, Krzysztof Matyjaszewski, Michael A. R. Meier, Klaus Müllen, Markus Müllner, Bernhard Rieger, Thomas P. Russell, Daniel A. Savin, A. Dieter Schlüter, Ulrich S. Schubert, Sebastian Seiffert, Kirsten Severing, João B. P. Soares, Mara Staffilani, Brent S. Sumerlin, Yanming Sun, Ben Zhong Tang, Chuanbing Tang, Patrick Théato, Nicola Tirelli, Ophelia K. C. Tsui, Miriam M. Unterlass, Philipp Vana, Brigitte Voit, Sergey Vyazovkin, Christoph Weder, Ulrich Wiesner, Wai‐Yeung Wong, Chi Wu, Yusuf Yagci, Jiayin Yuan, Guangzhao Zhang,
Macromolecular Chemistry and Physics 2020.
https://doi.org/10.1002/macp.202000216
Multiwavelength Raman spectroscopy of ultranarrow nanoribbons made by solution-mediated bottom-up approach,
Daniele Rizzo, Deborah Prezzi, Alice Ruini, Vaiva Nagyte, Ashok Keerthi, Akimitsu Narita, Uliana Beser, Fugui Xu, Yiyong Mai, Xinliang Feng, Klaus Müllen, Elisa Molinari, Cinzia Casiraghi,
Phys. Rev. B 2019.
https://doi.org/10.1103/PhysRevB.100.045406
A Phenylene‐Bridged Cyclohexa‐meta‐phenylene as Hexa‐peri‐hexabenzocoronene Precursor,
Bastian Dumslaff, Manfred Wagner, Dieter Schollmeyer, Akimitsu Narita, Klaus Müllen,
Chem. Eur. J. 2018, 24, 11908–11910.
https://doi.org/10.1002/chem.201801949
Derivatizing Tribenzothiophene-Fused Hexa-peri-hexabenzocoronenes with Tunable Optoelectronic Properties,
Yi Liu, Tomasz Marszalek, Klaus Müllen, Wojciech Pisula, Xinliang Feng,
Chem. Asian J. 2016, 11, 2107–2112.
DOI: 10.1002/asia.201600753
Spherical Polyolefin Particles from Olefin Polymerization in the Confined Geometry of Porous Hollow Silica Particles,
Ines Freudensprung, Daejune Joe, Sven Nietzel, Doris Vollmer, Markus Klapper, Klaus Müllen,
Macromol. Rapid Commun. 2016, 37, 1651–1656.
DOI: 10.1002/marc.201600295
Synthesis, Structure, and Chiroptical Properties of a Double [7]Heterohelicene,
Xiao-Ye Wang, Xin-Chang Wang, Akimitsu Narita, Manfred Wagner, Xiao-Yu Cao, Xinliang Feng, Klaus Müllen,
J. Am. Chem. Soc. 2016, 138, 12783–12786.
DOI: 10.1021/jacs.6b08664
A dendrimer-based highly sensitive and selective fluorescence-quenching sensor for Fe3+ both in solution and as film,
Peng Li, Ming Zhang, Xueke Sun, Shuwen Guan, Guang Zhang, Martin Baumgarten, Klaus Müllen,
Biosens. Bioelectron. 2016, 85, 785–791.
DOI: 10.1016/j.bios.2016.05.046
Nitrogen-Doped Ordered Mesoporous Graphitic Arrays with High Electrocatalytic Activity for Oxygen Reduction,
Ruili Liu, Dongqing Wu, Xinliang Feng, Klaus Müllen,
Angew. Chem. Int. Ed. 2010, 49, 2565–2569.
DOI: 10.1002/anie.200907289
Atomically precise bottom-up fabrication of graphene nanoribbons,
Jinming Cai, Pascal Ruffieux, Rached Jaafar, Marco Bieri, Thomas Braun, Stephan Blankenburg, Matthias Muoth, Ari P. Seitsonen, Moussa Saleh, Xinliang Feng, Klaus Müllen, Roman Fasel,
Nature 2010, 466, 470–473.
DOI: 10.1038/nature09211
Large single-molecule fluorescence enhancements produced by a bowtie nanoantenna,
Anika Kinkhabwala, Zongfu Yu, Shanhui Fan, Yuri Avlasevich, Klaus Müllen, W. E. Moerner,
Nat. Photonics 2009, 3, 654–657.
DOI: 10.1038/nphoton.2009.187
Transparent, Conductive Graphene Electrodes for Dye-Sensitized Solar Cells,
Xuan Wang, Linjie Zhi, Klaus Müllen,
Nano Lett. 2008, 8, 323–327.
DOI: 10.1021/nl072838r
Also of Interest