Dr. Sandy Lama, originally from Palestine and currently completing a postdoc at RWTH Aachen University in Germany, has won the IYCN 2021 Outreach Competition, an experiment competition organized by the International Younger Chemists Network (IYCN).
Carolina Sotério and Emiel Dobbelaar spoke to her for ChemistryViews about her passion for science and for communicating science, the IYCN competition, the use of starch as a source for biodegradable plastics, and her career, including the challenges of being a Palestinian woman in science.
In a nutshell, how would you describe your career?
Curiosity, passion for science, willpower, and hard work to reach a goal.
You grew up in Palestine. What challenges did you face on your journey toward becoming a researcher?
I come from a non-scientific family living in a non-industrial city in a country that is politically male-dominated and that has been economically destroyed. I grew up witnessing wars, the death of friends, the building of the Bethlehem wall, the separation of nations, growth of poverty, and lack of employment. I did not like it and I was wondering how to change that. I held onto hope, and with my hard work I was able to earn scholarships to finance my studies.
Did you have role models? What motivated you to surmount all these hurdles and achieve what only very few achieve?
I was influenced by different situations, people, my family history and childhood in Palestine, and even by nature. My parents are without a doubt my greatest role models. I have also been inspired by the lives and work of famous scientists, composers, leaders, and philosophers, such as Jesus Christ, Albert Einstein, Marie Curie, Ludwig van Beethoven, Nikola Tesla, Isaac Newton, Plato, and William Shakespeare. By studying them, and over time, I gained the ability to filter out what is useful and positive to keep and what should be ignored. I realized that life is full of challenges and facing them will only make me better and stronger.
And then you went to Germany. Did everything get easier from there?
In Germany, the challenges were more diverse. I was alone in a country I did not know and had no friends or acquaintances in. The different culture, food, and mentality affected my lifestyle. Also, I was surrounded by some toxic peers at work or during my studies, and I almost felt a kind of depression – homesickness, or Heimweh in German. I experienced burnout during my Ph.D. and was facing discrimination.
As an antidote, I chose to focus on the good memories with my friends and family, on the success I achieved thanks to my teachers and supportive family, and on continuously improving and developing myself to reach my goals. This makes this whole journey worth it and more.
What excites you most about your research?
Achieving new discoveries or innovations in my research topics drive my excitement, as well as working on topics that have a good impact on the near future. Also, gaining new skills and knowledge when working with a team.
How did you learn about the IYCN and the experiment outreach competition?
I was a member of the German Chemical Society (Gesellschaft Deutscher Chemiker, GDCh) and the Young Chemists' Forum (JungChemikerForum, JCF). After earning my doctorate at the end of 2018, I came across one of their announcements about the IYCN network. I found it interesting, and I started following the IYCN, particularly in 2020 by attending some of their interesting online webinars.
By following IYCN announcements, I learned about the experiment outreach competition. Although the topic is different from my chemistry background, I felt excited and took it as a challenge and worked on it.
What inspired you to create this experiment about the versatility of starch, exploring combustion, bioplastics, fluid dynamics, and its general chemical properties?
[For details, see box below]
It was a mere coincidence. One evening after work I had no bread at home, and I was too lazy to go out at night to buy bread. I was talking on the phone with my mom and mentioned that to her, so she proposed that I bake some bread and gave me a strange recipe where you can immediately get bread by mixing just water and flour together then heat it in the pan. I was surprised and went online after the call to understand the process, wondering if that bread was even healthy to eat. However, one thing led to another, and I ended up reading about starch and its non-Newtonian fluid property. Out of interest I continued reading about starch and realized that so much is still unknown about it, and that it might be a good source for biodegradable plastics. It was a topic I grew fond of.
Why is your experiment interesting to others?
It is exciting to learn new things, especially when they are accessible from your own kitchen. And on top of that, starch is cheap and harmless. Moreover, it can be used as food. So, it was my natural choice for the competition, and I decided to add all the information I learned in a brief but enlightening report for students or applicants to understand why things happen and what they are eating. Also, I wanted them to understand its source and how to obtain it. Finally, this kind of information strengthens awareness in regard to what a person eats and works with in their own kitchen.
Why do you think your experiment is interesting for non-chemists or suitable for teaching chemistry?
Chemistry sounds to so many like it is a complicated, otherworldly, or magical topic, and they tend to skip it. However, applied chemistry grabs the attention of people and triggers their curiosity to know why, what, how? Which is, in my opinion, the main step in teaching and in learning. Without curiosity and the desire to understand, there will be no interest and therefore no learning.
So, I tried in my experiment to use applied chemistry first, then understand the theory behind it by discussing a topic that can be available to everyone and has a true chemical and informational value in it, all in a fun style of experimentation. Additionally, this experiment provides benefits for humans on the one hand and for nature on the other, so it is a win–win sort of experiment.
Do you have any advice for young female chemists who would like to pursue a career in science?
If you are curious, have questions, wonder about this and that, and you want to refute the fake and conspiracy stories, or you wish to help and solve the challenges of life, then science is your field to pursue. It is an eye opener and a key to many life struggles.
Not only that, science allows you to make an impact and be an active part in the community in different ways such as communication, teaching, researching, innovating, coaching, mentoring, and policy-making. Yes, it takes a lot of hard work and has several challenges to it, but which life road doesn't? If you want to see what is beyond the mountain or you want to cross to the other side of the river, you have to work your way to reach and achieve your goal. Challenges and hard work are a test of your will, but they also make you stronger, wiser, and make success more rewarding.
Is there any additional information that you consider as relevant to be mentioned?
Knowledge is power and science is knowledge, so becoming a scientist means empowering oneself to improve life and build a better future.
Thank you very much for the interview.
The Experiment: Starch Sources, Properties & Application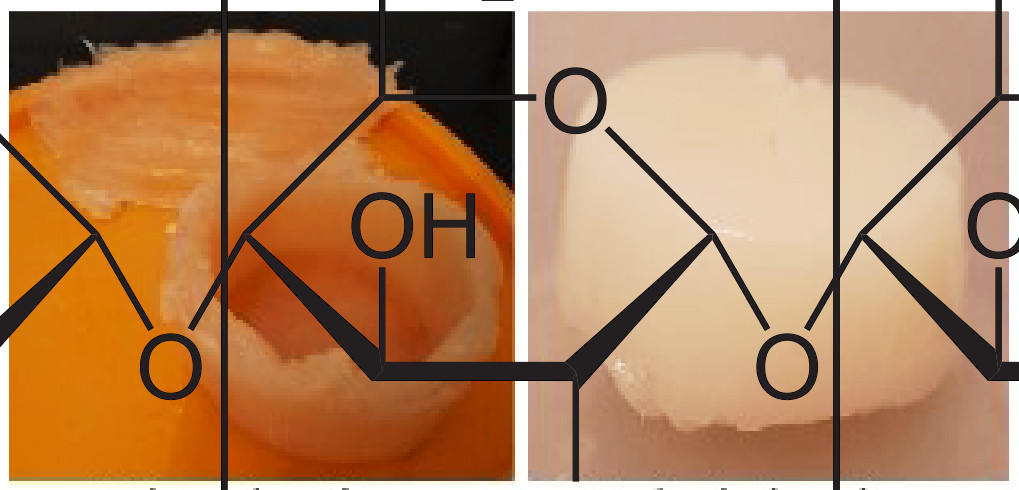 The experiment aims to educate the public about starch (a cheap and abundant resource), its properties (solubility, binding, degradation), its applications in food and bioplastics, and to raise awareness of safety measures when handling this fine powder in the kitchen. The experiments described and simple explanations show that starch is contained in various plants and foods (e.g., potatoes, rice) and can be extracted in the kitchen. Starch is insoluble in cold tap water but soaking in warm water (60 °C) breaks the starch bonds. As the water cools, the starch settles and precipitates. In this way, for example, starch can be decanted and collected.
Starch is a fine powder and can form an airborne dust that can be ignited in the presence of oxygen and a flame and might be explosive in a confined area with wide dispersal. As noted above, starch is insoluble in cold water but looks like a liquid because its particle size is extremely fine. The starch particles disperse in water to form a colloid; they do not dissolve or form ions. In addition, the gelatinization properties of starch in water under heat are described and investigated in this experiment.
Dr. Lama's experiment can be found in the IYCN experiment database among the winning submissions of previous competitions: https://www.iycnglobal.com/experiments
The Jury
The responsibility for judging all 2021 experiments was assigned to seven reviewers with different backgrounds: Dr. Fatimah Salim, Atta-ur-Rahman Institute for Natural Product Discovery (AuRIns), Puncak Alam, Malaysia; Associate Professor Joon C. Juan, University of Malaysia and Monash University, Australia; Assistant Professor Liva Dzene, Ecole Nationale de Chimie de Mulhouse (National College of Chemical Engineering of Mulhouse, ENSCMu), France; Professor Rafael Pinto Vieira, Federal University of Minas Gerais, Pampulha, Brazil; Dr. Stephanie Ryan, owner of Ryan Education Consulting LLC, Carmel, IN, USA; Dickson Ho, facilitator for the Chemicals and Waste Platform for the Children and Youth Major Group of United Nations Environment Programme (UNEP); and Eric Siemes, Ph.D. student at the RWTH Aachen University, Germany, and founder of "Experimenteshows". 


Figure 1. Competition judges (left to right): Dr. Rafael Pinto Vieira, Dr. Fatimah Salim, Dickson Ho, and Dr. Liva Dzene.
2022 Outreach Competition
Every year, a new theme for the competition related to sustainable development is chosen [1,2]. The 2022 Outreach Competition will be about "Clean and Sustainable Energy". Experiment submissions will be accepted from March 26 to May 24. Volunteers for translating the winning experiments in all languages to support science outreach globally are more than welcome. For further information, visit the IYCN website or contact the Public Outreach team by email at [email protected].

References
[1] A. A. Walshe, Engaging the Next Generation, ChemistryViews 2019. https://doi.org/10.1002/chemv.201900088
[2] H. Ismail, S. Goher, S. Martínez, A. Martínez-Silveira, Chemistry Public Outreach in the Time of COVID-19, ChemistryViews 2020. https://doi.org/10.1002/chemv.202000109
---

Sandy M. G. Lama studied industrial chemistry at Bethlehem University, Palestine and advanced materials science at the TU and Ludwig-Maximilians-Universität (LMU) in München and Augsburg University, Germany, and was a Research Scientist at the Fraunhofer Institute for Solar Energy, Freiburg, Germany. She received a Ph.D. from the Max-Planck-Institute for Colloids and Interfaces and Potsdam University, Potsdam, Germany, under the supervision of Markus Antonietti and Helmut Schlaad in 2018. After working as a teacher and coach for students at Spreaducation, Potsdam, Germany, she is currently a Postdoctoral Fellow in the CAT Catalytic Center at ITMC, RWTH Aachen University, Germany.
Her research interests include physical and green chemistry, heterogeneous and homogeneous catalysis, nanochemistry, polymer synthesis, and batch and continuous reactions.
Dr. Sandy Lama is the chair of the Palestine Young Academy (PYA) and a mentor at the Unitech Alumni Association (UAA), Zurich, Switzerland.
| | |
| --- | --- |
| | Carolina Sotério is a Ph.D. student of public communication of science and technology at the University of São Paulo, Brazil, and a member of the IYCN Public Outreach Committee. (E-Mail: [email protected]) |
| | Emiel Dobbelaar is a Ph.D. student of inorganic chemistry at the Technische Universität Kaiserslautern, Germany, and leader of the IYCN Public Outreach Committee. (E-Mail:  [email protected]) |
Selected Publications of Sandy M. G. Lama