The 16th IUPAC International Symposium on Organometallic Chemistry Directed Towards Organic Synthesis (OMCOS 16) meeting was held in Shanghai, China, and was attended by over 1000 participants from industry and academia. A plenary lecture by 2010 Chemistry Nobel prize winner Eiichi Negishi began the conference that included 38 lectures over 5 days.
Spirits were very high throughout and the conference was conducted in a very friendly atmosphere, the highlight of which was some excellent after-dinner entertainment provided by the conference speakers and organizers following the banquet. OMCOS award winner Frank Glorius, University of Münster, Germany, and co-workers sang the "Ode to Joy", whilst the best performance was by the Italian attendees, including speaker Marco Bandini (see pictures).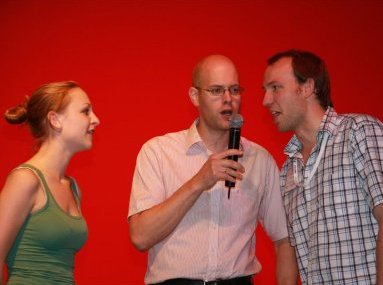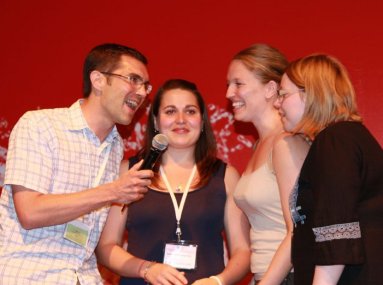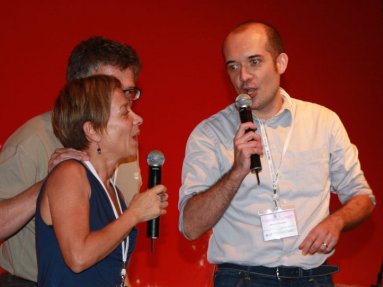 Above: After-dinner entertainment provided by Frank Glorius and colleagues (top left), Michael Willis and colleagues, University of Oxford, UK, (top right) and Marco Bandini's group, University of Bologna, Italy, sing Volare (bottom).
Wiley-VCH sponsored 6 poster prizes (see picture) of individual 1 year subscriptions to a Wiley-VCH journal. The winners (with their PhD supervisors in parentheses) were: Bao-Lin Lee (Björn Åkermark) Stockholm University, Sweden; Uwe Schneider (Shū Kobayashi) The University of Tokyo, Japan; Sirinporn Thamapipol (E. Peter Kündig) University of Geneva, Switzerland; Chao Liu (Aiwen Lei) Wuhan University, China; Takuto Nagano (Kazushi Mashima) Osaka University, Japan; Wen-Jing Xiao (Wen-Jing Xiao), Central China Normal University, China.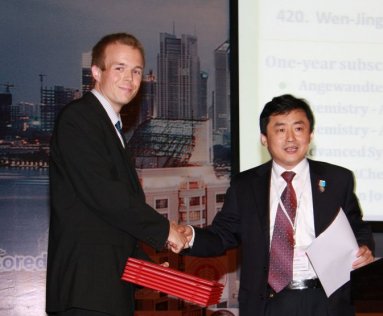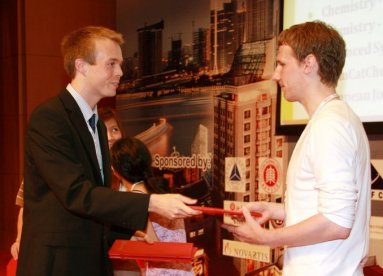 Above: Andrew Kelly, Chemistry – An Asian Journal, and Kuiling Ding, Director of the Shanghai Institute of Organic Chemistry (left) and Andrew Kelly congratulates Uwe Schneider, University of Tokyo, Japan, on winning a poster prize (right).
---
► Also of interest on ChemistryViews:

News: Nobel Prize in Chemistry
The Nobel Prize in Chemistry for 2010 was awarded to Wiley author Prof. Ei-ichi Negishi along with Richard Heck and Akira Suzuki
► More pictures of the conference available on the OMCOS 16 website >>>