The recognition and sensing of anionic substrates by positively charged or neutral synthetic receptors has attracted considerable attention during the last decade because of the fundamental role that anions play in many chemical and biological processes. For instance, folic acid and folate anions have been implicated in cardiovascular diseases, neural tube defects, and certain kinds of cancer. The study of bioanalytes in urine, blood, or saliva are generally carried out in water and sensors are required to detect anions in these conditions.
Jeroni Morey and colleagues, University of Illes Balears, Spain, have reported tripodal, squaramido-based receptors (pictured) capable of tight binding of folate anions. These are the first abiotic receptors that employ a noncovalent ammonium–carboxylate electrostatic interaction and a hydrogen bond to achieve high-affinity molecular recognition in water.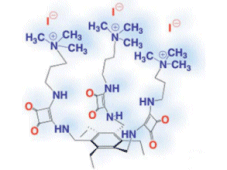 The new receptor allowed quantitative determination of folic acid and folate-like antineoplastic agents, such as methotrexate, through addition of the fluorescence indicator 5-carboxyfluorescein. This method is cheaper, quicker, and simpler than existing methods, which means it could be an excellent method for the routine determination of quantities of folic acid and methotrexate.
Images: © Wiley-VCH
---