How can chemistry and precious metals preserve resources and make renewable energies more efficient? This was the question posed by the Technology Forum held by the precious metal and technology group Heraeus together with the Verband der Chemischen Industrie (VCI) and the newly created Fraunhofer project group IWKS for Valuable Material Cycles and Resources Strategy. Experts from each institute gave short overviews on the topic followed by a visit to the Heraeus plants for precious metal recycling and silver paste production for solar cells.
The Fraunhofer project group IWKS for valuable material cycles and resources strategies was founded in September 2011 with the task to develop new procedures for the recycling of critical valuable material under economic and ecological criteria. Professor Gerhard Sextl, Director of Fraunhofer ISC Würzburg, emphasized that for countries lacking raw materials like Germany, it is especially important that closed cycle models set the reuse of resources in place of consumption of resources. In a further step, the substitution of materials whose availability is judged as critical has to come into place. The IWKS group is seen as the basis for a future institute for Fraunhofer.
Dr. Martin Reuter, VCI, Frankfurt, thinks that only chemistry makes the efficient use of conventional energy sources as well as renewable energies possible, this includes photovoltaic and wind energy or the implementation of electromobility. The chemical industry also provides an essential contribution through its products, for example, in heating installation in residential buildings.
In the 1980s, Heraeus had already established recycling as a component of the precious metal cycle, said Dr. Frank Heinricht, Chairman of the Board of Management, Heraeus Holding GmbH. This becomes ever more important for securing raw materials.
Dr. Jan Schapp, Manufacturing Manager Precious Metals Recycling, says that Heraeus is specialized in the recycling of concentrates of precious metals from the mining industry and in used industrial catalysts like reforming, bulk material and supported catalysts. Also, precious metal-containing residues of products like sputter targets which, for example, are used for coating of hard disks for magnetic data storage are recycled.
Carsten Mohr, Business Unit Manager Photovoltaics, showed how chemistry contributes to an increase in efficiency of photovoltaics. Silver conductive pastes for silicium solar cells allow the construction of very fine, highly conductive contact paths on the solar cells. These are needed to transport the energy into the electric supply network. Requirements for new generations of conductive pastes are high efficiency paired with low consumption and low silver content.
The discussion was lead by Dr. Michael Reubold, CHEManager.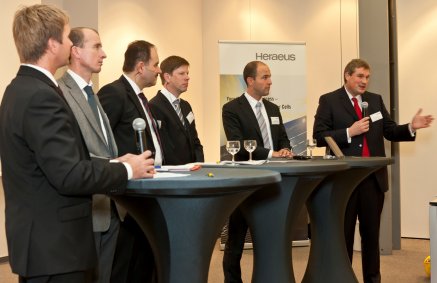 From left to right: Michael Reubold, CHEManager, Martin Reuter, VCI, Gerhard Sextl, Fraunhofer ISC, Jan Schapp, Carsten Mohr, Frank Heinricht, Heraeus.
Images: © Heraeus
---