At the Spanish-Italian Symposium on Organic Chemistry (SISOC-IX) in Tenerife, Spain, the European Journal of Organic Chemistry (EurJOC) awarded two poster prizes. One Spanish winner and one Italian winner were chosen from among the many poster contributions. It was difficult to choose only one winner from each country, but in the end our winners stood out from the rest and were rewarded with a certificate and a copy of the book "Classics in Total Synthesis III" by K. C. Nicolaou and J. S. Chen.
The winners were:
Nieves R. Paz, Instituto de Productos Naturales y Agrobiologia, La Laguna, Tenerife, Spain, for her poster, "New Synthetic Frontiers on the Chemistry of Sulfamidates: High Selective non Activated C(sp3)-H Bonds Functionalization and New Approach to Aliphatic Aldo- and Ketimines".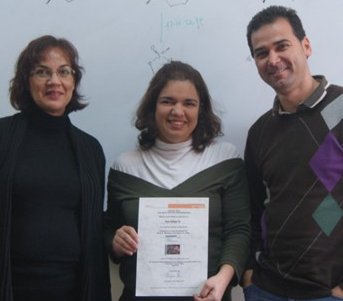 Poster Prize Winner Nieves R. Paz with Dr. Concepcion Gonzalez and Dr. Antonio Herrera.
Alessandra Operamolla, Università degli Studi di Bari "Aldo Moro", Bari, Italy, for her poster, "Synthesis of Molecular Semiconductors with Peripheral Dithiol Functionalization for Organic Electronics".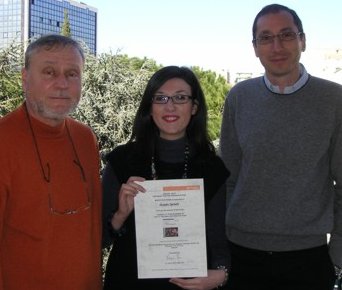 Poster Prize Winner Alessandra Operamolla with Professor Francesco Babudri and Professor Gianluca M. Farinola.
Congratulations to the winners!