Active esters for peptide bond formation are often too reactive resulting in unwanted side reactions. N-hydroxybenzotriazoles are widely used as additives for peptide bond formation in organic solvents. N-hydroxysuccinimide esters were found to be more suitable for applications in aqueous environments in terms of shelf life and stability, despite their limited reactivity.
Ayman El-Faham, Fernando Albericio, Institute for Research in Biomedicine, Barcelona, Spain, and colleagues, tested a variety of N-alkyl-cyanoacetamido oximes (pictured) in order to find an optimal balance between reactivity and stability. In comparison to N-hydroxysuccinimide, all tested oximes performed better, while the configuration and coupling efficiency was retained. Two additives even showed a similar performance to known ethyl 2-cyano-2-(hydroxyimino)acetate (Oxyma).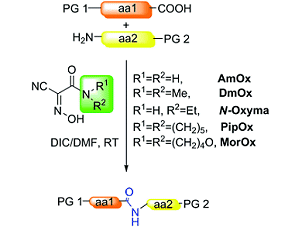 Image: © Wiley-VCH
---

ChemistryOpen – the first society-owned, open-access, chemistry journal – is a journal of ChemPubSoc Europe published by Wiley-VCH.