A team of collaborators from Belgium, Argentina, and Turkey has prepared materials that show promise as solution-processable organic field-effect transistors. Materials that can be applied from solution are advantageous for cost-effective manufacturing of devices.
The group, led by Wouter Maes and Dirk Vanderzande, synthesized a series of thiazolothiazole (TzTz) semiconductors through Stille or Suzuki coupling reactions (see scheme).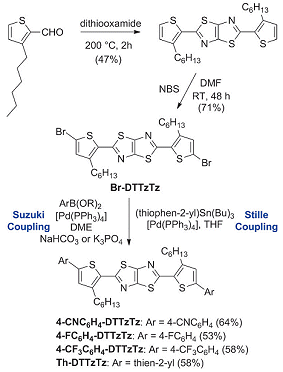 Thermogravimetric analysis, differential scanning calorimetry, cyclic voltammetry, and UV/Vis spectroscopy were applied to determine the thermal and electrooptical properties of these interesting materials. Good charge-carrier mobility of 1.58×10–3 cm2V–1s–1 was achieved for spin-coated films of Th-DTTzTz; this performance is likely linked to its microcrystalline fibrillar structure observed for the solution-casted film.
Image: © Wiley-VCH
---
Functionalized Dithienylthiazolo[5,4-d]thiazoles for Solution-Processable Organic Field-Effect Transistors,
Sarah Van Mierloo, Karolien Vasseur, Niko Van den Brande, Ayse E. Boyukbayram, Bart Ruttens, Silvio D. Rodriguez, Edith Botek, Vincent Liégeois, Jan D'Haen, Peter J. Adriaensens, Paul Heremans, Benoît Champagne, Guy Van Assche, Laurence Lutsen, Dirk J. Vanderzande, Wouter Maes,
ChemPlusChem 2012.
DOI: 10.1002/cplu.201200132
This article is available for free as part of the ChemPlusChem free trial.
Also of interest: