A scientist cannot bring about works of literature, and vice versa. The range of competence of each is distributed asymmetrically. That this is not necessarily true for every scientist is, in the opinion of Stefan Böschen, Karlsruher Institut für Technologie, Germany, shown not only by the two plays in the book Chemistry in Theatre: Insufficiency, Phallacy or Both by Carl Djerassi, but also the reflections on his work.
Böschen writes in his review of Chemistry in Theatre that Djerassi manages to do this in such a way so that the relationship between science and aesthetics creates an avenue to think about basic questions of scientific lifestyle. Djerassi does this in a way that the amusing, annoying moments can be experienced. He writes about the inner machinery of scientific culture from his own experience, and at the same time is able to bring this to the "outside" and from there, as a scientist, is able to look over his own shoulder.
In the play Insufficiency, an assistant professor, who is the central character, hopes to gain kudos for his work on carbonized drink in the field of "bubbleology", thereby hoping to achieve tenure. It all goes wrong and it ends up with the public prosecutor: there is an underlying tone but it is at the same time amusing.
The other play, Phallacy, deals with the idea of an antique work of art that is suddenly made 1500 years younger during chemical analysis. What does this mean for our perception and understanding of art?
---
Read the full review at: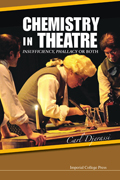 Chemistry in Theatre: Insufficiency, Phallacy or Both,
Carl Djerassi,
Imperial College Press, London, UK, 2012.
ISBN: 978-1848169388