The development of global chemicals safety and related legislation as well as the major challenges in international chemicals safety regulation were discussed by 200 international experts from 40 countries at the 5th Helsinki Chemicals Forum (HCF 2013) held in Helsinki, Finland, 18–19 June, 2013.
Short presentations and five panel discussions focused on 2020 goals and the possibility of a sound international management of chemicals, chemicals in products, the regulation of nanomaterials, the various lists of chemicals of concern drawn up by regulators worldwide, and impacts of cumulative exposure and how to regulate this.
International Chemicals Management Systems and Goals for 2020
The Strategic Approach to International Chemicals Management (SAICM) is a policy framework to promote chemical safety around the world. As agreed by the World Summit on Sustainable Developments it wants to achieve the sound management of chemicals throughout their life cycle so that, by 2020, chemicals are produced and used in ways that minimize significant adverse impacts on human health and the environment.
This topic was discussed in a first session by Jake Sandersson, Environment Canada, Bjørn Hansen, European Commission, DG Environment, Belgium, Dr. Martin Kayser, International Council of Chemical Associations (ICCA) and BASF SE, Germany, Kaj Madsen, United Nations Environment Programme (UNEP), and Baskut Tuncak, Center for International Environmental Law (CIEL), USA.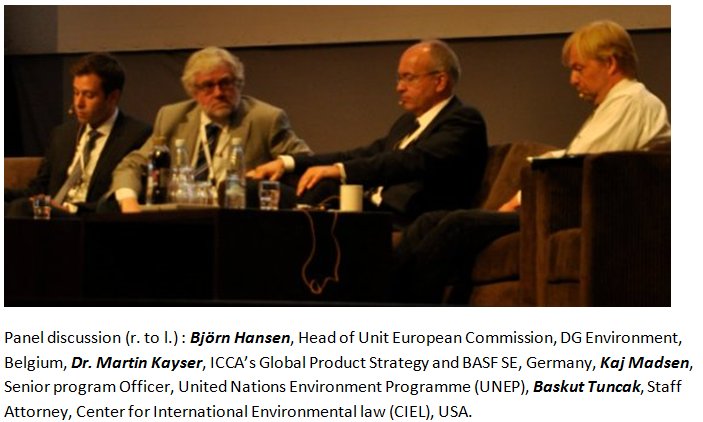 They recognized clearly that a lot of progress has been made towards reaching the 2020 goals with many actors involved like the EU, governments, the OECD, the ICCA, and NGOs. Challenges lie in the resources necessary for the management of chemicals and the rapid increase of data available as well as the increasing complexity of the data available.
At the moment the EU has with REACH the most advanced system. REACH was inspired by what was happening in the US in the late 80s and now inspires other countries. However, the international progress needs time and motivation. Each country has to see the need for themselves to implement a management system of chemicals. Europe needs to make sure that the information generated by REACH is available also for other countries.
A flexible approach in setting up legal management systems is needed to allow countries to start with very basic issues and then gradually build up an advanced system.
For developing countries, the implementation of a management system for chemicals has to be an issue high on its agenda. Only then they will manage to get financial resources, for example, from the EU, to build knowledge and capacity to manage safety regulation.
Chemicals in Products
The panellists of the second discussion – Nina Cromnier, Swedish Chemicals Agency, Dr. Erwin Annys, European Chemical Industry Council (CEFIC), Belgium, Sylvia Maurer, European Consumers' Organisation (BEUC), Belgium, Prof. Christina Ruden, Stockholm University, Sweden, and Christian Wetterberg, LEGO Group, Denmark, – agreed that chemical exposure from products is of increasing concern. This is why managing chemicals in products is a part of every modern chemicals management system. It is a complex approach and, therefore, a systematic regulatory approach consists of several elements. These include negative lists and the responsibility of industry to proactively design products and use the information available. Also the chemicals legislation has to be combined with sectoral product legislation. Similar to collecting information on chemicals, information on the supply chain has to be collected.
Regulation of Nanomaterials
Rob Visser, Former Deputy-Director of OECD, David Azoulay, CIEL, Switzerland, Dr. Peter Kearns, OECD, Otto Linher, European Commission, DG Enterprise and Industry, and Dr. Rudolf Weinand, EVONIK INDUSTRIES AG, Germany, exchanged their viewpoints on regulation of nanomaterials.
Nanomaterials are an integral part of our modern life, solving our everyday needs like tooth cleaning. The majority of these materials are not new, but were developed at a time when nobody was thinking of nanometerials. Nanomaterials are not intrinsically hazardous per se. However, there may be a need to take into account specific considerations in their risk assessment.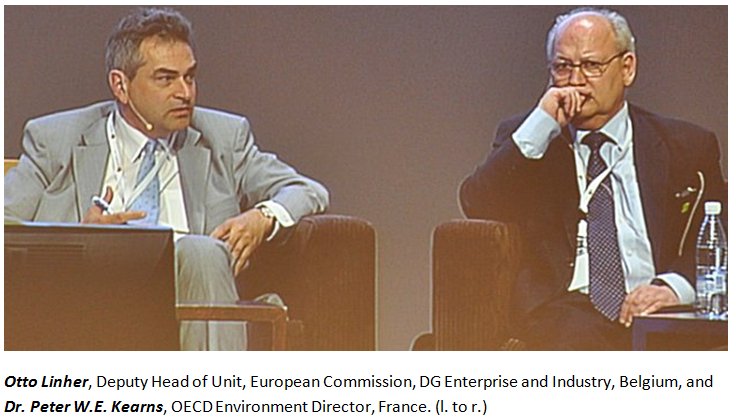 The panel discussion showed that regulation of nanomaterials is manageable and work on a regulatory approach is partly under development. According to the OECD and the EU in most cases REACH sets the best possible framework for the assessment of nanomaterials. However, in some cases the matters have to be adopted and new methods have to be developed.
One of the chalenges is that a clear international definition of nanomaterials is still missing, making it hard to distinguish namonmaterials from non-nanomaterials. Another chalenge is that nobody knows in detail what materials are being produced, in what quantities, in which products they are inserted and how much of them or where they are released.

Listing Chemicals of Concern
The listing of chemicals of concern has always been part of the chemical management systems, sometimes also as lists of lists. Lists are, for example, central to management of chemicals in Canada according to Eeva Leinala, Health Canada. Yunbo Shi, Chemical Inspection and Regulation Service Ltd. (CIRS), Ireland, introduced how China starts listing hazardous chemicals under the 12th Five-Year-Plan on chemical environmental risk prevention and control issued in February 2013.
The panel discussion, also including Andreas Herdina, Jack de Bruijn, both ECHA, and Michael Walls, American Chemistry Council (ACC), USA, made clear that the specific purposes of these national lists should be clearly communicated to avoid misunderstandings and show the limits of direct comparison.
All pannelists agreed that listing of chemicals is not an aim in itself, but it is a tool for further assessment or risk management. International harmonization of these lists is no current goal, but it is useful to share assessment plans and experiences. However, more transperency is necessary to share the burden of work and to reduce duplication.
Combinatory Effects
Dr. Derek Knight, European Chemicals Agency (ECHA), Finland, and chair of the last session described that combination effects from chemicals can occur when humans or the environment are exposed to mixtures of substances released from a formulated chemical product, when they are exposed to the same substance released from different sources at different times, or when they are exposed to different substances released from different sources at different times.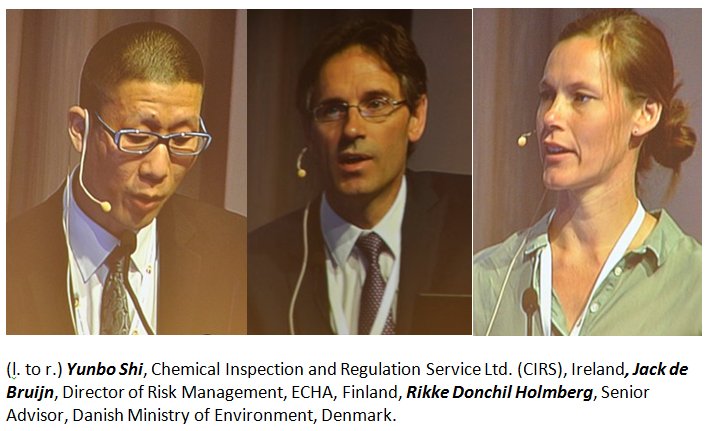 The panelists Prof. Thomas Backhaus, University of Gothenburg, Sweden, Dr. Jean-Lou Dorne, European Food Safety Authority (EFSA), Rikke Donchil Holmberg, Danish Ministry of Environment, Denmark, and Mikael Karlsson, European Environmental Bureau (EEB), agreed that the need for addressing combination effects is widely acknowledged. How to develop regulatory manageable and leagal sound approaches, however, needs further work. It will not be possible to proof all possible effects, so pragmatic ways have to be established. The knowledge already available has to made use of, knowledge of actual exposure has to be established and made publicly available, and scientific advances constantly have to be taken into account.
The panel suggested that it will be a stepwise learning by doing approach. Probably there will not be a "one size fits all" solution.
Closing Remarks
Jukka Malm, ECHA, Finland, summarized the meeting and concluded that he enjoyed the open dialog and found the meeting inspiring and sometimes also entertaining.
The HCF was organized by the Chemicals Forum Association in cooperation with the ECHA, CEFIC, and Finland's Ministry of Foreign Affairs and Ministry of the Environment.
Next year the HFC will be held on 22 – 23 May in Helsinki.
---