As part of an initiative to feature up and coming researchers whose focus is on multidisciplinary research centering on chemistry, the journal ChemPlusChem has started the Early Career Series. This new series includes papers whose corresponding authors were nominated by ChemPlusChem board members. These authors are considered to be talented people who will shape the future of interdisciplinary research in chemistry and its related disciplines. Invitees whose papers are judged by referees to be highly important or very important will be selected to give an interview intended to highlight their research career. Contributions and interviews will appear throughout issues of ChemPlusChem, and papers can be easily identified with the specially designed icon pictured above. Also forthcoming articles and interviews are compiled in a Early Career Series section at the journal's homepage.
Issue 1 of 2014 contains three articles as part of the Early Career Series and one Interview.
T. Govindaraju, Jawaharlal Nehru Centre for Advanced Scientific Research, Bangalore, India, (nominated by Govindasamy Mugesh) describes the syntheses and structural evaluation of novel cyclic peptidomimetic scaffolds as well as testing of these molecules as autophagy modulators [1].

Radim Beranek, Ruhr-Universität Bochum, Germany, (nominated by Wolfgang Schuhmann) reports a simple way to prepare surface-modified TiO2 compounds and their photocatalytic activity as well as investigates the formation/reaction mechanism of these compounds [2].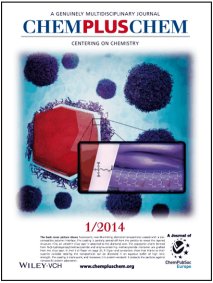 Meanwhile, Petr Cigler, The Academy of Sciences of the Czech Republic, Prague, (nominated by Michal Hocek) outlines an approach for surface modification of nanodiamonds with a layer of methacrylate copolymer to enable attachment of molecules by click chemistry [3]. His work outlines improved colloidal stability of the nanodiamonds in various media and is featured also on the back cover of issue 1.
He was selected to highlight his research achievements in the very first interview for the Early Career Series. In it he mentions his inspirations as a young scientist and his multidisciplinary approach to research [4].
In addition to what Petr Cigler said in the ChemPlusChem interview, he said that
Science is fun because … you never can predict exactly what will happen. This uncertainty is a motivating force for the biggest discoveries.
The most important future applications of my research are … in nanomedicine. Nanoparticles bring to therapy and diagnostics so many unique features that are not accessible by using either molecules or microparticles!
The most exciting thing about my research is … thinking independently. It is lovely to let your mind think freely.
The best advice I have ever been given is … if an experiment gives the opposite result to what you had expected, think about how to use this new knowledge to your advantage in your next research. This very useful view of everyday problems comes from my former supervisor, Vladimír Král.
The secrets of being a successful scientist are … to carefully select research problems, stay in focus, and avoid becoming distracted by less important projects. If something does not work as expected, do not push it artificially.
One of the biggest problems that scientists currently face is … the scientific misconduct of their colleagues. The extreme pressure to achieve publication outputs and the highly competitive grant application process can turn rational people into scientific criminals who generate fake results. Controlling this unpleasant phenomenon is difficult because such people often hide their fabrications very well. How can we stop it?
I am waiting for the day when … someone will discover a general route for designing enzyme effectors, which are the opposite of enzyme inhibitors. Indeed, this notion is incomparably more difficult and perhaps infeasible. But the idea is so challenging!
I would like to have a year off to … journey around the world, not as a conference participant, but as a traveler, having enough time to visit every interesting corner of the planet.
In my free time I … compose chamber and orchestral contemporary music. It is a parallel world that clears my mind and improves my focus.
---
Sponsored content is not written by and does not necessarily reflect the views of ChemistryViews's editorial staff.