The 247th National Meeting of the American Chemical Society (ACS) took place last week in Dallas, TX, USA.
More than 13,600 researchers from around the world met at the Dallas Convention Center and in several hotels to attend the more than 10,000 presentations, the vendor exhibition, career fair, workshops, discussions, poster sessions.

Plenary Talks
The event started on Sunday with three plenary talks, which gave a good introduction to the topic of this year: Chemistry and Materials for Energy.
Under the title of Catalysis for Sustainable Energy, Professor Jens K. Norskov, Stanford University, CA, USA, outlined the necessity to find suitable catalysts to efficiently transform energy to a chemical form, a fuel. With examples such as the photo-electrochemical water splitting and carbon dioxide reduction reactions, he discussed the challenges of discovering catalysts and of molecular catalyst design.

Professor Héctor Abruña, Energy Materials Center and Center for Molecular Interfacing, Cornell University, Ithaca, NY, USA, gave a brief overview of the usefulness of several analytical methods to study and characterize fuel cell and battery materials. Examples included the use of differential electrochemical mass spectrometry (DEMS) to characterize electron systems for lithium ion batteries (LIBs), operando transmission electron microscopy (TEM) to study fuel cell catalyst degradation and coalescence, and energy-filtered TEM to analyze lithiation/de-lithiation dynamics of LiFePO4.

Professor Michael R. Wasielewski, Argonne-Northwestern Solar Energy Research (ANSER) Center, Northwestern University, Evanston, IL, USA, spoke on molecular approaches to solar energy conversion. Artificial photosynthetic systems must be robust assemblies that collect light energy, separate charge, and transport charge to catalysts. Comparable systems for organic photovoltaics (OPVs) must transport electrons and holes across interfaces to electrodes. Complex, covalent molecular systems comprising chromophores, electron donors, and electron acceptors, mimic both the light-harvesting and the charge separation functions of photosynthetic proteins. However, the development of analogous self-ordering and self-assembling components is still in its early stages. Wasielewski gave examples from his research of molecular building blocks that address the many common issues associated with molecular systems for solar fuels and electricity production.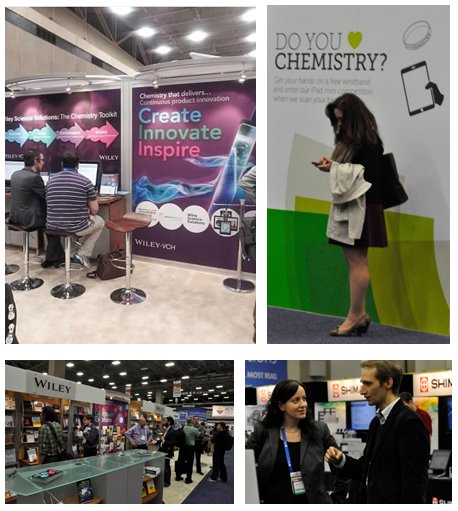 On Sunday also the Exhibition opened with over 900 exhibitors.
Scientific Misconduct
Apart from the scientific lectures, a very interesting event was organized by the ACS Division of Chemical Information: The session "Ethical Considerations in Digital Scientific Communication and Publishing" brought together editors, publications ethics managers, and other representatives of societies (ACS, Royal Society Of Chemistry (RSC), and American Physiological Society) and society publishers (Wile-VCH), as well as delegates of CrossCheck, the Cambridge Crystallographic Data Centre (CCDC), and, last but not least, the Committee on Publication Ethics (COPE).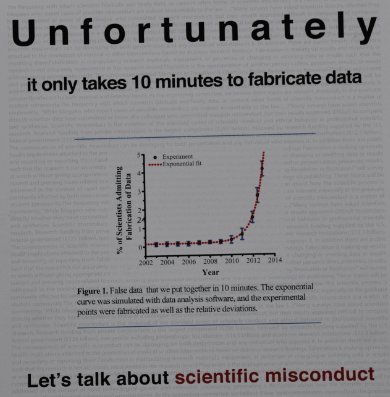 Scientific misconduct encompasses major misdemeanors such as plagiarism, falsification, and fabrication of data but also, e.g., inapt assigning of authorship credits and inappropriate citations. The number of incidents seems to rise with the number of published articles but the diversity of cases seems to increase as well. In today's scholarly publishing, ethical considerations are becoming more and more important and, as the title of the lecture of Dr. Haymo Ross, Editor of the European Journal of Organic Chemistry and Deputy Editor of Angewandte Chemie, suggests, dealing with scientific misconduct is a major part of an editor's day-to-day work.
It became evident from the lectures that different journals are confronted with the same problems although, depending on the subject, different wrongdoings are prevalent, e.g., for journals published by the American Physiological Society image manipulation by authors of submitted papers is a major concern.
After the session there was a panel discussion and a lively discussion among editors about their best practices.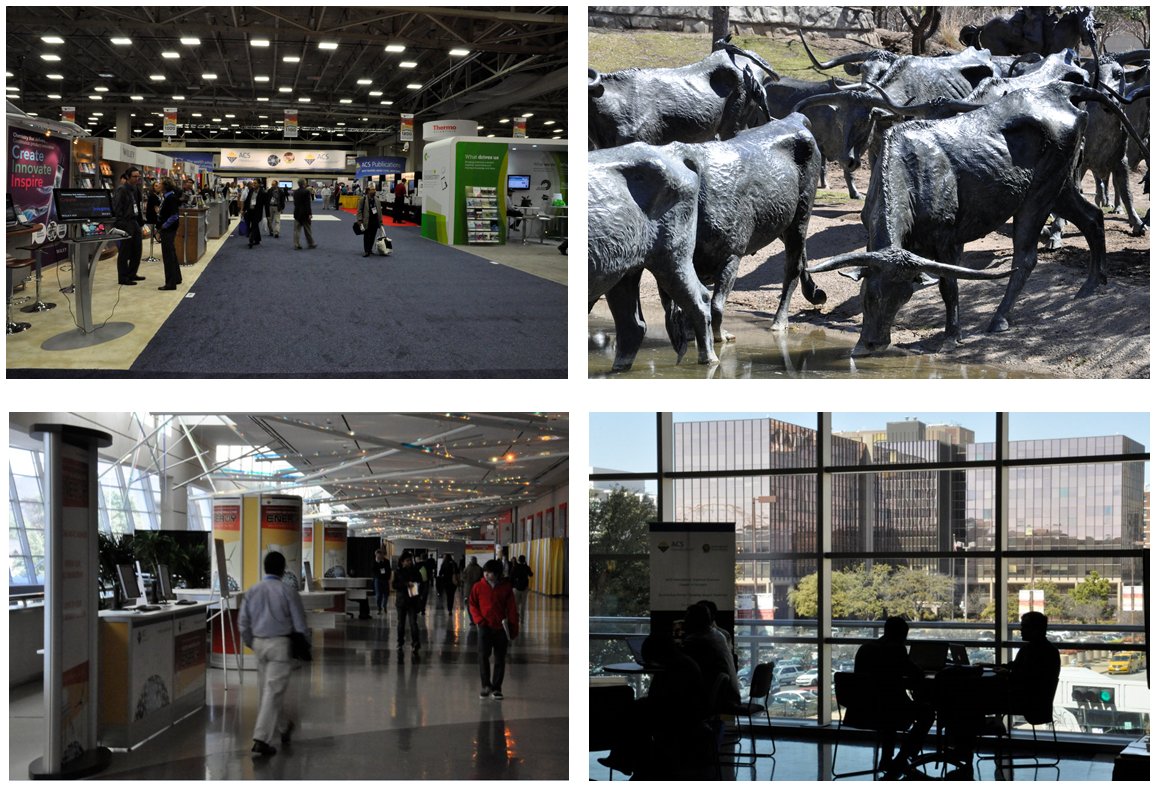 Snapshots inside the Dallas Convention Center and outside of the Center, special attention was given to the CATL sessions (top right).
Use of Catalysts in Alternative Solvents
On Monday afternoon, Professor Bruce Lipshutz, University of California, Santa Barbara, CA, USA, organized a session for the Division of Organic Chemistry entitled "Transition Metal Catalysis in Green Chemistry". The session particularly focused on the use of catalysts in alternative solvents, but also on developments in the area of carbon—carbon coupling reactions. The line-up of speakers included Professor Neil Garg, University of California, Los Angeles, CA, USA, Dr. Larry Hamann, Novartis, Cambridge, MA, USA, Professor Shu Kobayashi, University of Tokio, Japan, Dr. Thomas Colacot, Johnson Matthey, USA, and Professor Lipshutz himself.
The session was then concluded with a panel discussion on green and sustainable chemistry, featuring Sarah Ruthven, Green Chemistry (RSC Publications), Dr. John Warner, Warner-Babcock Institute for Green Chemistry, Wilmington, MA, USA, Dr. David Constable, ACS Green Chemistry Institute (ACS GCI), Washington, USA, Dr. Steve Ritter, C&EN (ACS Publications), Dr. David Smith, ACS Catalysis (ACS Publications), and Guido Kemeling, ChemSusChem (Wiley-VCH/ChemPubSoc Europe).
The stimulating questions from the audience covered the full range of levels at which green and sustainable chemistry can be ingrained into the thinking of chemists, for example, by furthering initiatives towards promoting green chemistry through education, considering alternative solvents for reactions, and stimulating a culture in which reporting E-factors and atom economy in publications is commonplace.
Priestley Medal
Professor Stephen J. Lippard, Massachusetts Institute of Technology (MIT), Cambridge, USA, has been awarded the Priestley Medal, which is the highest honor of the ACS, for "mentoring legions of scientists in the course of furthering the basic science of inorganic chemistry and paving the way for improvements in human health". The award was presented at the National Awards Banquet and Ceremony on Tuesday. Stephen J. Lippard also gave the Priestley Medal Address there.
► The 248th ACS meeting will take place in San Francisco in August 2014.
---