The 113th Bunsentagung, the annual meeting of the German Bunsen Society for Physical Chemistry (Bunsengesellschaft), was held from May 29 to 31 at the University of Hamburg, Germany. This year's motto was "Physical Chemistry on the Nanometer Scale". 650 international participants presented and discussed their work in a total of 160 presentations and with around 300 posters. In addition, a Career Forum for Young Scientists and an industry symposium were offered.

The meeting started with the Opening Ceremony where also the work of three outstanding scientists was honored.
Professor Emad F. Aziz, Helmholtz Zentrum Berlin, Germany, received the Nernst-Haber-Bodenstein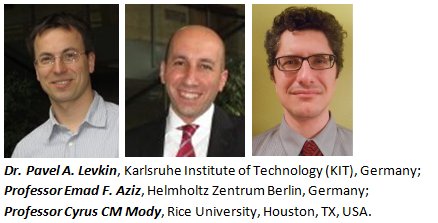 Prize for Young Scientists which is endowed with EUR 5000 in recognition of his outstanding spectroscopic work in the field of electronic structure and the dynamics of chemical and biochemical molecular systems in solution.
Professor Cyrus CM Mody, Rice University, Houston, TX, USA, was awarded the Paul Bunge Prize of the Hans R. Jenemann Foundation for his book "Instrumental Community – Probe Microscopy and the Path to Nanotechnology".
Dr. Pavel A. Levkin, Karlsruhe Institute of Technology (KIT), Germany, received the Ewald-Wicke prize of the Ewald Wicke Foundation for the promotion of young scientists for his outstanding work in the field of the production of structured superhydrophobic/superhydrophilic surfaces and their applications in cell biology and microfluidics.
Professor Christoph Bräuchle, Ludwig-Maximilians-University, Munich, Germany, talked in the opening lecture about the current state and challenges of cancer treatment with nanoparticles as smart drug delivery systems. He demonstrated how the high temporal and spatial resolution of ultra-sensitive fluorescence microscopy can be used to follow the uptake and intracellular trafficking of multifunctionalized nanoparticles in living cells. Bräuchle investigates nanoparticles consisting of DNA complexed by cationic polymers (polyplexes) as well as mesoporous silica nanoparticles which contain the drug inside the porous network of their nanometer-sized channels. A lot of this work is done in cooperation with Professor Thomas Bein and Professor Ernst Wagner, both Ludwig-Maximilians-University.
Other key topics discussed at the conference included quantum dots (plenary lecture on semiconductor nanocrystals by Professor Moungi Bawendi, MIT, Cambridge, USA), applications of scanning probe techniques to industrially highly relevant processes (e.g., heterogeneous catalysis, plenary lecture by Professor Hans-Joachim Freund, Fritz-Haber-Institute, Berlin, Germany), nanofoams, and pressure perturbation in biomolecules. Lectures in classical physico-chemical disciplines such as spectroscopic methods for molecular structure studies, the combination of experimental with theoretical ab initio methods, electrochemistry, and biophysical chemistry displayed the full bandwidth of current research.


From left to right: The President and the Director of the German Bunsen Society (DBG) for Physical Chemistry: Professor Marcell Peuckert, Infraserv GmbH & Co. Höchst KG, Frankfurt, Germany, and Dr. Florian Ausfelder, Frankfurt; Professor Eberhard Neumann, University of Bielefeld, Germany, (for him it was the 50th Bunsentagung) and Professor Günther Grampp, University of Graz, Austria; and the organizers Professor Alf Mews and Professor Horst Weller, both University of Hamburg, Germany.


The poster session was held on the Friday evening. Young researchers got the chance to discuss their latest results with interested colleagues. Afterwards, all participants got to enjoy a barbecue on the University campus.
During the conference Professor Joachim Sauer, Humboldt University, Berlin, Germany, was announced to become president of the German Bunsen Society (DBG) for Physical Chemistry in 2015. Professor Wolfgang Grünbein has served as treasurer for 20 years and will end this role by the end of the year. He is succeeded by Dr. Ulrich Ott, CEO Clariant Germany.
Next year the 114th Bunsentagung will take place in Bochum, Germany, from May 14 to 16, 2015, focusing on cutting-edge research in the physico-chemical aspects of solvation science.
---