The Max-Planck-Institut für Kohlenforschung (Max Planck Institute for Coal Research), Mülheim an der Ruhr, Germany, was founded in 1914 as the Kaiser-Wilhelm-Institut für Kohlenforschung. In the last 100 years, catalytic processes that are used worldwide have been developed there.
A special issue of Angewandte Chemie is a showcase of topics currently covered by the Institute. The issue is introduced with an Editorial by Benjamin List, Managing Director of the Institute, who discusses some of the success stories of the Institute, including the Fischer−Tropsch synthesis, Ziegler's use of organometallic catalysts in the polymerization of olefins, Zosel's procedure for the decaffination of coffee, and Wilke's nickel-catalyzed trimerization of butadiene. He also outlines the reasons behind the success of the Institute, namely the recruitment of outstanding scientists, who are given as much freedom as possible for research, as well as trust-based rather than proposal-based research funding.
The issue also contains a comprehensive Essay by Manfred T. Reetz, who traces the history of the Institute from its founding, through the periods with Franz Fischer, Karl Ziegler, Günther Wilke, and Manfred Reetz as Directors, through to the present day, where the Institute is headed by five departments.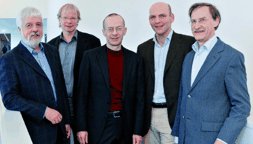 The five departments are currently Organic Synthesis (Manfred T. Reetz), Homogeneous Catalysis (Benjamin List), Organometallic Chemistry (Alois Fürstner), Heterogeneous Catalysis (Ferdi Schüth), and Theoretical Chemistry (Walter Thiel); pictured from right to left.
Image: Franz Fischer (right) and Otto Roelen (left) showing Max Planck, the president of the Kaiser-Wilhelm-Gesellschaft
(KWG; Kaiser-Wilhelm society), different products of the Fischer–Tropsch process in 1934. © MPI
---