Benzene-fused coumarins, benzocoumarins, constitute a promising family of photonic materials due to the extended nature of their π-electron system. Among four possible subfamilies of benzocoumarins (see figure below), classified by the position of the fused benzene ring, benzo[f]coumarins, benzo[g]coumarins, and benzo[h]coumarins, with both an electron-donor and an electron acceptor that are electronically conjugated through the benzocoumarin core, are of special interest for their intramolecular charge-transfer character. So far, only a limited number of such benzocoumarins have been reported.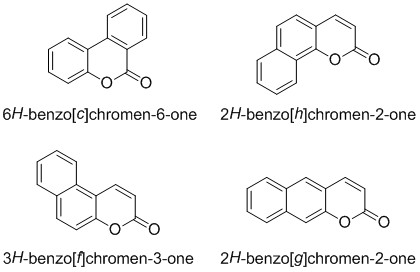 Kyo Han Ahn and co-workers from Pohang University of Science and Technology (POSTECH), Korea, have now disclosed the syntheses and characterization of the photophysical properties of those "missing" benzocoumarins, which allowed an overall comparison of photophysical properties among the benzocoumarin subfamilies. The comparison shows that the benzo[g]coumarin subfamily is of particular importance as photonic materials, as they have longer maximum absorption and emission wavelengths and emit brighter fluorescence compared with the others.
The synthetic routes established also provide a basis for synthesizing other benzocoumarin derivatives for further applications.
---