Amines are synthesized most effectively by hydroamination of unactivated alkenes, the enantioselective version of which is best achieved by metal catalysis. Binuclear gold(I) caomplexes can catalyze the hydroamination of alkenes, however, the harsh and stringent reactions conditions required have prevented full development of this metal for synthesis of chiral amines. In addition, the exact catalytic species involved and whether the activating silver salt participates ha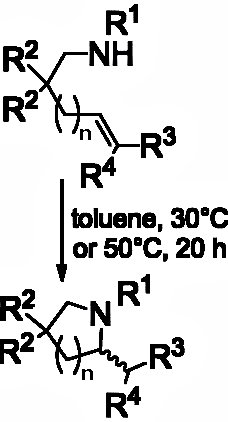 s remained a mystery.
Christophe Michon, Francine Agbossou-Niedercorn and co-workers, Université Lille Nord de France, have shown that a diphosphine binuclear gold(I) chloride complex catalyzes alkene hydroamination under mild conditions with water as the solvent. Silver perchlorate is used to activate the gold center. Their system shows conversions of up to 97 % and good enantioselectivities. They have also solved the mystery of the catalytic gold species, proving that no silver is involved in the catalysis step by solid state X-ray analysis and diffusion-ordered 1H-NMR spectroscopy. This proved the role of the silver salt was in activating the gold and not in the catalysis.
The group also demonstrated a solvent polarity switch for controlling the molecular ion pairs in the catalyst and, subsequently, the chirality of the product.
---