The blocking temperature of single-molecule magnets (SMMs) defines the range in which their magnetic state remains unperturbed and hence their applicability for high-density information storage and quantum processing. It has so far been a challenge to attain high blocking barriers for polynuclear SMMs based on 3d and 4f metals, as a result of magnetic interactions between the various metal sites.
The groups of Ming-Liang Tong, Sun Yat-Sen University, Guangzhou, China, Annie Powell, Karlsruhe Institute of Technology (KIT), Germany, and Liviu Ungur, KU Leuven, Belgium, formally replaced the diamagnetic ZnII ion in the single-ion magnet [ZnII2DyIII] with a paramagnetic 3d ion to obtain the new complex [FeII2DyIII]. This species exhibited a record anisotropy barrier for d-f SMMs of 319 cm−1 (459 K), which is over three times higher than the next highest 3d-nf SMM.
Structural analysis by Mössbauer spectroscopy and ab initio calculations revealed a D5h DyIII ion and two asymmetric and distorted FeII ions, and the higher blocking barrier of [FeII2DyIII] was rationalized by the enhancement of the axial crystal field due to the paramagnetic Fe ions and the altered geometry of the DyIII environment.
---
A Heterometallic FeII-DyIIISingle-Molecule Magnet with a Record Anisotropy Barrier,
Jun-Liang Liu, Jie-Yi Wu, Yan-Cong Chen, Valeriu Mereacre, Annie K. Powell, Liviu Ungur, Liviu F. Chibotaru, Xiao-Ming Chen, Ming-Liang Tong,
Angew. Chem. Int. Ed. 2014.
DOI: 10.1002/anie.201407799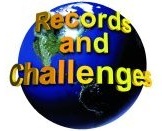 The highest anisotropy barrier for any d-f single-molecule magnet (319 cm−1, 459 K) was reported for an FeII–DyIII–FeII complex. Find more world records from all branches of chemistry on the Records and Challenges platform of The Chemical Record.