Enzymes are key components in bioanalytical assays. The most common enzyme-based biosensing strategies produce an optically or electrochemically readable signal for the detection of analytes, antigen–antibody interactions, or microbial growth.
Bioanalytical assays based on enzymatic generation of nanoparticles are not very common, and all reported assays are limited to biochemical growth of nonfluorescent metal nanoparticles. A bioanalytical enzymatic system producing fluorescent nanoparticles could employ a much more sensitive technique, such as fluorescence spectroscopy.
V. Pavlov et al., San Sebastian, Spain, have reported two examples of enzymatic growth of CdS quantum dotss and their analytical applications. They have demonstrated that the reaction products of the two enzymes, acetylcholine esterase and alkaline phosphatase, are able to catalyze the production of fluorescent nanoparticles. As a result, enzymatic activity can be measured by fluorescence spectroscopy.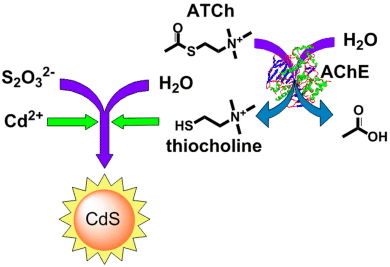 Enzymatic generation of CdS quantum dots for the detection of acetylcholine esterase activity.
---