Matthias Beller, Director of the Leibniz Institute for Catalysis (LIKAT) and chairman of the editorial board of ChemSusChem, will be presented with the first European Sustainable Chemistry Award.
He will receive the prize, along with 10,000 Euro at the Opening Ceremony of the 3rd EuCheMS Chemistry Congress in Nürnberg, Germany, on 29 August.
Matthias Beller is being recognized for his exceptional research in the field of homogeneous catalysis. His team at LIKAT is mainly investigating the environmentally sustainable conversion of small molecules into recyclable or reusable materials.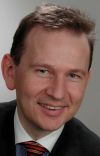 ---
Recent research by Mattias Beller:
---