The GDCh Wissenschaftsforum 2015 (WiFo 2015) is the largest and most important scientific event of the Gesellschaft Deutscher Chemiker (GDCh; German Chemical Society) taking place every two years. From August 30 to September 2, about 2,000 participants met in Dresden, Germany, for eleven plenary lectures (two from Nobel Prize winners), oral presentations, workshops, and poster presentations covering the broad range of chemistry including synthesis, catalysis, materials, energy, resources and environment, life sciences, analytical chemistry, history of chemistry. In addition, numerous prizes were awarded.
Dresden is the capital city of the State of Saxony in Germany. Because of its baroque and rococo historic city center, including the Semperoper, the Frauenkirche, and the Brühl's Terrace, Dresden is known as the Jewel Box. It has the highest density of research institutions. It's University of Technology is among the ten largest universities in Germany and part of the German Universities Excellence Initiative. In addition, all extramural research institutions are represented in Dresden with twelve facilities in which chemistry often plays a central role.
Opening Ceremony
Dr. Thomas Geelhaar, President of the GDCh and Merck KGaA, opened the conference. He said that probably many chemists associate our craft with the slogan "Chemistry Connects": to connect atoms into new molecules and by this create new materials with new or improved properties". But chemistry is more than just the art of synthesis. Geelhaar pointed out diverse themes which were also reflected in the conference program such as interdisciplinarity, history, different generations.
During the Opening Ceremony, Dr. Christoph Israng, Permanent Representative of the Federal Republic of Germany to the Organization for the Prohibition of Chemical Weapons (OPCW), gave an overview of the organization. It has 191 member states and is the fastest growing international disarmament organization in history, but there still are chemical weapons and these are being used, for example, in Syria. Israng said that there are many national guidelines, but they are only now working on a universal guideline. The GDCh and the American Chemical Society (ACS) are most active in this project.
Professor Diane Grob Schmidt, President of the ACS, started her greetings in German. She praised the longstanding partnership with the GDCh and many cooperations, such as the Chemical Sciences and Society (CS3) series, hosted by the funding agencies and chemical societies of the US, Germany, China, Japan and the UK, and the exchange of young chemists. Grob Schmidt is looking forward to many more opportunities which will come up in the future.
Professor David Cole-Hamilton, President of the European Association for Chemical and Molecular Sciences (EuCheMS), gave examples of how EuCheMS brings together chemistry related organizations, for example, with the exchange program Young Chemists Crossing Borders together with the ACS's Younger Chemists Committee YCC. Currrrently, EuCheMS and ACS are working on a memorandum of understanding. Other activities include the first European employment survey and the commemoration of the centenary of the 1st large scale use of chemical weapons.


► More information about the awards presented at the WiFo.
Professor Barry Sharpless (pictured above) who received the August Wilhelm von Hofmann award, gave a plenary talk on "Click Chemistry—New Directions" that culminated in an elaboration of a completely new click reaction called SuFEx (published in an article in Angewandte Chemie). It was most inspiring to young chemists in particular to see Barry Sharpless in action who has again and again pioneered important new reactions in work that brought him the Nobel Prize in 2001.
Selected Talks
The Art of Synthesis
The first plenary symposium called "Art of Synthesis" included talks by the organic chemist Professor Thorsten Bach, Technical University of Munich, the inorganic chemist Professor Ingo Krossing, University of Freiburg, and the biochemist Professor Stephen Kent, University of Chicago, USA. Bach showed how elegant organic synthesis leads to complex natural products which are used for medical applications and are not provided by nature in sufficient quantities. Krossing's research interests include ionic systems, focusing on the the synthesis of ionic liquids and the development of new electrolyte systems for batteries. Kent studies proteins and their functions, and found, for example, a new class of AIDS drugs and an efficient total synthesis of human insulin.
Chemistry and Materials
In the second plenary symposium, Professor Hideo Hosono, Tokyo Insitute of Technology, Yokohama, Japan, Professor Ferdi Schüth, Max-Planck-Institut für Kohlenforschung, Mühlheim, Germany, and Professor Susumu Kitagawa, Kyoto University, Japan provided the audience with insights into materials-related chemistry. Hosono's talk focused on inorganic electrides such as 12CaO · 7Al2O3, and how in recent times it has been possible to get better information about the structures and properties of these fascinating species, in which electrons serve as anions. Schüth talked about the progress made in controlling the properties of nanostructures for catalytic materials. This has been achieved, for example, by tailoring the pore sizes by different soft and hard templating techniques, by controlling the catalytically active metal particles by solution phase synthesis, and by placing catalytic particles in desired locations of structured support materials. Kitagawa described how porous coordination polymers (PCPs)/metal-organic frameworks (MOFs) have been found to be able to store large volumes of gases, which has in turn sparked studies around the world on the mass storage of carbon dioxide and methane.
Chemistry and Light
The third plenary symposium entitled "Chemistry and Light", particularly fitting in the "International Year of Light", featured talks by Professor Wolfgang Schnick, LMU Munich, Germany, Professor Nava Setter, EPFL Lausanne, Swizerland, and Nobel Laureate Professor Stefan W. Hell, Max Planck Institute for Biophysical Chemistry, Göttingen, Germany. Schnick showed how highly efficient europium-doped nitridosilicate and oxonitridosilicate materials are being industrially applied in phosphor-converted (pc)-light-emitting diodes, which are up to 80 % more energy efficient. Setter's talk focused on ferroelectric domain-wall phenomena. At the end of her lecture she took a few moments to outline another of her passions, namely, enabling science learning in high-schools in rural Tanzania and encouraged the participants to join her in this honorable venture. Hell, who received the Nobel Prize for Chemistry in 2014, lucidly described how the diffraction resolution barrier can be overcome by using "on/off" molecular state transitions to make molecules discernible from each other.
Chemistry Connects – Panel Discussion
Chemistry connects was this year's motto of the WiFo. It promotes successful cooperation between chemistry disciplines and the scientific and personal exchange of chemists of all ages and from all disciplines. "Despite all the new forms of communication nothing can replace the individual contact. And still, most of the ideas are born when talking in person", Dr. Renate Hoer from the GDCh wrote.
How best to connect with the general public was the focus of a panel discussion. According to Dr. Thomas Geelhaar, President of the GDCh and Merck KGaA, the age of glossy brochures is over. Industry needs to communicate openly not only about the chances but also about the risks. And we have to make clear that chemistry is not just the chemical industry.

Professor Markus Antonietti, Max-Planck-Institut für Kolloid- und Grenzflächenforschung, thinks that the new media allow communicating very differently. The chemist himself/herself needs to be in the foreground and convey that chemistry is beautiful and creative. However, in her work, Beatrice Lugger, Nationales Institut für Wissenschaftskommunikation, experiences that scientists – not only chemists – have to learn how to communicate with different parts of the general public, e.g., via social media and at open-days, to get their message across. Not every scientist has to be able to do so, but at least one of a group should.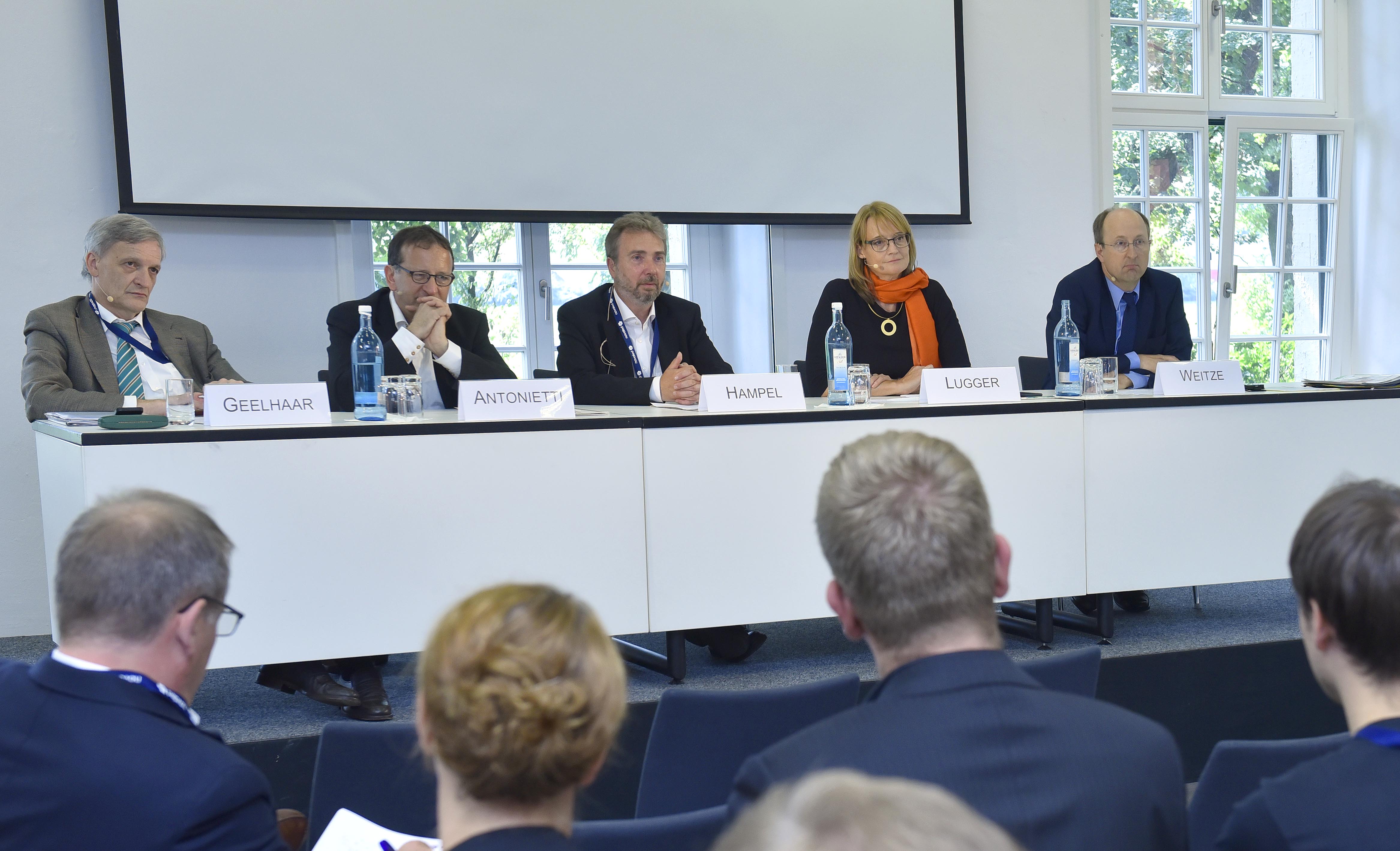 Panel Discussion (Photo: Christian Augustin, Germany © GDCh).
Poster Session
The poster session on the Monday evening provided the opportunity for more than 400 participants to present and talk about their latest research. As part of the event three IUPAC poster prize winners were chosen. The winners, who each received a copy of the book Chemiker im Dritten Reich by Helmut Maier, signed by Nobel laureate Professor Stefan W. Hell, were Manuel Bentlohner [1] from Professor Thomas Fässler's group in Munich, Ronny Fritzsche [2] from Professor Michael Mehring's group in Chemnitz, and Felix Prause [3] from Professor Matthias Breuning's group in Bayreuth.

Selected Other Activities
The Secret Laboratory
The UmweltBühne (EnvironmentStage) presented the puppet show "The Secret Laboratory" which is designed especially for children of primary school age and is intended to encourage a conscious observation and understanding of nature and the environment.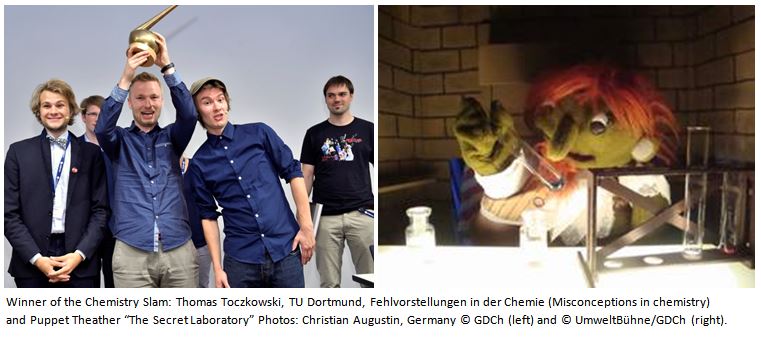 Chiuz Storylab
To present one's own research topic or project is a skill that has to be learned. Chemistry students were able to learn this in the workshop ChiuZ-Storylab from Dr. Uta Bilow, an author of the GDCh journal Chemie in Unserer Zeit (ChiuZ) .
Conference Dinner
The Conference Dinner took place at the Ball- und Brauhaus Watzke, an old brewery build around 1900.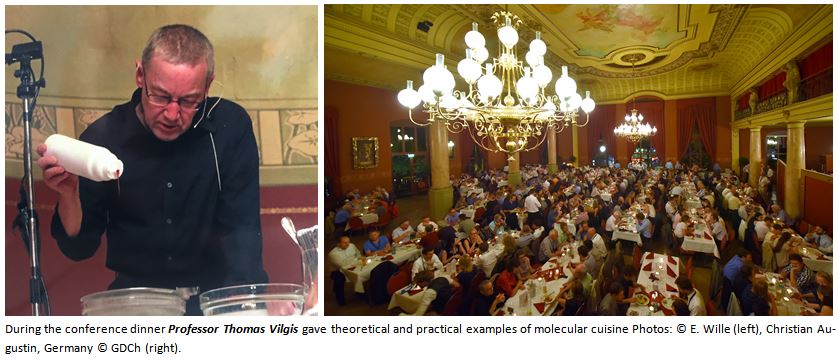 Snapshots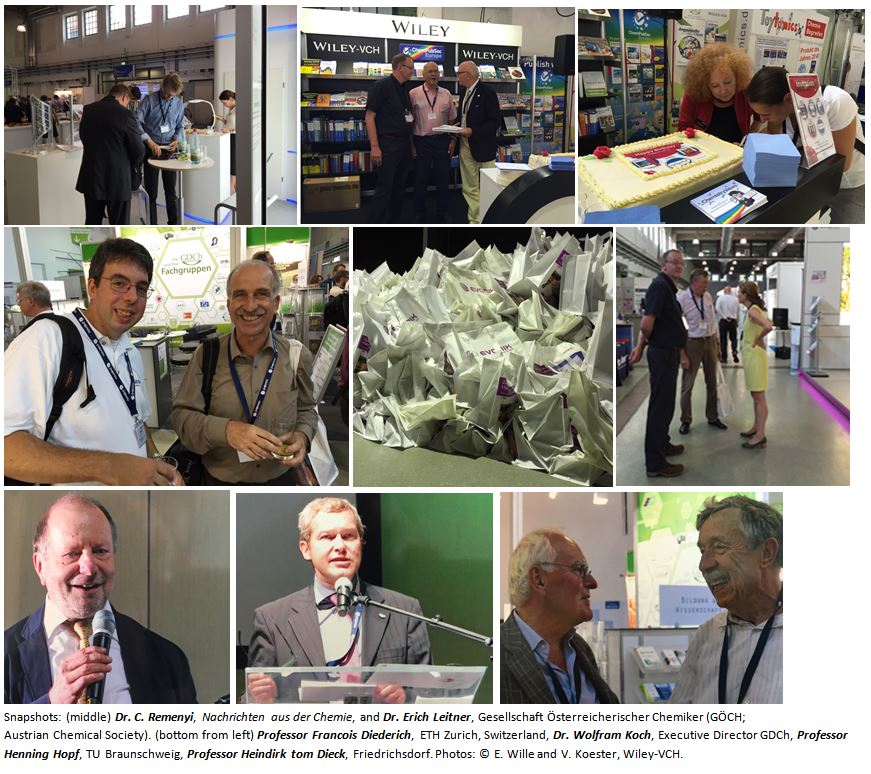 Next WiFo
► The next Wissenschaftsforum (WiFo 2017) will take place in Berlin in September 2017. This anniversary WiFo will celebrate 150 years of GDCh/DCG (Deutsche Chemische Gesellschaft; one of the predecessor organizations of the GDCh).
---
Poster Prizes
[1] Manuel M. Bentlohner, Wilhelm Klein, Zohreh H. Fard, Laura-Alice Jantke, Thomas F. Fässler, Linking Deltahedral Zintl Clusters with Conjugated Organic Building Blocks: Synthesis and Characterization of the Zintl Triad [R-Ge9-CH=CH–CH=CH-Ge9-R]4−, Angew. Chem. Int. Ed. 2015, 54 (12), 3748–3753. DOI: 10.1002/anie.201410199
[2] R. Fritzsche, T. Rüffer, H. Lang, M. Mehring, The Disilanes Cp*SiCl2SiH3 and Cp*SiH2SiH2Cp*, Main Group Met. Chem. 2015, 38, 69–74. DOI: 10.1515/mgmc-2015-0015
[3] D. Scharnagel, A. Müller, F. Prause, M. Eck, J. Goller, W. Milius, M. Breuning, The First Modular Route to Core-Chiral Bispidine Ligands and Their Application in Enantioselective Copper(II)-Catalyzed Henry Reactions, Chem. Eur. J. 2015. DOI: 10.1002/chem.201502090