Professor Sang Yup Lee, Korea Advanced Institute of Science and Technology (KAIST), Daejeon, South Korea, is well known for his research contributions towards biotechnology and his commitment to promote knowledge transfer in this field, e.g., by his various editorial, educational and consulting tasks.
Here, he speaks to Dr. Claudia Ley for ChemViews Magazine about his career and fascination for biotechnology, and where he sees the field heading.
What do you find so fascinating about biotechnology?
Biotechnology is the technology that can improve healthcare, nutrition, and the state of the world in general. It is amazing to see what biotechnology can deliver: from new drugs and nutritional compounds to chemicals, fuels, and materials from renewable resources.
What do you think are the most important developments in biotechnology right now?
I think there are many exciting and important developments that are addressing the world's most pending issues: healthcare in growing populations and aging societies, sustainable agriculture and better nutrition, climate change, and other environmental problems.
Examples for revolutionary developments in the healthcare sector can be found in the area of genomics-based medicine as well as precise and personalized medicine, stem cell engineering and cultured or 3D-printed organs. Sustainable agriculture and better nutrition are addressed by current research towards enhancing crop yields and properties without leaving heterologous genetic materials and the discovery of new combinatorial natural compounds through systems biology (which is also of importance for medicine). Furthermore, research in systems metabolic engineering will allow enhanced and economical production of chemicals, fuels and materials from non-food renewable resources or even from carbon dioxide.
What do you think are the most important future applications?
Most important are better medicine and therapeutics that are personalized and have much less side effects. This includes discovery of many more natural compounds for various healthcare and nutritional applications and ubiquitous healthcare management systems through the integration of information technology and nanotechnology with biotechnology.
Another important application is the realization of a bio-based economy where we produce chemicals, fuels, and materials at competitively low costs from renewable non-food biomass and carbon dioxide.
What do you think are the biggest challenges?
Scientifically, we still do not fully understand biology – and probably never will – but engineering approaches of "use what you know" can be taken. Ethical and safety issues will be always important when employing biological systems and using systems created through synthetic biology.
In the case of drugs and medicines, the biggest challenges will be creating new platform strategies of using multi-compound multi-target treatment of diseases. In the case of industrial biotechnology, the biggest challenges will be development of ultra-high-performance strains producing chemicals, fuels, and materials so that the bioprocess can be competitive to petrochemical processes.
Can you say something about the role biotechnology plays in South Korea?
Korea, being a resource-limited country, needs to move towards a so-called 'creative economy'. This is the vision of the current President Park Geun-hye. This means, Korea will reform all industries including manufacturing, service, and logistics, based on new ideas and creativity. Under this vision, biotechnology will be playing an increasingly important role. We think it will in the future go beyond what IT has delivered to the Korean economy for the last two decades.
In this context, the Korean government recently announced the plan to further boost biotechnology R&D in the fields of global advanced biopharmaceuticals, cell and gene therapy, bio-based chemicals production, medical devices/equipments, and others.
Please tell us a bit about how your career has developed?
After my Ph.D., I started my career at KAIST and still enjoy working here. Over the last 22 years at KAIST, I have had the privilege of working with great students and researchers. I have been serving the community as editor and editorial board member of many journals, advising government and industry, and have also served as an expert to international organization such as the World Economic Forum.
What are your current research activities?
My group mainly works on metabolic engineering of microorganisms for the production of chemicals, fuels, materials, drugs, natural compounds, and recombinant proteins. Fundamental systems metabolic engineering strategies and their applications are being developed. We also work on systems biology, synthetic biology, and nanobiotechnology in the context of better understanding and designing the biosystems of interest.
Some of the recent works in my group include the development of engineered microorganisms producing non-natural monomers and polymers widely used in the chemical industry, the biological synthesis of various metal nanoparticles, and engineering microorganisms for the production of natural products of medicinal and nutritional importance.
We also work on modernizing 'traditional oriental medicine' through systems biological analyses.
What would you like to be doing ten years from now?
Well … who knows what will happen then? Most likely, I will still be enjoying my life as a professor. I love to see my students become very successful, and this will continue.
And what other interests do you have?
I like listening to music.
Over the years, my group has been working with companies to commercialize some of the products we have been developing. Such experience has been truly exciting and of great interest not only to me, but also to my students who have naturrally become involved in 'real world problems' beyond 'academic developments'.
---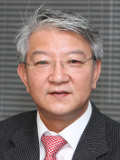 Sang Yup Lee studied chemical engineering at Seoul National University, Seoul, South Korea, and Northwestern University, Evanston, IL, USA, where he received his Ph.D. in 1991. In 1994, he became Assistant Professor for Chemical Engineering at the Korea Advanced Institute of Science and Technology (KAIST), Daejeon, South Korea. He was promoted to Associate Professor in 1997, to Full Professor in 2002, and to Distinguished Professor in 2007. He was Founding Dean of the College of Life Science and Bioengineering, and also Dean of KAIST Institutes.
Professor Lee's research interests include metabolic engineering and biochemical engineering, industrial biotechnology, systems and synthetic biology, nanobiotechnology, and recombinant proteins. Sang Yup Lee is Honorary Professor of multiple universities worldwide, serves as Editor-in-Chief of Biotechnology Journal, and as Associate Editor and Board Member of numerous other journals, and has published more than 514 journal papers and numerous patents.

Selected Awards
National Order of Merit, President of Korea, 2001
Marvin J. Johnson Award, American Chemical Society (ACS), 2012
Amgen Biochemical Engineering Award, 2013
Ho-Am Prize in Engineering, 2014
Selected Publications