K. C. Nicolaou was presented with Cyprus' Sciences Excellence Award by President Demetris Christofias.
Nicolaou was born in Cyprus before moving to the UK, then the USA, to pursue his research career in chemical synthesis, with focus on molecular design and recognition, and the biological actions of molecules. He is Professor at the Scripps Research Institute, CA, USA, serves on the Scientific Advisory Board of numerous scientific journals, e.g., the Angewandte Chemie International Edition or ChemBioChem, and is an author of numerous articles and books.
The ceremony also included the presentation of the Letters Excellence Award to authors Rina Katselli and Michalis Pieris, and the Arts Excellence Award to actress Despina Bebedeli.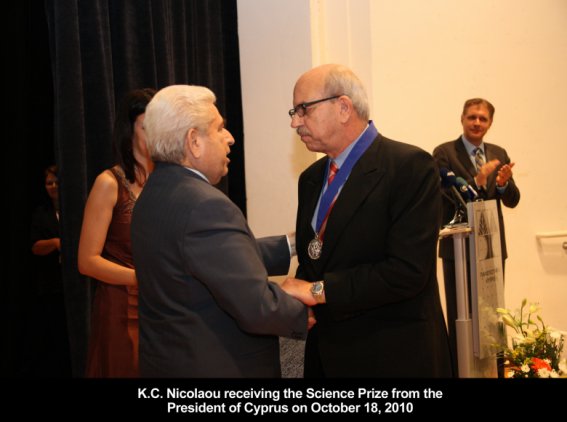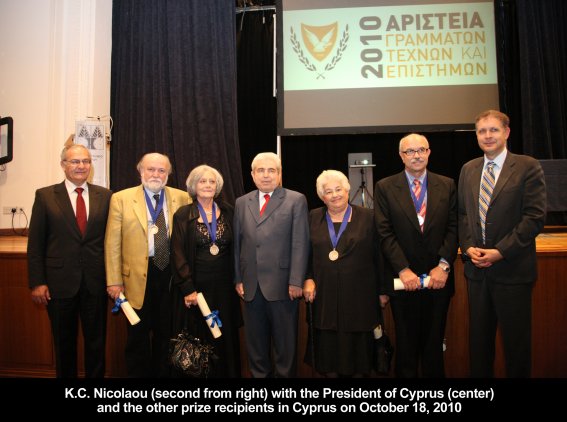 ---
K. C. Nicolaou, Scipps research Institute, CA, USA
Molecules that Changed the World
K. C. Nicolaou, T. Montagnon,
1. Edition – February 2008, 366 Pages, Hardcover, Wiley-VCH, Weinheim
ISBN-10: 3-527-30983-7 ISBN-13: 978-3-527-30983-2
Classics in Total Synthesis: Targets, Strategies, Methods
K. C. Nicolaou, E. J. Sorensen
Paperback, 821 pages, December 1996
ISBN: 978-3-527-29231-8