1985 was an important year in the early history of HIV/AIDS research. It marks the publication of seminal papers in Science by Luc Montagnier's research group in France, who first isolated the virus, and Robert Gallo and colleagues at the US National Cancer Institute, who clearly demonstrated that this retrovirus, then known as HTLV-III, is the causative agent of AIDS. It's also the year that the first randomized placebo-controlled study of azidothymidine (zidovudine or AZT) as an antiretroviral compound took place.
AZT was initially developed in 1964 by Jerome Horwitz, Wayne State University, USA, as a potential inhibitor of DNA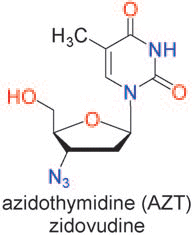 replication in cancer cells. However, its lack of activity against cancer led to it being shelved until its promise as an antiretroviral, as evidenced by its effectiveness against Friend leukemia virus in murine cell culture, was discovered by Wolfram Ostertag and colleagues at the Max Planck Institute in Germany.
Antiretroviral compounds eluded widespread attention as it was thought, at the time, that retroviruses didn't play a significant role in human disease. Gallo's discovery of the HIV retrovirus being directly linked to the AIDS epidemic, and AZT's efficacy in extending the lives of AIDS patients, led to near record-breaking speed for AZT's approval for use by the US Food and Drug Administration (FDA) in March 1987.
The past 25 years have seen much progress in ways to curb HIV propagation. The current combination therapies afford a vast improvement in the duration and quality of life for people living with HIV, but are only a step in the right direction. A cure for HIV infection is still a long way off and HIV's high rate of mutation allows it to evade the host's immune system, and it has thus far thwarted efforts toward a viable vaccine.
The November issue of ChemMedChem commemorates the important turning points of 1985 in the early battle against HIV, and the impressive amount of research conducted since that year. It contains a group of the latest very important reports in primary anti-HIV drug research, as well as some insightful reviews of HIV entry inhibitors.
---