The production of biofuels in the EU is still in its infancy, but this is set to change as the European Commission (EC) Renewable Energy Directive (RED) which has to be implemented by December 2010, has set ambitious targets for all member states to ensure that the EU will reach a 20 % share of energy from renewable sources by 2020, with a 10 % share of renewable energy specifically in the transport sector. Along with national and regional mandates across Europe, this has inspired biofuel producers to extend their capacities.
The European road transport system is currently almost entirely dependent on fossil-derived fuels and biofuels can offer significant advantages in terms of future energy security, by reducing dependence on fossil fuels, and a reduction in net greenhouse gas emissions.
However, in order to meet the RED target between 17.5 and 21.1 million hectares of arable land will have to be dedicated to the production of energy crops in the EU and tensions have arisen about securing future supplies and land use competition for food versus fuel.
A special issue of Biofuels, Bioproducts and Biorefining has been inspired by a key EC-funded project 'Future Crops for Food, Feed, Fiber and Fuel' (4F crops; GA No. 212811) and provides further perspective to an earlier special issue on 'The Role of Biomass in America's Energy Future'. The current issue discusses the main driving forces and challenges behind the growth of biofuels in the EU and, more critically, how to move production of biofuels in the EU out of its infancy and into a sustainable and economically viable future.
The issue is edited by Guest Editors Andrea Monti (left), University of Bologna, Italy, and Melvyn F. Askew (right), Census-Bio, UK.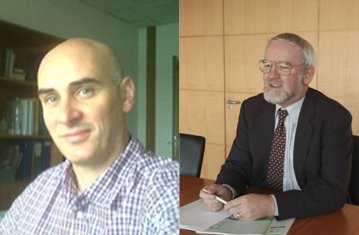 ---