Müfit Bahadir, Institute of Environmental and Sustainable Chemistry, TU-Braunschweig, Germany, is the coordinator of the Excellence Center for Development Cooperation – Sustainable Water Management within the Exceed Project.
Vera Köster, Editor-in-Chief of ChemViews, took the opportunity to talk to him about sustainable global water management, student mobility and the Exceed Project.
What are the main challenges of sustainable water management? And do they differ in the different partner regions?
The main challenge is to supply clean drinking water and to save the fresh water resources through water reuse. This is also declared in the Millennium Development Goals No. 7 from the UN.
Every region has different problems: In South-East Asia As contamination of groundwater and rivers like the Ganges and Mekong are huge problems. The contamination is due to the erosion of the relatively young and still growing Himalaya. A low cost solution applied by the people is to channel the contaminated water over rusty iron to precipitate As. But then there is the problem of what to do with the As containing sludge.
The water of the River Nile is used for irrigation which became possible through the Assam dam. In the first year, salt was left over, the arable soils were degraded. Then drainages were built. But the drainage water contains fertilizers like nitrate and phosphates, pesticides, and heavy metals. Discarded back into the river, this leads to eutrophication and an increased growth of water hyacinths (Nile flower), these decrease the velocity of the water flow, so water snail populations become established. They are hosts for schistosoma worms – the vector for bilharzias. Worldwide more people suffer from this disease than from malaria.
It is possible to treat the water from the drainages and separate the nutrients and pollutants. For instance, microalgae could remove the heavy metals by using up phosphate and nitrate as fertilizers for their growth. The treated water could be reused for irrigation and the microalgae could be used as renewable chemical feedstock or for production of biogas.
It is very interesting to see how one step fits into the next.
There is more: Algae produce ten times more biomass per unit area than other plants. They need nitrate, which is produced by the chemical industry, and phosphate. Phosphate is gained from natural deposits which will only last another 40 to 50 years. If the phosphate mines are depleted no agriculture will be possible. However, phosphate could also be gained from municipal and agricultural wastewater. At present, phosphate runs through wastewater treatment plants and causes eutrophication of the receiving water bodies.
Reusing phosphate from wastewater would also solve another serious problem: Phosphorus from deposits (apatite) used in agriculture, especially when used as cheap raw phosphate, is often contaminated with cadmium and zinc. Reusing the phosphate from wastewater would also eliminate the cadmium and zinc contamination of the agricultural land. In this sense, wastewater is a renewable resource to be used for the benefit of mankind.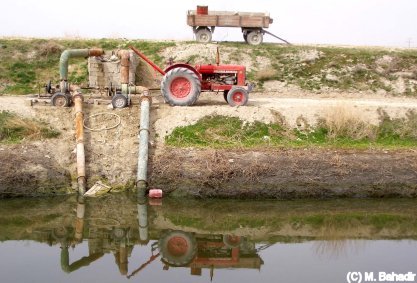 Is sea water desalination a solution for the water deficit in the Middle East or Africa?
Seawater desalination is an option which increases steadily. However, you need an infrastructure for this, money and governmental regulations.
Wells are cheap and local, but unfortunately not necessarily sustainable. Fossil groundwater is depleted. Sustainable water resource management is urgently needed. Still, in many countries fresh water is free. This means people do not understand its value and do not save it. For instance in India, roughly 80 % of all wells are not licensed, although there are governmental rules but no control measures.
Two thirds of agriculture worldwide requires irrigation with fresh water. Too much fresh water is being taken out of aquifers. The ground water level is lowered thereby. The region becomes dryer. This also happens even in some regions in Germany. In coastal regions, sea water intrudes into the aquifers up to several kilometres.
We have to reuse water, aquifers have to be recharged, and in coastal regions a protection of the aquifers through separation from the marine water has to be established.

Are there differences in culture that affect research or water management?
Yes, for example, for religious reasons the use of wastewater to cultivate food is a problem in Islamic countries. Hence, it is necessary to implement water projects into the socio-cultural structures and to launch an intercultural dialogue in order to ensure the success of related projects. We work together with social and educational scientists in the Exceed Project for this reason.
Within the Exceed Project (Higher Education Excellence in Development Cooperation) the TU Braunschweig is one of five German universities which receive, for a period of five years, funding of up to 1 million EUR per year.
What kind of project is this?
Within the Exceed Project, five individual projects are funded by the German Ministry for Development and Cooperation (BMZ) and the German Academic Exchange Service (DAAD).
Under the project title "Excellence Center for Development Cooperation – Sustainable Water Management" the University of Braunschweig and its international cooperation partners are building a global competence network of equal partners to develop core proposals for sustainable water management. This includes technologies for manifold use and re-use of water, water supply for Mega-Cities, coastal engineering and water-ecosystems.
Additionally, training courses and graduate programs are developed and experts are trained as policy consultants.
Who are your partners in this excellence center?
Besides the coordination unit, located at the TU Braunschweig, three satellite centers have been established at the Mut'ah University, Karak, Jordan, the Universidad de Guadalajara, Mexico, and the Water Resources University, Hanoi, Vietnam. These are all leading universities in their respective countries. From these satellite centers, a world-wide network of 24 partner universities is coordinated.
A fourth satellite center will be established in Sub-Saharan Africa and six universities from that region have already declared their interest to join our network.

How do you select suitable partner universities in Africa?
I attended the African Water Resources Management Conference in Botswana in September 2010 to meet with the experts and to present our project there. It was received very well and many universities were interested in joining this project. In February 2011 a regional meeting will be held in Ouagadougou, Burkina Faso, in order to establish the African Branch of Exceed.
How does the Exceed Project work?
Among the participating universities a SWOT analysis is performed: The existing study programs related to sustainable water management are examined, strengths and weaknesses of the university are analysed. The idea of the network is to build on existing programs at each partner university. Missing expertise will not be necessarily installed within each university, but the gaps will be filled through exchange throughout the network.
This is done through the so-called "Mobility Measures", Summer Schools as well as Expert Workshops are held, and there are student's and teacher's exchange programs.
Additionally, in Braunschweig the position of an international guest professorship and a guest research group is established. Professors who apply for this six months position undergo a selection process by us and the DAAD. The professor has to give a 2h/week lecture on a special topic at the University of Braunschweig and supervise a guest research team. Master and PhD students as well as young Postdocs can apply for the 5 – 6 positions to work for six months in the team of this guest professor, fully granted by the Exceed Project.
Who was the first guest professor?
The first guest professor was Professor Das Gupta from the Asian Institute of Technology in Bangkok, Thailand, working on hydrology and water resources management.
The present, second one is Professor M. Pehlivan from the Selcuk University, Konya, Turkey, working on water pollution and pollution removal through low cost sorbents. The students of his research group come from Vietnam, Burkina Faso, Jordan, and Turkey. As the research projects are usually not finished after half a year, the students and the professor stay in close contact after leaving Braunschweig and thus knotting the network closer.

You said the coordination center is located at the TU Braunschweig. What is its role?
The TU Braunschweig acts as contractor for the project and is legally responsible for the contract and management of the grant on behalf of the partnership. But there is, of course, more to what we are doing. We are the nucleus and the spiritis rector of the entire project. Our partners expect from us a leading role. We initiate and coordinate the transregional activities within Exceed.
And the satellite centers?
They coordinate the project activities in their respective regions. Each satellite center is responsible for the management and administration of its part of the project.
You are the scientific coordinator of the project. What does this involve?
Yes, I was elected scientific coordinator by the Management Board.
The scientific coordinator ensures the communication among all partners and is responsible for the development and evaluation of the project. This is done by my own expertise and by bundling trends and ideas.

You were elected by the Management Board. What role does it play?
The Management Board makes decisions on strategic planning of project activities, and the execution of project dissemination activities.
There is also an International Advisory Board that gives advice to the management board on strategic issues and the general development of the project. Members of the advisory board are leading experts from academia and industry worldwide, like the former Minister of Environment of Jordan, professors and directors from Cornell University, USA, INRA – French National Institute of Agricultural Research, France, ICSU – International Council for Science, Africa, AvH – Alexander-von-Humboldt Foundation, Germany, GTZ – German Society for Technical Cooperation, Bonn.
The Advisory Board also consist of networks such as the German Water Partnership (GWP, public and private partners bundle activities and initiatives of the German water industry and provide world-wide expertise), Knoten Weimar (international transfer hub for environmental technologies, arranges business contacts), and the German Alumni Water Network (GAWN, coordinates activities of former students from German Universities).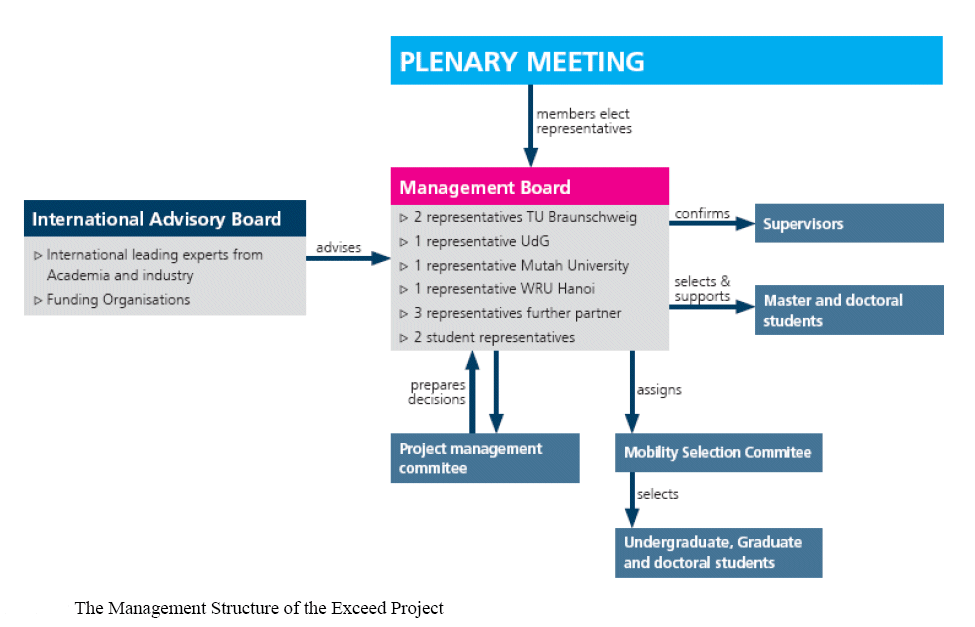 The project is funded with up to 1 million EUR per year. What do you do with the money?
85 % of the money goes to the partnering universities. The DAAD has very strict rules on how to spend the money. This sometimes makes planning a bit challenging for us. However, we are improving with this.
After two years there will be an intermediate evaluation to decide whether the project is successful and will be continued. One of our major aims before then is to install a fourth satellite center in Africa and to find up to six suitable partner universities there.
What is the overall aim of the project?
As I said before, training courses and graduate programmes are developed together. Through mobility measures international experts are trained as policy consultants. The aim is to anchor the sustainable water management issue in the political agenda of both developing and industrialized countries.
The results of the research done within the network will be put at the disposal of policy-makers, public authorities and organizations. The aim of the project is to enable them to influence ecological, socio-economic and political changes and thus to contribute actively to the achievement of the Millennium Development Goal (MDG 7) "Ecological Sustainability".
Our aim is to create sustainable networks among the partners.
How can this be achieved?
Our partners are leading universities or organizations in their respective countries. They are consultants who influence the topics and the handling of topics by their governments. For example, Mufeed Batarseh, Director of the Prince Faisal Center for Dead Sea, Environmental and Energy Research, Mutah University, Karak, Jordan, or Mustafa Tiris, Director, Energy Institute at TUBITAK Marmara Research Centre, Turkey – to name just two.
What is your next project within the network?
A summer school on Flood Risk Management with well-known speakers from Germany, partner universities and other universities in Africa in 2011. And another summer school on Transboundary Water Issues as matter of regional cooperations and conflicts with lecturers from social and political sciences is planned.
Speaking about mobility, do many German students take the opportunity to study abroad for some time – not only to third world countries?
Since the bachelor/master's degrees were introduced in Germany, students study 6 + 4 semesters to reach the study goals. And they stick strictly to the number of semesters needed to complete their studies. Therefore, not many take the opportunity to go abroad for a longer time. Short stays during the holidays are more common.
It's a pity that they think they don't have time for experiences abroad.
Is there anything we could learn from other countries?
We should pay more attention to alumni of our universities. The national and international recognition of a university is increased through its alumni, whereas the current research is soon forgotten – unless we produce a Nobel Laureate at our university. I am not saying that we should not pay attention to our current research. On the contrary, our best school leavers today are our alumni tomorrow. Alumni networking is important and sustainable for getting international attention.
Let's come back to the excellence center for a moment. Braunschweig is one of five projects on the so called Millennium Development Goals (MDG). What other projects are there?
Other projects are the Food Security Center at the University of Hohenheim, the International Center for Development and Decent Work at the University of Kassel, the Center for Natural Resources and Development at the University of Applied Sciences in Cologne, and the Center for International Health at the Ludwig Maximilian University of Munich.
Braunschweig is the only University of Technology in this consortium.

How were these five excellence centers selected?
They were selected in a two-step process by an international peer-review group between October 2008 and June 2009 out of around 50 applications of outstanding university projects. The program started July 2009.
What got you interested in this project?
In the first place, my general interest in environmental sciences. And it is fascinating to not only work together with chemists from different departments, but to work with chemists, biologists, geologists, engineers and social scientists in one team to find solutions for problems of different countries and regions – this is really an interdisciplinary work.
You are the Editor-in-Chief of the Journal Clean – Soil, Air, Water. Does this have any effects on your work as coordinator of the project?
CLEAN is a relaunch, with extended scope, of the journal Acta hydrochimica et hydrobiologica. We just received our 500th article this year. CLEAN accepts papers in all fields of sustainability and environmental safety, but water is still the main topic of the journal. As Editor I get to see where the trends are going. Also interesting contacts result from my work for the journal. Among the university partners are some referees of CLEAN.
In addition to your duties as scientist and Editor-in-Chief of CLEAN, you have been Vice-President for International Relations and Technology Transfer of the University of Braunschweig. Did this position have any effects on the network?
Making contacts was a lot easier, I assume, especially as I proved successful in the position for some years. The position was a door opener to the executive floors of the partner universities and international organizations. And there was very helpful support for getting along with the application forms from my own university.
Maybe my experiences from this position also lead to the fact that I was voted chairman of the excellence center.
Thank you very much for your time for this interview.

Prof. Dr. mult. Dr. h.c. Müfit Bahadir, born in 1947 in Istanbul, Turkey, studied chemistry in Berlin and Bonn where he took his doctor's degree. After having worked in industry as a R&D manager at the Ruhrchemie AG Oberhausen, he began working for GSF National Research Center of Health and Environment Munich where he became the vice-chairman of the Institute of Ecological Chemistry. At the same time, he qualified as a university lecturer at Technical University of Munich-Weihenstephan. In 1989, he was offered the professorship for Ecological Chemistry and Waste Analysis at the Technical University of Braunschweig and he founded an Institute of the same name. In the meantime, the institute was renamed to "Environmental and Sustainable Chemistry".
Prof. Bahadir has authored over 220 peer-reviewed publications, he has edited 9 books, and holds 10 patents. He is Editor-in-Chief of CLEAN – Soil, Air, Water and member of editorial boards for a number of renowned journals, e.g., ChemSusChem. From 2001 to 2003 he was president of MESAEP (Mediterranean Scientific Association of Environmental Protection). In 2006 he was awarded with the UNESCO-Award: Education for Sustainable Development Bildung.
M. Bahadir is best known for his research in the area of Environmental Chemistry of inorganic and organic pollutants, their fate and impacts on organisms and ecosystems (ecotoxicology). His studies involve also green chemistry in education and research on sustainable products and processes.
---