At the 6th Graphene Conference in Genoa, Italy, on April 19–22, 2016, a group of approximately 3000 researchers from 52 countries studying graphene and 2D materials met to foster international collaboration and discussion. This four-day event covered the full breadth of topics related to 2D materials, from fundamental research to industrial applications.
The conference was co-organized by the Phantoms Foundation, Institut Catala de Nanociencia I Nanotecnologia (ICN2), Université Catholique de Louvain (UCL), and Istituto Italiano di Tecnologia (IIT) and is hosted by a different institute each year. This year it was hosted by IIT.
Scientific Program
On Tuesday morning, Andrea Ferrari, Director of the Cambridge Graphene Centre, UK, kicked off the plenary sessions with a presentation including both a historical perspective and a future roadmap for translating fundamental research on carbon-based and other 2D materials into real-life applications. He showcased the wide variety of potential applications of these materials. He even illustrated a few devices in action with videos, including a touch-sensitive graphene-printed poster of a drum kit you could play with your finger. He also spoke openly about the challenges of turning a promising idea into a real product and how much work is still required to be able to produce devices on a large scale at low cost.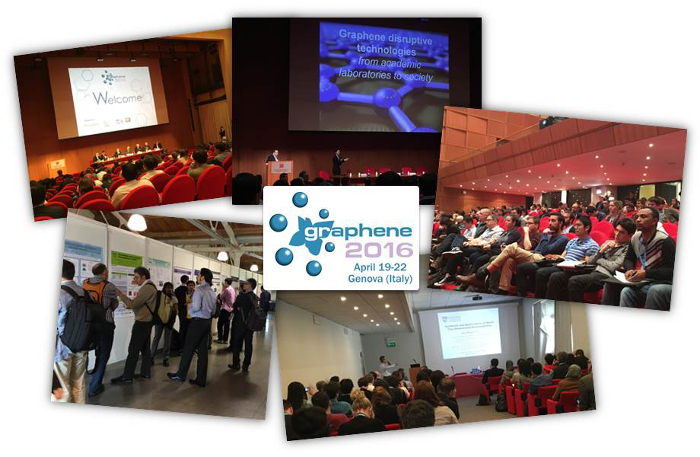 Impressions from Graphene 2016 (Photos: Claire Cobley).
The afternoon plenary session included several scientists who provided a chemist's perspective on this fascinating class of materials. Jonathan Coleman, Trinity College Dublin, UK, spoke about the liquid-phase exfoliation of nanosheets. He first discussed the importance of carefully controlling the synthetic parameters, such as picking the correct solvent and considering the critical micelle concentration of the surfactant, and continued with how some properties, such as nanosheet size, can be also probed with optical spectroscopy [1]. Later in the session, Paolo Samorì, University of Strasbourg, France, discussed strategies to combine graphene with various molecules to try and make something new, from graphene-based frameworks with tunable interlayer distances to materials whose interlayer distance can be modulated with UV light due to the addition of photoswitchable molecules [2,3].
The session continued with talks from Michael Grätzel, École, Polytechnique Fédérale de Lausanne, Switzerland, on how graphene can boost the performance of dye-sensitized and perovskite solar cells, and from Yury Gogotsi, Drexel University, Philadelphia, USA, who gave an overview of a different family of inorganic 2D materials: MXenes [4].
Workshops
Along with several more fascinating plenary sessions, there were also six thematic workshops on characterization, health and medical applications, theory and simulation, production and applications of graphene, energy, and worldwide graphene initiatives, as well as an industrial forum to facilitate partnerships with industry.
In the energy workshop, Hua Zhang, Nanyang Technological University, Singapore, Editorial Board co-chair of ChemNanoMat, gave an overview of the group's path from studying graphene to other 2D materials, including their recent work on the photocatalytic activity of WS2–CdS and MoS2–CdS nanohybrids, in which the hybrid materials exhibited 12–16 times greater catalytic performance for the hydrogen evolution reaction than CdS alone [5]. In general, several speakers emphasized the importance and potential of 2D materials beyond graphene, and the conference embraced this rapidly expanding research direction.
Later, in the production and applications of graphene workshop, Xinliang Feng, Editorial Board member of Chemistry – An Asian Journal, Technische Universität Dresden, Germany, spoke about chemical strategies to control the size, shape, structure, and processability of graphene and related 2D soft materials through both top-down and bottom-up methods [6]. For example, graphene nanoribbons with specific edge patterns can be synthesized by polymerizing carefully designed precursors. By controlling the final structure, the band gap can be tuned [7].
Networking
After the workshops on Wednesday, the attendees gathered in the stunning Palazzo Ducale for a conference dinner to remember. Between sessions, there were also ample opportunities for discussion, including during the two conference-sponsored lunches, poster sessions, and regular coffee breaks with Italian coffee and treats. Representatives from industry mingled with researchers performing cutting-edge science to develop new contacts and discuss ideas for future developments.
All in all, it was a successful and productive meeting that illustrated how exciting and diverse the world of graphene and 2D materials can be.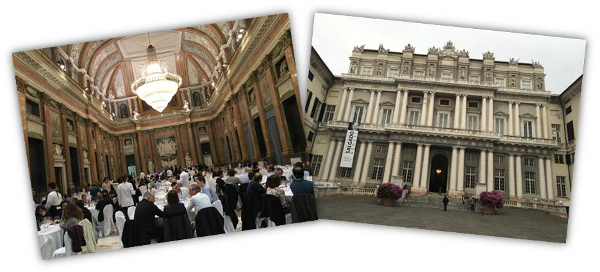 The Palazzo Ducale in Genoa (Photos: Claire Cobley).
Next Conference
Next year, the Institut Catala de Nanociencia I Nanotecnologia (ICN2) will host the conference in Barcelona, Spain.
---
References