Dr. Mark Kelada, Associate Research Scientist/Technical Director at PPD, Athlone, County Westmeath, Ireland, is the founder and previous chairperson of the Institute of Chemistry of Ireland Young Chemists' Network (ICI YCN) and co-initiator of the European Young Chemists' Network (EYCN) podcast "Chemistry To Your Ears," to name just a few of his activities for young chemists' networks in Ireland, Europe, and around the world. Dr. Vera Koester talks to him for ChemistryViews about his involvement and ambitions, how a podcast episode is created, and what attitudes he would like to see in young and established chemists.
You recently founded the Irish Young Chemists' Network (ICI YCN)? What prompted you to start this group?
Around September 2020—this was during COVID, obviously—Dr. Joseph Byrne from the National University of Ireland, Galway (NUI Galway) proposed that we create an online event for young chemists in Ireland, particularly for postgraduates, where they could present their research. At that time, the only opportunity for young chemists to present their research was the annual Irish Universities Chemistry Research Colloquium. In 2020 it was meant to be organized at one of the third-level institutions here in Ireland, but they were unable to because of COVID. So instead of completely removing all the chances that young chemists would have to present that year, particularly final-year postgraduates, Joe came along with this proposal to do an online event.
Back then I was the Young Chemists' Representative for the ICI. I thought it was a great idea. So we started reaching out to different universities and asking them for volunteers to create a committee to organize this event. We got great responses. The online conference for young chemists was held in September 2020 as a completely separate standalone event. It was not a colloquium replacement, and it was a really successful event.
Following on from that, I then asked the committee that we had formed if they would like to stay on and form a committee of a young chemists' network. We were all working really well together, so I told them that such networks exist in most countries in Europe and America and lots of countries in the world. I said it was something we are really missing here in Ireland, and as the young chemist representative at the ICI, I would love to create that.

You said you were already the representative of the young chemists but there was no young chemists' network. So how was this set up?
The Institute of Chemistry of Ireland, or ICI, is the professional body that represents chemists in Ireland. It has existed since 1922. In 2017, I went to the colloquium and the president at the time asked me if I would like to be the young chemist representative, so I volunteered for that. Since then, I have tried to establish different young chemist events and was successful in establishing a Young Chemist Postgraduate Award with the current ICI President, Professor Celine Marmion. I have also been the young chemist representative for both the EYCN and the IYCN [European and International Young Chemists' Networks). Also, I was the representative for young chemists on the ICI Council from 2020 to 2022.
OK. And then in 2020, you started the Irish Young Chemists' Network.
In October 2020, the ICI Council agreed during their council meeting—and we have this in a formal letter—that we would form a young chemists' network. In December 2020, we established the first-ever ICI Young Chemist Network. The network is part of the ICI, but we have our own community, make our own decisions, control our own finances, and so on.
It was a team of amazing people from all over Ireland—postgraduates who are really, really dedicated and passionate—and we created a committee. Each person had a task, and then within the committee itself we formed smaller teams where we were able to organize different things.
In January 2021, we started with the first meeting, which was kind of like a kick-off meeting to get to know our network and to better understand what the people want so that we are not organizing events or other things that our network does not want or is not interested in. Since then, we have had many different events throughout the year: career events, summer events, science quizzes, networking events, an escape room, a conference. We also helped organize with the ICI their congress last year. We did half the day, and the ICI did the other half. They focused mostly on research and professors from all over Ireland, whereas we focused mostly on the young chemists and on careers. People found this very useful.
Wow, so that was really a very active first year!
Yes, and during COVID that was not always easy. There are lots of different challenges, such as doing things online all the time and trying to keep the motivation going, but it was a very energetic, active, and successful year for us. We have gained a lot of members and received a lot of positive feedback.
How did you reach out to the young chemists in Ireland?
In the beginning, it was mostly via the ICI. We used their member list, but obviously, not all young folks are part of the ICI. So then it was more through social media. We then created a young chemist mailing list, and once we got our network set up and more people started joining, we had our own exclusive mailing list. And the third mode of communication was by word of mouth. We had a representative for most of the big universities here in Ireland. That was very effective as well, because word of mouth can be quite powerful, and it can be even more encouraging when you see other people going to the same event.
A lot of our events were open to the public as well. At the end of the year, we had some members-only competitions, like a science photo competition, to make it more exclusive for our members.
You have been active in the EYCN, the European Young Chemists' Network, for many years. The EYCN podcast "Chemistry To Your Ears" has also been around for some time now, and you were involved in that too. How did it come about and how long has it been around?
About two years now. We started off in Sitges, Spain, during the EYCN Delegates Assembly Meeting. It was in January 2020, right before COVID, so we were lucky to be able to go to Spain and have a really nice time over there and discuss lots of different things.
Back then I was part of the membership team that was led by Miguel Steiner from Austria. Miguel had this idea of creating the EYCN podcast, and we all gave him the thumbs up as we thought it was a great idea. Once we got the approval from the EYCN leadership team, we discussed who we wanted to be our audience, what type of topics we wanted to discuss, how we would find our guests, who would do what within our team—so, for example, who would be the host, who was going to do the editing, who was going to prepare the questions, who was going to publish posts on social media, and so on. So once those tasks were established, we were good to go.
Did you have any previous experience with podcasts?
Yes and no. Miguel had, I believe, worked previously on different podcasts, as did Koen van den Helder from the Netherlands as well. Miguel also had some editing experience from music and things like that, so that was really useful. I myself have always been a performer. I do music and drama and I'm an actor, so I'm able to introduce different characters with different voices and different tones and things like that. So different people brought their different experiences to the table, and we were able to complete each other's talents.
We recorded a trial around May 2020. It sounded okay, but we knew that there was room for some improvements. We got more background music, we got more and different voices, we were able to ask more direct questions. Things like that were process improvements at the start, and then by June, we published our first-ever EYCN podcast. Later that year, I myself was the person who was being interviewed. I talked about microplastics. That was an interesting experience, too, especially as I was used to being on the opposite side of the microphone.
Then we reflected a bit on the podcast, and we were able to see the demographics. We saw how our listeners came not just from Europe but from all over the world. Most listeners were from Europe, but we were getting a lot of American listeners as well as South American, African, and Asian listeners. We realized the impact this podcast was having and the importance of the topics that we were talking about. The topics that we were focusing on were very contemporary and very important at that moment. I think that was key for us to progress and grow and to cultivate a dedicated set of listeners and audiences.
How large is your team?
We started off with about six or seven people. Last year we had a change of leadership. Miguel Steiner was the membership leader and was succeeded by Denisa Vargová from Slovakia. Most of the team is still the same.
How do you choose your topics and your guests?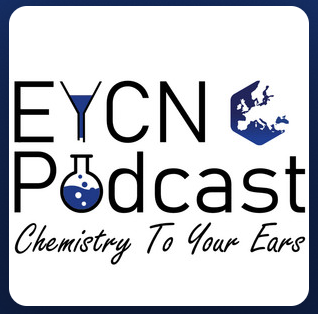 The EYCN network is very wide. Everyone knows someone.
We had a series of various topics suited for young chemists discussing lots of different subjects applicable to them. We also had the EYCA, the winners of the European Chemist Award, each of whom we interviewed about their research. That was very interesting as well.
How long does it take to prepare a podcast episode?
It really depends on the podcast, but approximately two months.
First, we start off by deciding what topic we want to do and who the guest speaker will be. Once that is established, we schedule an interview with them. In the meantime, we prepare the questions and I record the intro and outro, which means introducing them and talking about the podcast in general and that specific topic, then thanking them at the end and closing off the episode. Finally, there's the actual interview where the person who does the interview asks the guest lots of different questions. Nine out of ten times it works really well, and we have everything we need then. But sometimes we do need to go back and ask the guest some questions just to get the recording right.
The next stage is editing. We edit a few things just to make sure that it is audible, clear, and articulated properly, and then once we put all that together we put some music in the background if needed. Then we publish it.
What has been your biggest challenge?
One of the main problems we face is, of course, timing, because we are all volunteers, and we all have very busy schedules. Most of the team members are Ph.D. students, so they are already struggling with their schedules to do their own research. I work as a technical leader in a pharmaceutical company, so it's sometimes difficult to find the time to do all this. But it is also very fruitful, and there is a lot of positive feedback, which keeps us motivated.
So the next episode is already in preparation?
Yes, we have some exciting things coming up soon.
What we are doing at the moment is, instead of focusing on just one episode at a time, we are trying to do three episodes at a time. So we are trying out different things to improve the process and develop and grow.
What do you like most about working for the podcast? And was there anything that came as a surprise to you?
Definitely. Listening to myself was definitely an interesting experience. I did not think I sounded like I do.
My favorite part of it all is listening to the feedback. We are getting feedback from people both within and outside of Ireland saying things like, "Oh, we listened to your podcast. It was a very interesting topic, a very interesting discussion. I learned a lot from it." Or we look at the demographics and see that people from all over the world are listening to it. My favorite thing is to have such a positive impact on society and create that network of listeners. In addition, it created an outreach platform for the EYCN. It raised awareness about the organization, how we work, and the people behind the scenes. It is also a different mode of communication to e-mails or the newsletter.
What motivated you to join the EYCN?
I have always loved networking and getting to know new people.
I was lucky enough to attend the delegates' assemblies in Crete, Greece, in Turin, Italy, and in Sitges, Spain. The most recent one was held online. I met so many great people from all over Europe, and we were able to do lots of great work together, forming amazing networks of friendships as well as professional networks. Two years ago, I became the Irish delegate for the IYCN. That has also been very interesting. It is a much wider network, obviously.
Recently, I have stepped down from my role as the young chemist representative. I am definitely sad about that. But it makes room for something new, a new person with new ideas and fresh thoughts, and I personally look forward to trying new things.
What is your background and what is your career path?
My background is initially a Bachelor of Science Degree in Pharmaceutical and Biomedical Chemistry from Maynooth University in 2014. I worked a little bit with MSD as part of my degree as a quality chemist. I then continued to do a Ph.D. on the synthesis of arylpiperazines and pyrazolopyrimidinones for the treatment of Type 2 Diabetes, which I completed in 2018. After that I worked for Coca-Cola for two years, working in the Analytical Services Laboratory for the EMEA region and researching microplastics and recyclable plastics. Finally, last year, I moved to PPD, part of Thermo Fisher Scientific, where I am currently the associate research scientist or technical leader. I worked with small molecules initially, and now I am working with inhalations and inhaled products for different conditions like asthma and so on.
What about your spare time? You said you're an actor?
I work in TV and cinema whenever time allows and an opportunity arises. I have always loved acting since I was a child and I have done it kind of as an amateur for a few years, but now I am doing a little bit more professionally. I have had a few minor roles or background roles in big productions for Disney, Netflix, and Channel Five in England. It has been a very interesting experience, and it is a really nice opportunity to step away from all the science and all the research and do something different. I feel that this maintains that spark of interest and passion within me about the science and also keeps both sides of my brain active all the time.
As someone who is on the path to becoming a more established chemist, do you have any tips for young chemists and/or established chemists?
For the younger chemists, I definitely would love them to stay curious and open-minded and take risks. As young chemists, sometimes we tend to stay within the bubble of our own research, and we are scared to take risks or be curious about certain things within our own research or other things in life.
For more established chemists, I would say, "Stay curious, stay motivated, and be passionate." I say that to myself first. I think it is very important to keep going and stay motivated, because there is nothing worse than seeing a 40- or 50-year-old chemist just doing routine work every day, not having any motivation whatsoever, losing their passion for chemistry and for science. This not only is bad for them but also it gives a bad name to chemistry and science in general.
I would love for established chemists to always show that you can do amazing things when you really enjoy being in the profession, rather than making science and chemistry a boring and staid routine. I think the impact that science and chemistry have is invaluable, especially during times like this, during COVID. The impact technology has is invaluable, and I think if established chemists stay motivated, curious, and passionate, then we will have a very interesting world.
That is great advice. Any final thoughts?
I would love to give a special thanks to the ICI YCN team for being really great and for supporting me with all my crazy ideas, for always working well together, and helping each other.
It is very hard to create something and then move on, but it creates room for something new, and for me personally, I am looking forward to trying out new things.
Thank you for the interview.
---
Mark Kelada studied chemistry at Maynooth University, Ireland, and earned his Ph.D. there in 2018. After working as laboratory analyst at The Coca-Cola Company, County Mayo, Ireland, he began work as an Associate Research Scientist/Technical Director at PPD, Athlone, County Westmeath, Ireland, in 2021.
Mark Kelada is the Chairperson & Founder of the ICI Young Chemists' Network (ICI YCN) and served as the Irish representative on both the European Young Chemists' Network (EYCN) and the International Young Chemists' Network (IYCN) from 2016 to 2022.