Saibal Bandyopadhyay and Dennis Bong, The Ohio State University, Columbus, Ohio, USA, have synthesized a set of phosphatidylserine (PS) lipid photoaffinity cross-linking probes for the identification of novel PS receptor proteins. The PS lipid probes have potential impact in the areas of discovery biology, anti-inflammatory therapeutics, and cellular delivery.
A protected phosphatidylserine glycerol core is first synthesized with a protected terminal amino group on one of the two lipid acyl chains. The PS glycerol core is then acylated to install a benzophenone photoaffinity module and an alkyne group. This general strategy was used to prepare the set of lipid probes shown below.
The phosphatidylserine headgroup is envisioned to bind directly to the PS receptors (PSRs), which are then captured by photoaffinity labeling with the benzophenone group; this labeled PSR is then identified on a cell lysate gel through in-gel reaction of a fluorophore azide with the probe alkyne by using azide–alkyne [2+3] cycloaddition.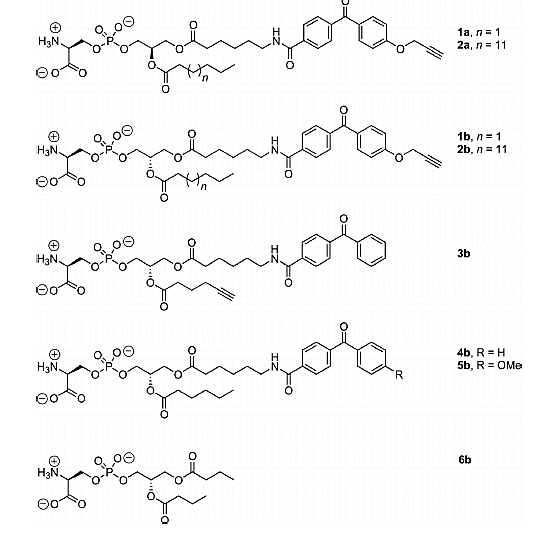 ---