Borealis has awarded Vassileios Touloupides, Greece, and Jukka Rasanen, Finland, the 2010 Borealis Student Innovation Awards. The awards recognize the most innovative research papers on polyolefins, olefins or melamine for master's and doctorate degree students. The winners were presented with an award, certificate and monetary prize at Borealis' annual Innovation Day in Porvoo, Finland.
The award for the best doctoral graduate thesis goes to Dr. Vassileios Touloupides for his research on "Mathematical Modeling and Simulation of an Industrial α-Olefins Catalytic Slurry Loop Reactor Series." Touloupides graduated from Aristotle University of Thessaloniki, Greece, in 2005 with a degree in Chemical Engineering. He continued his studies as a PhD candidate and is currently attending medical school also at Aristotle University of Thessaloniki.
Jukka Rasanen was awarded at the Master's level for "Optimisation of the Recovery Section of a Polyolefin Catalyst Manufacturing Process". Rasanen graduated from Lappeenranta University of Technology, Finland, with a BSc degree in Chemical Engineering. He currently studies at Chalmers University of Technology in Gothenburg, Sweden, in the area of Innovative and Sustainable Chemical Engineering under the supervision of Professor L. Vamling (Chalmers), K. Nyfors (Borealis) and M. Lylykangas (Borealis).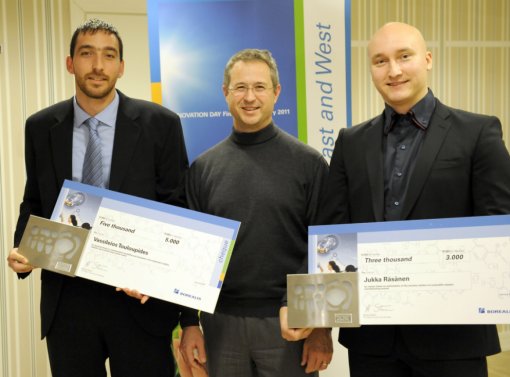 From left to right: Vassileios Touloupides, Alfred Stern (Borealis Senior Vice President) and Jukka Rasanen.
---