This year's Journée Scientifique of the Société Royale de Chimie (SRC; Royal Society of Chemistry of Belgium) took place at the University of Liège at the Place de la République Française close to the opera in the city center. The conference is organized each year by one of the five universities in the French speaking part of Belgium. The organizer chooses the topic of the conference; this year it was innovative approaches and technologies for the chemistry of the future.
Professor Anne-Sophie Duwez, University of Liege and President of the SRC Section of Liege, and Dr. Thierry Randoux, General Manager at Certech, Seneffe, and President of the SRC, opened the symposium with welcoming remarks. The Journée Scientifique annually invites the members of the SRC and all persons interested in chemistry. Approx. 170 chemists from industry and academia including Ph.D. and Master students as well as postdocs from the five French speaking universities of Belgium met to discuss ten talks, 70 posters, and to exchange with colleagues.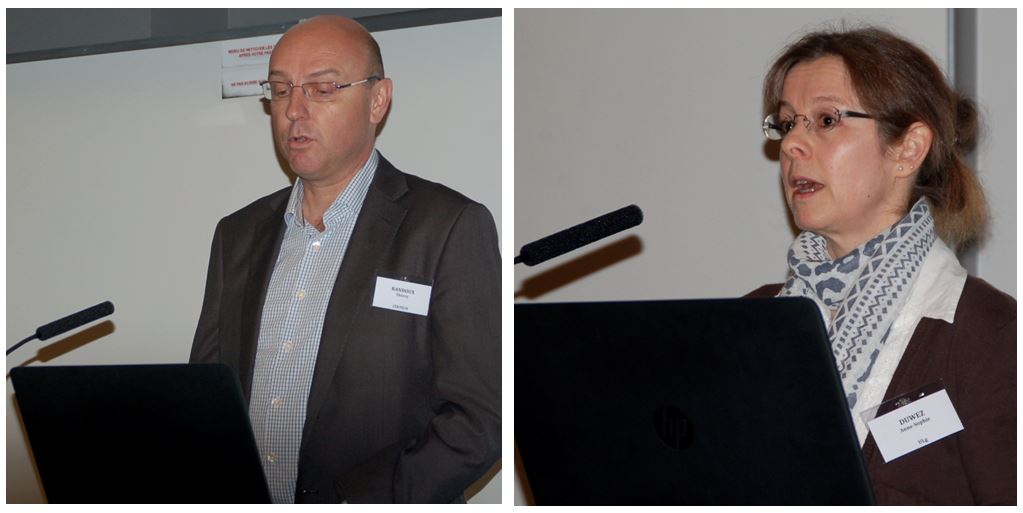 Welcoming remarks of Thierry Randoux, President of the SRC, and Anne-Sophie Duwez, President of the SRC Section of Liege.
Master Student Presentation
Each of the five universities selects one Master student to present their research in a 15 minute presentation. The best talks were honored at the end of the day with the Prix SRC and the Solvay Prizes. The Prix SRC comes with 500 EUR and went to Jehan Waeytens, University of Brussels (ULB), who introduced his research on nanoscale IR spectroscopy for the characterization of polymers.
The Solvay Prizes went to François Simon, University of Namur (UNamur), who talked on the synthesis of borazaromatics, to Quentin Duez, University of Mons (UMons), who spoke on the conformational analysis of macroions in the gas-phase by electrospray ionization (ESI), to Stephan van den Wildenberg, University of Liège (ULg), for the presentation of his work on ultrafast quantum dynamics of a triatomic molecule induced by short strong optical pulses, and to Laura Decourrière, Université Catholique de Louvain (UCL), who spoke about aroma precursors in dual purpose hops cultivars. The award comes with 250 EUR for each awardee.
Awardees from left to right: Laura Decourrière, Quentin Duez, François Simon, Stephan van den Wildenberg, and Jehan Waeytens.
Talks
During the day, four plenary talks were given:
Dr. Jean-Christophe Monbaliu, Center for Integrated Technology and Organic Synthesis, University of Liège (Ulg), talked about the development and implementation of continuous-flow multistep strategies for the synthesis of high-value added organic targets. He gave examples on unusual reaction conditions such as working with solids in microreactors, high-temperature reactions, and the handling of highly reactive species [1, 2]. He showed that continuous processes expand the toolkit for chemical processing. They also are compatible with unstable materials and unconventional conditions. Pharmaceuticals, typically manufactured via batch processing, can also be synthesized and purified under continuous-flow conditions [3].
Ing. Marc Winter from Corning SAS, Avon, France, spoke about flow chemistry with a focus on scaling up. Corning® Advanced-FlowTM Reactor (AFR) covers equipment for the whole range between lab-scale flow process development to scale-up flow process and commercial production. Winter gave examples to show that transferring chemical synthesis from traditional batch technology to continuous flow may bring significant advantages in the reduction of cost, complexity, and safety that are usually associated with process scale-up. He also discussed advantages for pharmaceuticals and fine and specialty chemistry.
Professor Sébastien Lecommandoux, Unversity of Bordeaux, Pessac, France, talked about nanoparticle design towards bio-active materials (DDS). Polymersomes (polymer vesicles) are attractive for drug delivery systems. Lecommandoux explained, for example, the self-assembly of amphiphilic block copolymers in water to polymersomes and showed examples of the loading and controlled release of hydrophilic and hydrophobic molecules from these polymersomes. In one example, he encapsulated enzyme-filled polystyrene-b-poly(3-(isocyano-L-alanylaminoethyl)thiophene) (PS-b-PIAT) nanoreactors together with free enzymes and substrates in a larger polymersome to form a multicompartmentalized structure. It shows structural resemblance to a cell and its organelles [4].
Dr. Ing. Julien Estagar, Certech, Seneffe, Belgium, introduced the research center Certech (The Centre of Technological Resources in Chemistry). This contract organization provides help, support, and services to small and large industrial enterprises by offering analysis and measurements, problem-solving, contract research, and product and process development capabilities. Certech focuses mainly on the environment, materials science, and process intensification. It was established in 1996 by the Catholic University of Louvain (UCL), with the financial support of the European Union and the Walloon Region.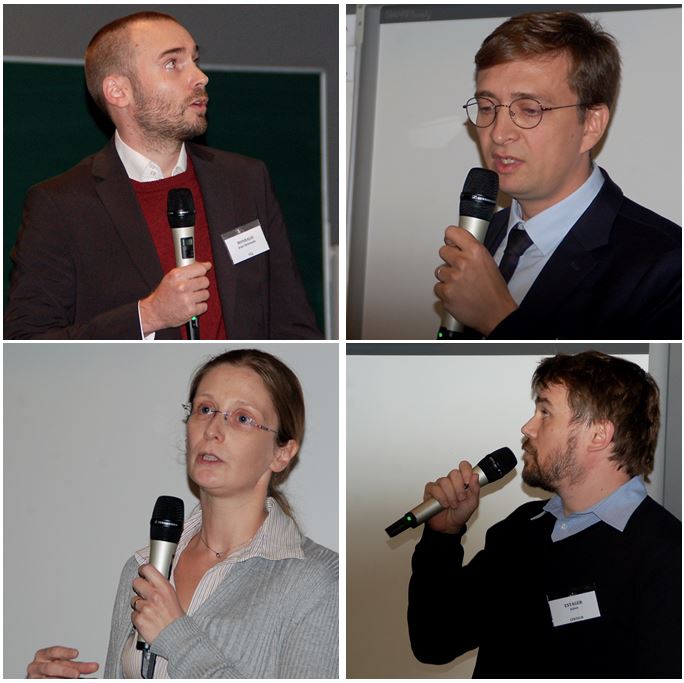 From top left to bottom right: Jean-Christophe Monbaliu, Marc Winter, Nathalie Job, and Julien Estagar.
Prix SRC Triennal
At the end of the day, the Prix SRC Triennal 2014 was awarded to Professor Nathalie Job, University of Liège, for the quality and impact of her research. Her research focuses on synthesis and characterization of nanomaterials and their applications in catalysis and electrochemistry. The award is presented every three years. Job is the first women to receive it. She gave a presentation about her recent work on nanostructured synthetic carbons and carbon gels. Carbon xerogels, for example, are promising for the development of new high-performance C-based anode materials for Li-ion batteries. As these carbonaceous materials have shown very small changes of volume during the charge/discharge process, they improve the cycle life of the battery [5].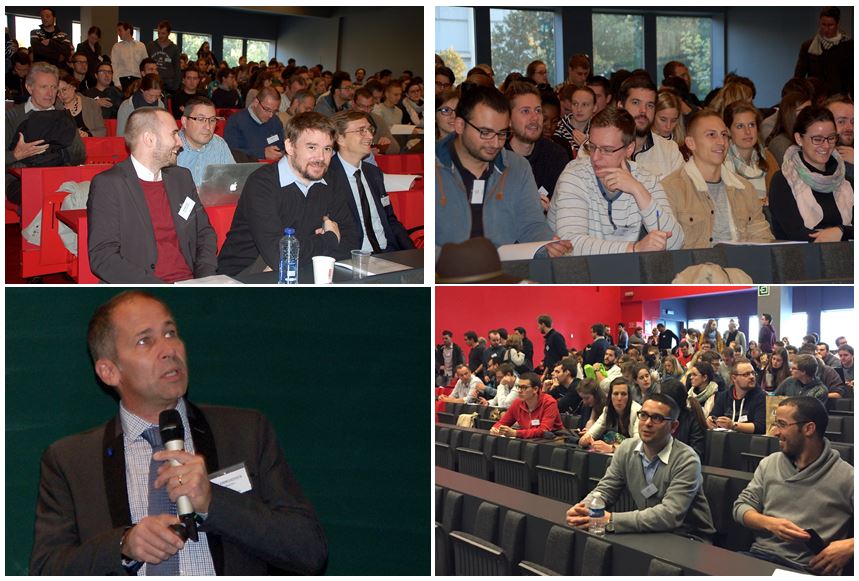 Sébastien Lecommandoux and auditorium.
Journée Scientifique SRC 2017
The 2017 meeting will take place at the Université Catholique de Louvain, Belgium's largest French-speaking university, next October.
---
References
[1] L. Di Marco, M. Hans, L. Delaude, J.-C. M. Monbaliu, Continuous-flow N-heterocyclic carbenes generation and organocatalysis, Chem. Eur. J. 2016, 22, 4508–4514. DOI: 10.1002/chem.201505135
Tagged as hot paper and highlighted in ChemViews Magazine
[2] N. Lamborelle, J. Simon, A. Luxen, J.-C. M. Monbaliu, Continuous-flow thermolysis for the preparation of vinylglycine derivatives, Org. Biomol. Chem. 2015, 13, 11602–11606. DOI: 10.1039/C5OB02036K
[3] Andrea Adamo, Rachel L. Beingessner, Mohsen Behnam, Jie Chen, Timothy F. Jamison, Klavs F. Jensen, Jean-Christophe M. Monbaliu, Allan S. Myerson, Eve M. Revalor, David R. Snead, Torsten Stelzer, Nopphon Weeranoppanant, Shin Yee Wong, Ping Zhang, On-demand continuous-flow production of pharmaceuticals in a compact, reconfigurable system, Science 2016. DOI: 10.1126/science.aaf1337
[4] Ruud J. R. W. Peters, Maïté Marguet, Sébastien Marais, Marco W. Fraaije, Jan C. M. van Hest Sébastien Lecommandoux, Cascade Reactions in Multicompartmentalized Polymersomes, Angew. Chem. Int. Ed. 2014, 53, 146–150. DOI: 10.1002/anie.201308141
[5] Marie-Laure C. Piedboeuf , Alexandre F. Léonard, Fabien L. Deschamps, Nathalie Job, Carbon xerogels as model materials: toward a relationship between pore texture and electrochemical behavior as anodes for lithium-ion batteries, J. Mat. Sci. 2016, 51(9), 4358–4370. DOI: 10.​1007/​s10853-016-9748-3