Polycyclic aromatic hydrocarbons (PAHs) are constituents of petrochemical products or are produced from the incomplete combustion of organic materials. They can enter the environment in a range of ways, including as a result of natural oil seeps, oil spills, and from industrial effluents. Real-time detection would aid in effective mitigation and remediation efforts.
A biosensor developed by Michael Unger and co-workers, Virginia Institute of Marine Science, USA, could be used for the early detection and tracking of oil spills. It uses the monoclonal anti-PAH antibody, 7B2.3, to provide near real-time evaluation of environmental contamination: It can determine PAH concentrations as low as 0.3 µg/L, within 10 min of sample acquisition.
Its use as a field instrument was demonstrated by the team surveying an area of almost 9,000 m2 around the Elizabeth River, Virginia, USA, providing information about the size and intensity of contaminants to engineers who were monitoring dredging from the shore (see picture).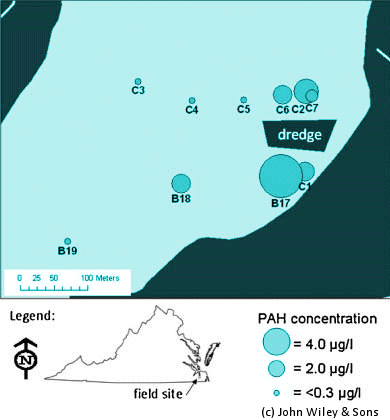 ---