The Global 100 Index is a ranking of the world's most sustainable corporations. The list presents the top 1.3 % in the world on sustainability performance. It is announced every year in Davos, Switzerland, during the World Economic Forum. It brings together leaders of global society and aims to improve the state of the world.
To determine the ranking, Corporate Knights, a media and investment advisory firm, analyzes 7,536 companies against global industry peers on a suite of up to 21 quantitative key performance indicators, weighted to reflect each industry's impact profile (details on the 2019 selection methodology). The Global 100 ranking was first produced in 2005.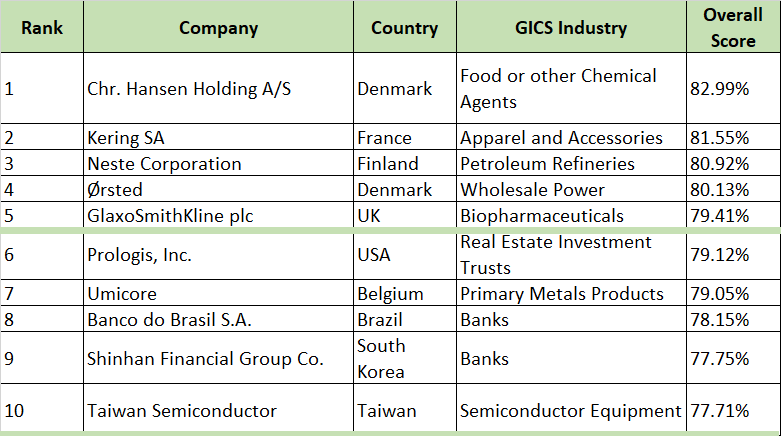 Chr. Hansen has placed 1st on the 2019 Global 100 Most Sustainable Corporations list. The global bioscience company develops natural ingredient solutions for the food, nutritional, pharmaceutical and agricultural industries. They develop and produce cultures, enzymes, probiotics, and natural colors for a variety of foods, confectionery, beverages, dietary supplements, as well as animal feed and plant protection. They work with more than 30,000 microbial strains—referred to as 'good bacteria'—to enable food manufacturers to produce more with less and to reduce the use of synthetic additives.
Their corporate strategy 2022: 'Nature's No. 1—Sustainably' focuses on developing natural solutions for the global food, health and agricultural industries in a sustainable manner. The UN Global Goals are used as a framework to link the impact of the corporate strategy to sustainable development, and the performance is measured and reported on an annual basis.
Neste has placed 3rd on the 2019 Global 100 Most Sustainable Corporations list. This is Neste's second time in the top 3 and it marks the company's 13th consecutive inclusion on the Global 100 list. According to the company, they have been included on the list continuously for longer than any other energy company in the world. "Such a top ranking can never be taken for granted as all the world's best performing companies aim higher and improve their performance year after year.", said Peter Vanacker, President & CEO from Neste.
According to Corporate Knights, "Neste continues being the number one ranked energy company in the world due to its industry-leading exposure to clean revenues, top quintile resource productivity for energy, carbon, water, NOx, and particulate matter combined with excellent innovation capacity, and gender diversity on the board." Neste is known for its ongoing transformation from a traditional oil refiner into a global leader in renewable products. The company aims to help transport and cities, aviation, polymers and chemicals customers make their business more sustainable.
---